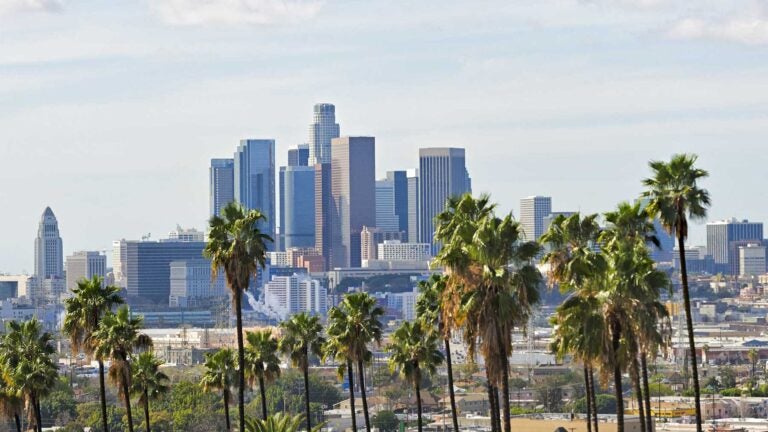 USC joins alliance to shape SoCal into the next global tech hub
Technology entrepreneur Steve Poizner will lead the Alliance for Southern California Innovation, a new group of universities, companies and venture capitalists
USC has joined a new nonprofit coalition of universities, research institutions and corporations aiming to unify Southern California's tech and biotech industries, promote their growth and foster entrepreneurship throughout the region.
The new Alliance for Southern California Innovation is led by serial tech entrepreneur and former California Insurance Commissioner Steve Poizner.
So far, the Alliance comprises more than 20 research organizations, universities, companies (tech, media, film and communications) and venture capitalists that have an interest in the emerging tech and biotech industries around the Southern California region, which stretches from the Los Angeles area to San Diego.
"This is a region that educates a huge number of engineers and scientists," said USC Vice President of Research Randolph Hall, who represents the university on the Alliance. "More than 950 of our undergraduates and more than 3,100 graduate students completed advanced degrees in engineering and computer science this past year. Many of them were hired away from the Los Angeles area by high-tech companies, such as Microsoft and Google. We want to create more opportunities for the students we educate to stay in Southern California and build new industries."
Hall added that USC is also invested in the growth of biotech, particularly at the Health Sciences Campus, home to Keck Medical Center of USC, which consists of Keck Hospital of USC and USC Norris Cancer Hospital. (Keck Medical Center was ranked No. 10 among the best hospitals in California in rankings released this month by U.S. News & World Report.)
USC President C. L. Max Nikias envisions a biotechnology park at HSC that could provide thousands of construction and biotech jobs, and promote a startup-friendly environment with assets including USC hospitals, research institutions and 5,000-plus university graduates in biotechnology-related fields per year.
Hall said that USC has already proven itself as a pioneer for technology, noting that it contributed to the establishment of "Silicon Beach," a tech center for Los Angeles located in Marina Del Rey.
It is the home of the USC Viterbi School of Engineering's Information Sciences Institute, where researchers focus on advanced information processing, computer and communications technologies. The other USC resident at Silicon Beach is the Institute for Creative Technologies, where scientists use artificial intelligence, graphics, virtual reality and narrative communities to advance technologies to solve problems facing military service members, students and society.
We are hoping that this new consortium will bring more power through the weight of collaboration.

Randolph Hall
"We are hoping that this new consortium will bring more power through the weight of collaboration," Hall said.
The new Silicon Valley
What would it take to turn Southern California into the new Silicon Valley?
"It will take all of the Alliance's universities and industry members working together," said Poizner, who joined the boards of councilors for the USC Rossier School of Education and USC Viterbi in 2011.
In addition to USC, other research and academic institutions partnering with the Alliance for Southern California Innovation are Caltech; University of California, Irvine; UCLA; University of California, Riverside; University of California, San Diego; and University of California, Santa Barbara, as well as the Sanford Consortium for Regenerative Medicine.
The nonprofit's board of directors includes Poizner, the tech entrepreneur who co-founded a GPS startup, SnapTrack, in the 1990s that he sold to Qualcomm in 2001. Other board members are influential leaders and executives in the technology, science, film, media and communications industries: Thomas Gewecke, chief digital officer for Warner Bros. Entertainment; Irwin Jacobs, the founding chairman and CEO emeritus for Qualcomm; Scott Wolfe, partner at Latham and Watkins LLP; Michael Yanover, head of business development for Creative Artists Agency; Sherry Lansing, former CEO of Paramount Pictures; and Marc Stern, chairman of The TCW Group.
If you are going to form a global tech hub in a region, you have to pull together.

Steve Poizner
"If you are going to form a global tech hub in a region, you have to pull together," Poizner said.
A tale of two regions
Poizner has lived in Silicon Valley and, more recently, in Southern California, where he has been assisting tech startups through incubators. His experience launching tech businesses in both regions has revealed their stark and subtle differences and inspired him to start the Alliance for Southern California Innovation, he said.
"The assets for establishing Southern California as a regional tech hub were not aligned," he said, noting, for example, that venture capital is concentrated in Silicon Valley. This has meant that businesses in Southern California have had to seek investment from Silicon Valley, even though they are located in the San Diego or Los Angeles areas.
"The last 20 or so years, Silicon Valley has been a massive growth engine. But times are changing and right now, Silicon Valley is beginning to show signs of saturation," Poizner said. "Timing is everything. There is a fundamental shift starting, which makes Southern California a prime region to build a home for exceptional technology talent, resources and innovation."
The rising tide of SoCal tech
The Los Angeles and San Diego metropolitan areas are in the midst of a surge in tech, life sciences, and medical device and biotech companies, including startups, research firms and other related businesses. The Los Angeles region began to fully quantify the impact just a few years ago.
In a 2013 report, the most recent commissioned by the Los Angeles County Economic Development Corp., analysts at the Institute for Applied Economics found that the L.A. tech industry contributed $108.3 billion to the regional gross domestic product.
An estimated 368,500 people were employed then by the Los Angeles tech industry. On top of that, the tech industry was supporting 763,600 jobs — direct, indirect and induced — across a broad spectrum of other industries, analysts determined.
As the largest private employer in Los Angeles, USC is a significant contributor to the Southern California economy. USC spurs $8 billion annually in economic activity in Los Angeles and the state, Beacon Economics estimated in a study released in March.
The San Diego area is also burgeoning with new tech and life science companies, and the region's GDP is estimated at $206.8 billion, according to the San Diego Regional Economic Development Corp. Combined, the research organizations based in the area, including the Alzheimer's Therapeutic Research Institute of the Keck School of Medicine of USC, have a regional economic impact of $4.6 billion and provide an estimated 37,000 jobs.
Creating an inventory of assets
On behalf of the Alliance this fall, one of its pro bono supporters, Boston Consulting Group, is expected to release a comprehensive study taking stock of Southern California's innovation economy.
Then, the Alliance will create a strategic plan to guide its efforts to support the growth of a tech hub that will include a focus on branding the area as a center for innovation and to lure additional venture capital firms to spur growth in the Southern California tech industry, Poizner said.
"We are not working with startups directly," Poizner said. "Instead we are focused on the region as a whole so that we can determine where Southern California stacks up in comparison to other tech hubs and identify the gaps."
A dream team of supporters
The Alliance is also propelled by a collaboration with Bill Maris, founder and former CEO of Google Ventures who has launched Section 32, a venture capital fund in Southern California.
In a statement, Maris said: "Southern California is not only my home, but a region with a long history of creating and advancing industries. Innovation isn't confined to any one part of our state, and Southern California is ripe with top-tier investment opportunities in various sectors."
Leaders who are from tech and finance also serve as advisers to the Alliance: Eric Schmidt, executive chairman of Alphabet Inc.; Jeff Henley, vice chairman for Oracle; Larry Sonsini, chairman of Wilson Sonsini, Goodrich & Rosati; Ted Eliopoulos, chief investment officer for CalPERS; and Gene Sykes, former managing director of Goldman Sachs and CEO of the Los Angeles 2024 Exploratory Committee.
"Across machine learning, life sciences, cloud services, urban development and more, we're in the midst of an exciting era of technological advancement that will create new businesses, jobs and opportunities," Schmidt said in a statement from the Alliance. "Southern California has a thriving startup culture and group of entrepreneurs, as well as terrific researchers and institutions."
The Alliance has an agreement with EvoNexus, the largest pro bono tech incubator in Southern California, and aims to work with other accelerators and incubators to support startups and attract investment.
The Alliance's effort to create a startup-friendly ecosystem in Southern California could eventually lead to new breakthroughs in research, new products and new jobs for the region, as well as extraordinary solutions for wicked problems.
"Startups solve problems," Poizner said. "Those innovations ripple around the country and around the world. This effort could have a trillion-dollar impact on the state and on the country. The potential here is exciting. We want to be sure we have all the assets in place."