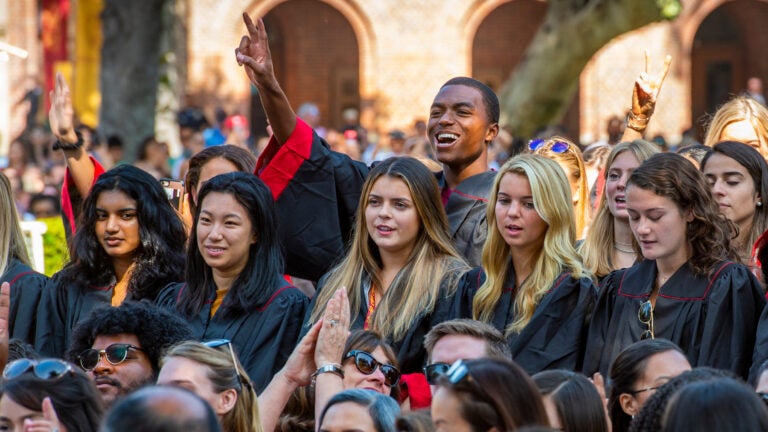 Top student scholars honored at USC Academic Honors Convocation
The event, held online due to the pandemic, recognizes that USC is above all else a community of scholars. Part 1 on Monday honored faculty members.
The university's leading student scholars were honored Wednesday in the second portion of USC's 40th annual Academic Honors Convocation. Faculty members were honored at a separate event Monday. Wednesday's honorees included:
Class of 2020 valedictorian and salutatorians: At USC, it is the custom to name one student to serve as the university valedictorian and one or more students to serve as university salutatorian. The USC selection process recognizes the very highest levels of academic achievement, but it is also more holistic and takes into consideration service and leadership as well.
Valedictorian: Tianna B. Shaw-Wakeman
Salutatorians: Ashwin Bhumbla and Jake Bubman
University Trustees Award: Awarded to the graduating students who have attained the highest scholarship average of all undergraduate men at the university.
Bryant Cong
John A. Kimble
Jeremiah A. Miller
Ryan Storgard
Jacob Toney
Emma Josephine Bradley Bovard Award: Awarded to the graduating students who have attained the highest scholarship average of all undergraduate women at the university.
Kiarra Akiyoski
Katrina B. Chandra
Prerika Chawla
Deborah Choe
Anjali Devgan
Nastaran Far
Sophie Hammond
Julie Han
Stella Harris
Catherine Liang
Lindsey N. Marks
Anuva Mittal
Molly N. Sulzer
Jasmine Siyu Wu
USC Provost's Award: Awarded to the graduating students who have attained the highest scholarship average of all undergraduate transfer students at the university.
Alexis Amaradio
Caitlin G. Gutierrez
Philip Jung
Raelyn M. Kelley
Gina Kim
Skyler Melnick
Hunter Nelson
Kyle M. Popok
Paige N. Raskin
Mya Roberts
Emily Torp
Kyla-Rose Walden
Yuchen Wang
Zhengyu Yang
Phi Kappa Phi Student Recognition Award: Founded in 1897, Phi Kappa Phi is the oldest interdisciplinary honor society at USC. It recognizes scholarship and awards prizes annually to graduate and undergraduate students for creative and scholarly achievements.
Joanne Lee
Jung Huyk Lee
Rintaro Moriyasu
Isabelle L. Osterholt
Phi Beta Kappa Undergraduate Awards: Devoted to liberal learning in arts and sciences, Phi Beta Kappa, founded in 1776, presents two undergraduate awards to honor creativity, scholarship and leadership in faculty-student community relations.
Sophie Hammond
Noah T. Hellum
Rockwell Dennis Hunt Award: Awarded to an alumna or alumnus of USC who is pursuing a graduate or professional degree at the university and who is most representative of the Trojan Family's traditions and values.
University Outstanding Teaching Assistant Award: Awarded to three graduate teaching assistants – from diverse areas such as the natural sciences and engineering, the social sciences, and the humanities and arts – who have exhibited consistent excellence in the classroom and thus symbolize the university's dedication to the education of scholar-teachers.
Mary Ippolito
Madeline Thayer
Maya D. Yanez
Schwarzman Scholarship: Designed to prepare young leaders to serve as a bridge between China and the rest of the world.
Benjamin J. Ma
Trenton V. Stone
Charles B. Rangel Graduate Fellowship: Recognizes young people who are committed to serving their country and promoting positive change globally.
Thomas R. Pickering Foreign Affairs Fellowship: Designed to prepare outstanding young people for Foreign Service careers in the State Department.
Gates Cambridge Scholarship: Designed to build a global network of future leaders committed to improving the lives of others. Recipients receive a full-cost scholarship to pursue a full-time postgraduate degree in any subject available at the University of Cambridge in the U.K.
---
The USC Academic Honors Convocation is traditionally held in April and recognizes faculty and student scholars for the academic year that is coming to a close. The convocation held Oct. 22, 2020, was for the academic year 2019-2020 and had been postponed due to the pandemic.