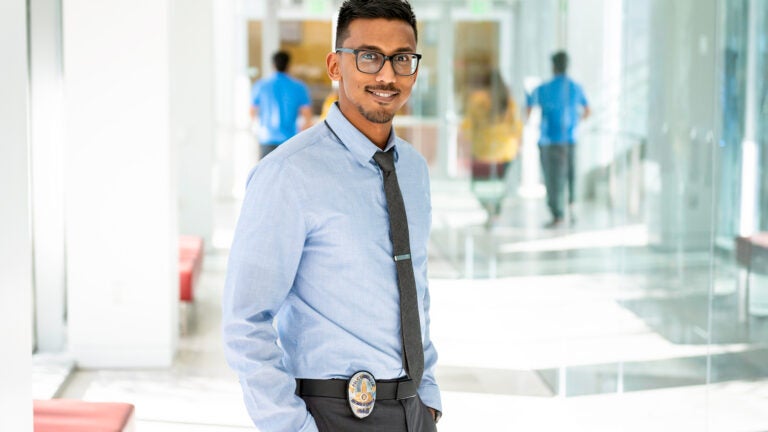 Police badge is latest achievement for aspiring neuroscientist
USC student and radiation oncology specialist Faisal Rashid recently became the LAPD's first Bangladeshi sworn officer through its reserve program
If time management isn't the top skill Faisal Rashid lists on his resume, he might want to consider adding it in big, bold letters.
The 28-year-old recently completed the Los Angeles Police Department's rigorous reserve officer program. That's on top of working a full-time job in radiation oncology. Oh, and he's also studying for his master's degree in neuroimaging and informatics at the Keck School of Medicine of USC.
For 16 weeks straight, he rose at 6:30 in the morning for a punishing gauntlet of classes on topics like brain anatomy and neurological diseases before squeezing in a workout and heading to work. Then came four hours of police academy training and more work. He closed out the day about midnight or 1 a.m. On weekends, he started even earlier.
Toward the end, his schedule was so hectic that he broke out into stress-induced hives. But his determination paid off. Rashid received his LAPD uniform and badge at a swearing-in ceremony in January. He also found out that he achieved another milestone, becoming the department's first sworn officer of Bangladeshi descent.
Asked what inspired him to embrace such a punishing experience for an unpaid volunteer role with the LAPD, he had a quick answer: "I love neuroscience, but to me, it just wasn't enough. I want to give back to the community."
Family lessons, patriotic duty inspire aspiring USC neuroscientist and police officer
That dedication to service has been a core part of Rashid's personality since his childhood in North Hollywood and Glendale. His parents consistently emphasized helping others. Rashid also traces his sense of duty to the shock and indignation he felt as a young boy after the 9/11 terrorist attacks.
I love neuroscience, but to me, it just wasn't enough. I want to give back to the community.

Faisal Rashid
"When it happened, I felt like, oh my gosh, people attacked my country, I need to fight back," he said. "And they were claiming to be Muslims, but I'm a Muslim, and that's not what I practice at all. So not only are they attacking my country, but they are using my religion to spread hate and violence."
He planned to join the military after college with the goal of becoming an officer and aviator. But a high school psychology class led him down a different path: He became fascinated by the human brain.
Rashid earned a bachelor's in neuroscience at University of California, Riverside, then worked in pediatric neuroimaging at Loma Linda University Medical Center. Around that time, he read about well-known neuroscientist Paul Thompson bringing his team of brain imaging specialists to USC, and recalls thinking, "I could never imagine working with superstars like them."
But a few years later, he landed a research position with Thompson's center — the Imaging Genetics Center at the USC Mary and Mark Stevens Neuroimaging and Informatics Institute. He spent his days analyzing data on teens with traumatic brain injuries.
"He wanted to be involved in everything going on," said Neda Jahanshad, assistant professor of neurology and biomedical engineering. "He wanted to know about all our projects and would always offer great ideas and suggestions."
A mind for details helps Trojan analyze brain data
Emily Dennis, a former postdoctoral scholar at the center, said Rashid seemed to have an innate ability to streamline his data processing and analysis tasks.
"He was amazing at finding faster ways of doing the things I wanted to do, finding shortcuts and making everything more efficient," she said. "He was constantly trying to learn new skills to help move the project along."
When he started his master's program, Rashid took a new job with the Keck School of Medicine's Department of Radiation Oncology, partly to avoid the long drive to Thompson's center in Marina del Rey. His responsibilities now include analyzing cancer treatment plans to ensure the correct amount of radiation is being delivered to the right location, a great fit for his meticulous, detail-oriented nature.
The shorter commute also allowed him to return to his childhood goal of serving his community — by becoming a reserve police officer.
An unusual pursuit for a Bangladeshi American: earning a police badge
Rashid's desire to enter the reserve academy came as a surprise to his family. In Bangladeshi culture, he said, becoming a doctor or lawyer makes you a success story, but few people dream of working in law enforcement.
That might explain why the LAPD had no Bangladeshi officers before Rashid joined the reserves, despite the city boasting a sizeable population and even a designated community, Little Bangladesh.
"For almost six months before I started the academy, my uncle kept asking, 'What are you getting out of this?'" Rashid said. "I would say, 'I just want to help.'"
It certainly helped when a USC doctor, trauma surgeon Kenji Inaba, got attention for completing the reserve program despite his busy hospital schedule. Rashid's family has warmed to the idea. "I think they understand why I'm doing this now," he said.
Aspiring USC neuroscientist and police officer: Analyzing crime data
Rashid was recently assigned to the LAPD's Counter Terrorism and Special Operations Bureau. He's a Level III reserve, meaning he gets a uniform and badge, but only takes on administrative tasks rather than going on patrol with a firearm.
He can't talk about some of his work because of its sensitive nature, but he generally expects to assist with data analytics. Once again, he's putting his mind for organization to work.
Life is too short to just have a 9-to-5.

Faisal Rashid
"I value efficiency a lot," he said, "so I am more than happy to help them any way I can."
Rashid is also thinking about the next step after finishing his master's program this year. He wants to get a PhD in neuroscience and conduct research into traumatic brain injury and new treatment approaches. A three-year doctoral program in Norway recently caught his eye, and he can also imagine launching a tech startup focused on the brain-computer interface.
He envisions continuing the reserve academy after earning his doctorate, too. He wants to reach Level I status, which would let him patrol the streets just like any other full-time officer.
With all those big dreams, one thing is guaranteed: He'll stay busy.
"You should always have a hobby, play a sport — whatever it is, you should be involved in your community," he said. "Life is too short to just have a 9-to-5."