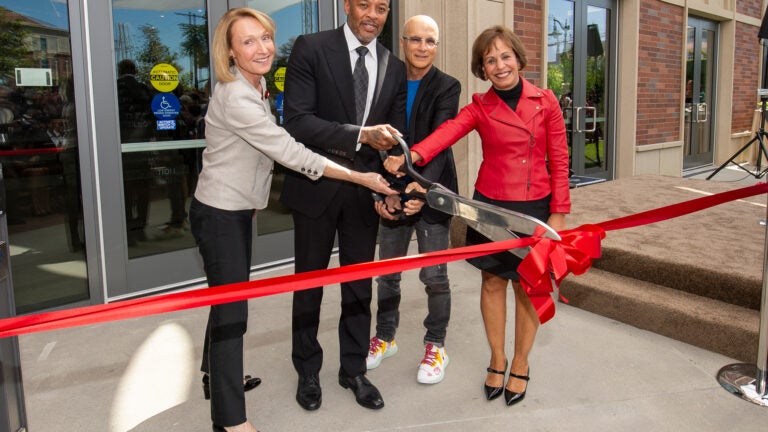 Trojans celebrate official opening of Iovine and Young Hall
The 40,000-square-foot facility supports the USC Iovine and Young Academy's mission with the latest technology, from 3D printers and a multimedia imaging lab to a podcast studio.
USC's newest academic building, Iovine and Young Hall, has a secret: Inside its red brick exterior, it doesn't look much like an academic building.
Sure, there are classrooms, but there's also a 3D print shop and a multimedia imaging lab. A podcast studio is almost finished. An incubator space is dedicated for alumni. Technology-laden conference rooms line the hallways.
"We look a lot more like a business than a school," said Dean Erica Muhl of the USC Jimmy Iovine and Andre Young Academy, the groundbreaking school that calls the new, 40,000-square-foot building home. About 300 people — including the academy's namesake founders — gathered on the building's front lawn Wednesday for its official dedication.
"This is a very special milestone for the academy," Muhl said. She thanked faculty, staff and donors for their contributions and specifically praised student input in the planning of the new facility.
"These young visionaries make magic happen every day," she said. "It has been an honor to have them as part of the journey."
Iovine and Young Hall: home of the next generation of leaders
The academy was founded in 2013 with a gift from music industry visionaries Iovine and Young, more commonly known as "Dr. Dre." Its mission is to develop the next generation of innovative leaders who think critically and are comfortable in the worlds of the arts, technology and business, all at once.
USC President Carol L. Folt — long an advocate of interdisciplinary approaches to education and research — had kind words to say about the new building and its occupants.
"We're at our best when we actively allow people's imaginations to flourish," said Folt, who praised "the most creative, innovative and futuristic program and building in higher education in all of America."
"I don't say that lightly," she said. "I really believe it."
Genesis of the Iovine and Young Academy
Iovine explained the genesis of the academy and its new home. After he and Young founded Beats Electronics, they had trouble finding potential employees who were proficient in both technology and the arts.
"That was where the idea was born," he said: It seemed young people who started out interested in both fields ended up focusing on just one — and losing their interest in the other.
The duo took their vision to USC and Muhl was quickly on board. Iovine praised the dean for bringing together the school's disparate focus areas: art and design; engineering and computer science; business and venture management; and communication.
"It's not easy to put these disciplines, in all these areas, and have them play in one orchestra together," said Iovine, who was sporting a custom pair of white, cardinal and gold athletic shoes emblazoned with the academy's motto, "The Degree is in Disruption."
He also laid out he and Young's next academic idea — a new, similarly focused high school in the University Park neighborhood. "If we can catch these kids earlier, that's even better," he said.
The academy's first cohort graduated in May 2018, and academy-related startups have already garnered more than $7 million in funding.
Folt may have captured the spirit of the academy and its new home best, describing how children are brimming with a creativity that can recede or even go away altogether as they become adults. She noted that, as a child, she was always drawing and even singing.
"When I came in here," she said of Iovine and Young Hall, "I felt that singing in my soul."