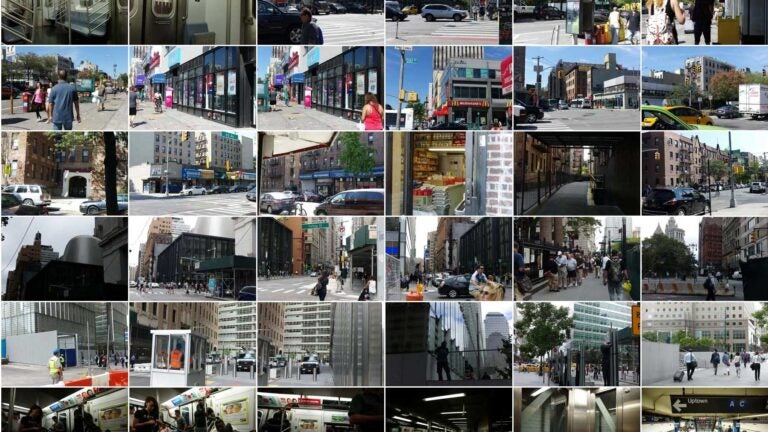 With the click of a camera, USC professor tracks New York City's transit development
Photos go to the USC Libraries' Digital Library, where they will help other researchers analyze neighborhoods near subway stations
Martin Krieger took an unconventional approach to studying transit-oriented development around New York City Subway stations. He picked up a camera and snapped tens of thousands of photographs.
"The people who talk about transit-oriented development have a very lovely image of a little village where people would work and reside and shop, and there would be more walking and less automobile commuting — and there may be truth to that," said Krieger, professor of planning at the USC Price School of Public Policy. "But I thought it would be useful to look at what the world was really like."
He systematically visited the ends of the subway lines and several other carefully selected stations. He took photographs from elevated lines looking out over the neighborhoods and streets along the way, then walked through the stations' nearby streets, documenting actual patterns of development.
"This was not what we call a statistical study," he said. "It was largely meant to make people think twice."
Diverse development
Through the lens of his camera, he witnessed a tremendous diversity of development surrounding New York City Subway stations.
"One station at the end of the line has a golf course and a cemetery — I think that's Woodlawn," he said. "Another station in Flushing is an extraordinarily vital Asian-American shopping area. I even made a movie of a man chopping roast duck. Several of the lines end in industrial areas. They don't look like transit villages, nor are they going to be. So it's quite diverse."
The photos will end up in the USC Libraries' Digital Library, where they will serve as a visual record to inform other researchers in their analyses of development in New York City. He intends to embark on future photographic projects documenting development around large, complex transit systems in other major cities.
"People ask me, 'Well, why don't you write an article about transit-oriented development?' Actually, my real work is to set up the information and the curiosity so others can do it," he said.
Adding perspective
Over the past two decades, Krieger has also systematically photographed aspects of Los Angeles' urban landscape, including industrial areas, swap meets and storefront churches. These photographs are also preserved in the USC Libraries' archives and are being digitized with support from a grant from the Haynes Foundation.
Krieger has also written about how systematic photographic documentation can inform urban planning in his book Urban Tomographies and in articles published in the Journal of Planning, Education and Research.
"'Go look' is my basic principle," he said.
He's extended this principle into his teaching. As part of his spring 2017 freshman seminar called "Los Angeles as a City," he sent the students out to take photographs, record sounds and make videos of the transit-oriented development around Los Angeles' Metro stations, as well as of other places and phenomena.
"I just want to get them to understand it's worth going to look," he said. "They would have never have gone to these places and, you know, these places and people are all interesting. And we have to learn to see the world as interesting."