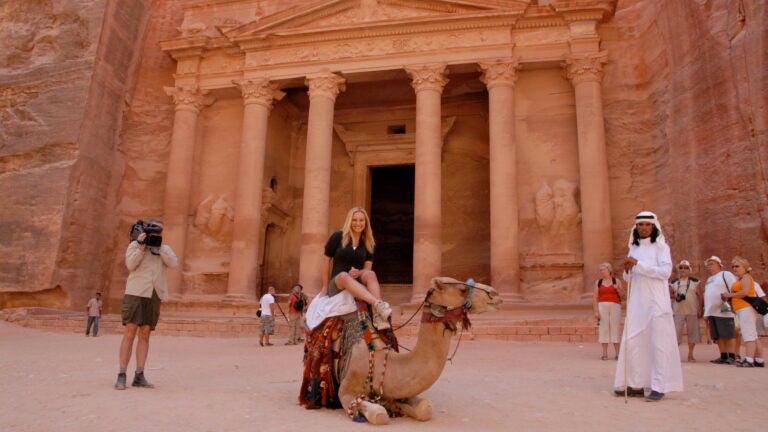 Where Won't This Alumna Travel for the Jeopardy! Clue Crew?
An adventurous USC Annenberg grad travels the world filming video clues for the classic game show.
Ever catapult off the deck of a Navy aircraft carrier? How about kayak in Antarctica or swim with sharks?
Sarah Whitcomb Foss '98 has done all that and more. "Parasail, hot air balloon, helicopter—you name it, I've probably done it," says the thrill-seeking USC alumna.
Foss is an original member of the Jeopardy! Clue Crew, a team of roving correspondents who, since their 2001 debut, have added an element of adventure to the classic quiz show now in its 33rd season.
Foss, an avid snowboarder and scuba diver, has traveled to "the ends of the earth" filming Jeopardy! video clues. Cultural treasures like Petra, Machu Picchu, Jerusalem's Old City and the pyramids of Giza served as her backdrops. Stamps in her passport span all seven continents and 40 countries.
Hitting the road one or two weeks a month hasn't been easy with a 3-year-old daughter, but husband Chris Foss '05, an investment banker, does double parenting duty while Foss traverses the globe. Both Trojans, the couple met six years ago while training for a triathlon.
Foss checks in with her family electronically. "I was on a ship in the middle of the South Pacific, en route to Easter Island, and I could FaceTime with my daughter," Foss says. She sees herself as living proof for Taylor that "as a woman and a young girl, she can do anything, be anything." (Taylor is already a seasoned traveler in her own right: She's logged 80 flights.)
We really are like a family here. People don't leave.

Sarah Whitcomb Foss
Raised in Mesa, Arizona, Foss studied broadcast journalism at the USC Annenberg School for Communication and Journalism with the aim of becoming the next Barbara Walters. While a co-anchor in Traverse City, Michigan, Foss saw an ad seeking traveling correspondents for Jeopardy! The producers were looking for fans of the show, not actors or models. Thanks to her access to a television production studio, Foss' demo reel stood out among the 5,000 other candidates.
The one-year position has morphed into 15 years and counting, and Foss has no plans to budge. The two other Clue Crew team members are also long-timers. "We really are like a family here. People don't leave," she says.
On the road, the Clue Crew travels light—ideally incognito—and tries to leave no footprint. "We don't want to draw attention to the game material," Foss explains. It typically takes six months for a clue to go from concept to airplay, though some clues have waited several years in the can.
For all her amazing experiences, there's one thrill Foss especially cherishes: watching a Trojan win the show's college championship. When senior Sam Deutsch clinched the title last February, Foss rushed on stage to do a post-victory interview.
"I was really proud that Sam was able to pull it off," Foss says. "It was a great moment. We took a Fight On! picture at the podium for all eternity."