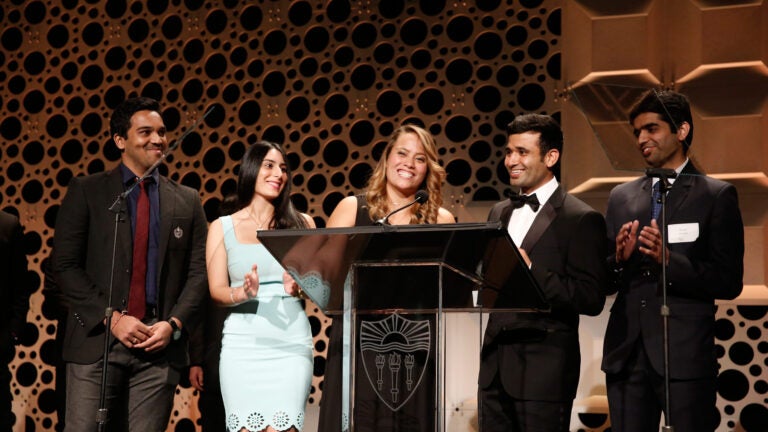 Viterbi Awards ceremony spotlights engineering luminaries and the school's top startups
The event honors winners of the Maseeh Entrepreneurship Prize Competition and first Min Family Engineering Social Entrepreneurship Challenge
Entrepreneurship took center stage at the 38th annual Viterbi Awards, underscoring the USC Viterbi School of Engineering's growing strength and commitment in engineer-led startups.
At the April 20 event, grand prize winners of USC Viterbi's two flagship business model contests — the Maseeh Entrepreneurship Prize Competition (MEPC) and the first Min Family Engineering Social Entrepreneurship Challenge — were crowned before an exuberant crowd at the Beverly Wilshire Hotel.
"These are the Academy Awards for USC Viterbi startups," Dean Yannis C. Yortsos quipped.
First-place winner
Suspense mounted as members of the top two MEPC teams, Mathemagician and NoseKnows, stood side-by-side, nervously awaiting the results. And the winner was . . .
NoseKnows, which captured first place in the competition, along with $50,000 in cash and $20,000 in legal fees. The company has created an app to make it far easier to recover runaway dogs and other pets. It works by matching missing animals' unique snouts to photos of those uploaded by customers to the NoseKnows database.
"I'm really happy," said NoseKnows CEO Mehdi Shams.
Second-place winner
Second place went to Mathemagician. The startup hopes to reinvent math education for fifth- to 12th-graders. Mathemagician offers a touch-enabled platform that would act as a "personalized math tutor" at a fraction of the cost of the real thing.
More than 30 teams applied to MEPC with 16 winning slots. That number was whittled to six and then two. Over the past six months, the budding entrepreneurs attended startup workshops about customer discovery, intellectual property, writing a business summary and other topics to sharpen their entrepreneurial skills.
At this year's MEPC, a total of $140,000 in cash and services was at stake. That includes the grand prize award, $50,000 in legal services from Stubbs Alderton & Markiles and the law firm Steinfl & Bruno; and $40,000 in National Science Foundation I-Corps mini-grants.
My vision for the program was to recognize and reward technological motivation.

Fariborz Maseeh
"My vision for the program was to recognize and reward technological motivation," said entrepreneur Fariborz Maseeh, the contest's namesake and benefactor. "I am so glad to see it come to fruition with so many creative individuals and transformative projects."
Business model competition
A few minutes later, the audience watched the final round of the Min Family Challenge with the last remaining teams OptDx and FlexSpecs.
OptDx helps doctors in developing countries prevent blindness by automating the screening process for retinopathy of prematurity, a common neonatal condition. FlexSpecs is creating inexpensive eyeglasses with adjustable lenses that require no prescription.
The Min Family Challenge, unlike traditional business model competitions, inspires teams to create businesses that generate strong social impact. The contest launched in October with a gift from businessman Bryan Min, '86, his wife, Julie, and their family.
In recent months, participants attended workshops, developed by Innovation Node-Los Angeles, that focused on customer discovery, business modeling, interviewing techniques and social entrepreneurship. Each of the 26 teams that applied to the competition had at least one USC Viterbi undergraduate or graduate student.
"For years now, it's been our hearts' desire, guided by our faith, to contribute in a worthy way and address the pressing needs of our world today, in particular those at the bottom of the pyramid," Julie Min said. "The USC Viterbi School of Engineering has allowed us to do just that, and we couldn't be more humbled and excited."
And the Min Family Challenge winner was . . .
FlexSpecs, a budding business co-founded by USC Viterbi graduate students Stephanie Fong '15 and Joycelyn Yip '15, won $15,000. Second place, along with $10,000, went to OptDx.
Other stars shined brightly at the ceremony.
Tom Vice '93 took home the Daniel J. Epstein Engineering Management Award; Bryan Min received the Mark A. Stevens Distinguished Alumni Award; and the Global Leadership in Engineering Award went to Kiran Mazumdar-Shaw.
Vice is corporate vice president and president of Northrop Grumman's Aerospace Systems sector — a premier provider of manned and unmanned systems, space systems and missile systems and other advanced technologies critical to the nation's security.
Under his direction, the Aerospace Systems sector, which is headquartered in Redondo Beach, has grown to about a $10-billion business with 23,000 employees worldwide.
Vice has held a number of important positions in Northrop Grumman during his distinguished 30-year career at the company. Previously, he served as corporate vice president and president of Northrop Grumman's Technical Services sector, a leader in integrated logistics and modernization, defense and government services and training solutions.
Vice sits on the USC Viterbi Board of Councilors.
Distinguished alum
Min, recipient of the Mark A. Stevens Distinguished Alumni Award, is founder and CEO of Epsilon Systems Solutions. Established in 1998 out of a San Diego garage, Epsilon now has more than 20 U.S. locations.
The company provides professional and technical services and products to the federal government surrounding issues of critical national security, as well as nuclear and environmental issues.
Min and his wife have a legacy of philanthropy at USC beyond their namesake Min Challenge. In 2000, the family established the ESSential Foundation, which funds military support organizations, caregivers of wounded soldiers, international micro-finance, Christian and educational organizations, as well as community programs, that support troubled youth. The Mins have also supported fellowships at the university.
Min is a member of the USC Viterbi Board of Councilors as well as USC Viterbi's ISE Epstein Department Advisory Board.
Mazumdar-Shaw, winner of the Global Leadership in Engineering Award, serves as chair and managing director of Biocon Limited. She is a global pioneer in biotech engineering.
Under her leadership, Biocon has grown from an industrial enzymes company at its inception in 1978 to a global pharmaceutical powerhouse committed to reducing therapy costs of chronic conditions like diabetes, cancer and autoimmune diseases.
Mazumdar-Shaw's innovation and success have not gone unnoticed. Time magazine named her among the 100 most influential people in the world, Forbes chose her as one of the "100 Most Powerful Women" and Fortune put her on its list of the "Top 25 Most Powerful Women in Asia-Pacific."
At home, she has been awarded the Padma Shri and Padma Bhushan, the most coveted Civilian National awards of India.