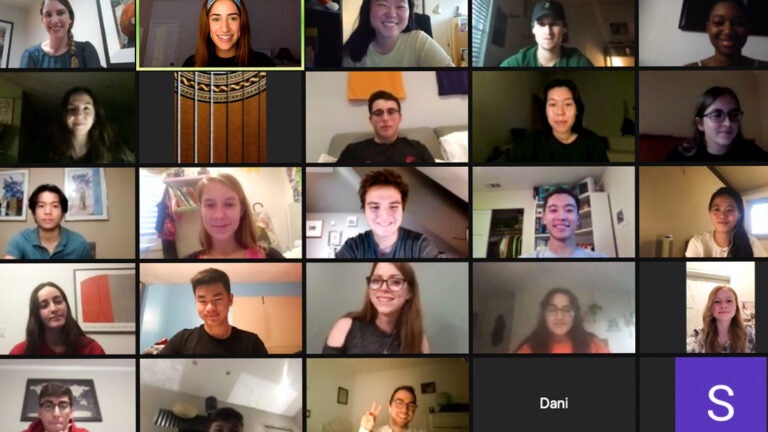 Virtual mentors bring the campus experience to remote first-year students
When classes moved online, the USC students set to be RAs were left wondering: Who do you assist when there aren't any residents? Enter the virtual peer mentors.
Mikaela Villalpando and Maria Tangalos had their sophomore year all planned out.
Both looked forward to getting more involved with campus organizations and events, as well as their new roles as resident assistants, or RAs. As naturally social people, both were eager to mentor first-year students and make them feel as welcomed as they felt upon arriving at USC. They even thought about fun ways to break the ice, including game nights.
Then the pandemic hit.
With classes moving online for the fall semester, Villalpando and Tangalos wondered if they'd even have RA positions and, if so, what those might look like. How were they going to be resident assistants without any residents?
Earlier this summer, USC Residential Education started working on a way to bring the mentorship of an RA to first-year students, regardless of their location. From there, Villalpando and Tangalos took on a new role: virtual peer mentor, or VPM.
"When you're an RA, you're seeing all of your residents in the hallway and dining hall, so it's really easy to naturally engage and make those kinds of connections," Tangalos said. "I was definitely worried that people might not want to speak with me or that we wouldn't be able to foster those kinds of natural environments, but Residential Education found a way."
Virtual mentors aim to build community among first-year students
To welcome and mentor students virtually, first-year-students were divided into clusters of about 350, with each virtual mentor given a cohort of about 30 students.
"Instead of them being in the residence halls, we're bringing the residence halls to them," said Debra Allen, interim associate director for Residential Education.
The cohorts each have weekly meetings as well as one-on-one sessions. Virtual mentors have office hours, and each cohort is also assigned two faculty members in residence.
Instead of them being in the residence halls, we're bringing the residence halls to them.

Debra Allen
The program was designed to help incoming students feel a stronger sense of community and prepare them for eventually arriving at USC, said Grant Burlew, the university's interim director for Residential Education. With Residential Education normally providing on-campus housing to roughly 98% of first-year students, Burlew said they wanted to close any perceived gaps between the new arrivals and the university.
This is the class that didn't get its USC Move-in Day — or prom, graduation or other major high school events. And with USC planning remote classes to start the spring semester, their entire first year of college is breaking traditions as well.
"This may be the first time that most students have moved or been outside of their home or their guardians' care, and they may not know the connections available to them on campus," Burlew said. "You get to know a lot about campus by roaming around, seeing how other people use the centers and seeing the involvement fairs, so we want them to have access to at least one person that we have educated about all the available resources."
Though initially skeptical, students and mentors find ways to connect online
According to Burlew, most students who apply to be RAs either had a great first-year experience and want to give back — or they felt their initial year was not ideal and want to help improve what they may have missed. Though Tangalos and Villalpando fall into the former category, they still had their reservations about what the program — and their own sophomore years — would look like.
"I'm not a big texter; I enjoy in-person conversations," said Villalpando, a musical theater major. "When we went online, I was worried about how I was going to connect with the students. It's already scary, going into freshman year not knowing anybody and meeting new people."
Tangalos, a biomedical engineering major, wondered how to overcome technological barriers and have genuine conversations with her students. She wanted to talk on a more casual level, quickly discovering that sending a formal, professional email prompted formal replies addressed to "Ms. Tangalos."
Both virtual mentors initially wondered how many students would respond. But once the formalities were dropped — the students preferred to communicate via the GroupMe or Discord messaging platforms — they were pleasantly surprised at just how much everyone wanted to get involved.
"I think they feel more comfortable not having to turn on their screen or have the pressure of being on Zoom," Villalpando said. "Since TikTok is really on trend now, I told some of them to just send me a favorite TikTok, plus a few other icebreakers."
Their initial hesitation was shared by students as well. Miguel Maravilla, a freshman in Villalpando's cohort, was unsure how effective the virtual mentor program would be. Now, Maravilla — who has also gotten involved with student organizations like CybOrg, a student-run organization focusing on cybersecurity and forensics — says his mentor is probably the person he's talked most to this semester.
"Despite this semester being online, the virtual peer mentor program has made me feel included within the Trojan Family," said Maravilla, an intelligence and cyber operations major. "My mentor has guided me through my first semester and aided me when I needed the help."
Until RAs return, USC's virtual mentors will be there
Unlike a traditional RA position, which lasts for a full academic year, the virtual peer mentors program was intended to last for one semester. Since the format of the overall spring 2021 semester remains uncertain — pending public health guidelines — the program will extend into the new year, and Villalpando and Tangalos have the option to continue in their roles. Both said they'd like to come back and also serve as RAs once students return to residence halls.
Though their RA experience is not what they thought it would be, it still provided the mentorship they wanted to offer at a time when that may be more important than ever.
"One thing I learned is that everyone does want to meet each other," Tangalos said. "The great part about being an RA — or a VPM — is you get to meet so many first-year students and hopefully have an impact. You get to show them what the atmosphere is like at the school, and I really wanted to be an ambassador for that."