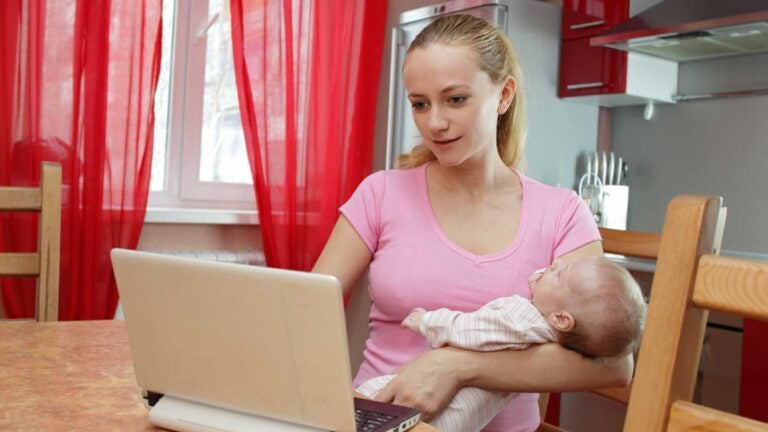 Virtual parent education could be a thing of the future
Social work interns are offering their services online with help from USC's counseling clinic
An innovative new program launched by the USC Suzanne Dworak-Peck School of Social Work is helping young parents access supportive services without leaving their home.
Home visitation is an increasingly popular approach to supporting new parents. The model brings a professionally trained parent educator into the home to deliver a curriculum focused on child development, parent-child interaction, positive parenting and school readiness.
However, these services can be difficult to provide. Barriers include scarcity of professionals with expertise to deliver home-based support, transportation costs and reluctance on the part of some families to welcome a stranger into their home.
"You often hear that in rural environments it is next to impossible to get home visitors out to people's homes," said Associate Professor Dorian Traube. "We thought, what if we could deliver home visitation entirely through videoconferencing technology?"
That is the model being tested in a project led by Traube in collaboration with USC Telehealth, the university's virtual therapy and counseling clinic. Instead of visiting new families throughout Los Angeles County, social work interns trained in an evidence-based parent education model known as Parents as Teachers are offering their services online.
Funded by the Overdeck Foundation and Consortium for Research on Engagement and Well-Being, the research initiative involves collecting data on topics such as parental stress, maternal depression, child development milestones, health milestones, socioemotional development and life skills. Interviews with participants and social work interns will help the researchers identify elements of the program that are critical to engaging families in virtual home visitation.
Meeting a need
Participants receive support services for six to 17 months, with 50-minute sessions occurring at least twice a month but preferably weekly.
Since the project launched in January, Traube said the initial cohort of families recruited through the L.A. Best Babies Network in conjunction with First 5 L.A. has embraced the new technological approach.
We fully anticipated this being a hard sell, but that has actually not been an issue.

Dorian Traube
"We fully anticipated this being a hard sell, but that has actually not been an issue," she said. "People are super comfortable with this, and they love the instant access that videoconferencing can give them."
By using interns and avoiding extended travel times due to congested traffic, the program is cutting the standard cost of home visitation services in half. Employing a full-time professional workforce to deliver virtual services would still save between 25 and 35 percent, Traube said.
There are some drawbacks, she acknowledged. Keeping appointments can be tricky; it's much easier to forget to turn on the computer than to ignore a knock at the door. Funding is also a challenge and federal officials want evidence of the efficacy of virtual home visitation before freeing up Affordable Care Act funds earmarked for such services.
Nonetheless, Traube believes the benefits far outweigh those concerns. The main issue she expected clinicians to encounter — difficulty engaging with parents and building a relationship without being in the same room — has not materialized.
"People very quickly build rapport," she said. "We spend a lot of time training our interns in best practices around telehealth service delivery."
New horizons
The project is also a boon for students at the USC Suzanne Dworak-Peck School of Social Work's Virtual Academic Center who are completing their field placement by delivering virtual home visitation services.
"By training our social work interns in this evidence-based practice, we are creating a whole new cadre of professionals who can be home visitors," she said. "They are leaving as a certified parent educator in a model that is nationally recognized."
This isn't the first time that service providers have tinkered with the use of technology to deliver support to parents, but previous efforts have generally involved asynchronous material that parents have to review on their own. This project represents the first attempt to provide live, interactive services in real time, largely thanks to the infrastructure provided by USC Telehealth, which has enabled clinicians and interns to provide therapeutic support to clients for more than three years.
The Clinton Global Initiative has highlighted the approach as a Commitment to Action, defined as a new, specific and measurable strategy to address a significant global problem. It has also drawn the attention of other regions and service providers seeking to replicate the virtual home visitation program.
"From the moment this project was announced," Traube said, "we started getting calls from other states that want a similar model."