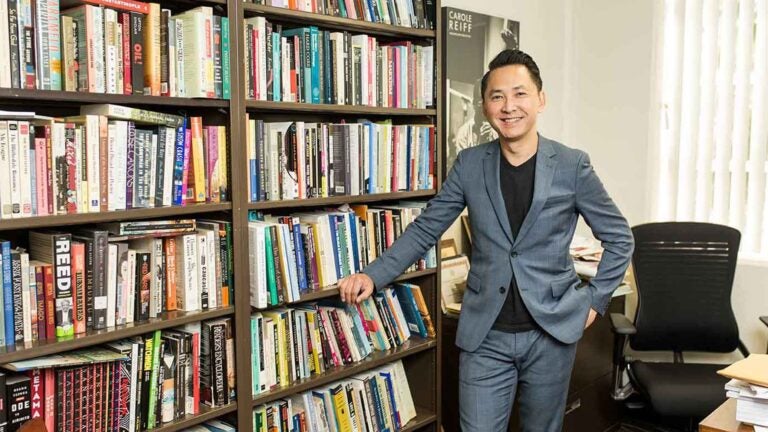 Viet Thanh Nguyen Wins Acclaim for Explorations of Identity and Displacement
The USC professor and Pulitzer Prize-winning author is named a 2017 MacArthur Fellow.
Viet Thanh Nguyen has always gravitated toward books, ?nding comfort in the written word. Like many in the Pennsylvania and California areas where he grew up, his family arrived in America as refugees after the Vietnam War, and the young reader grappled with his own sense of identity in a community that seemed largely invisible in American culture. The world of books provided solace. "That's how I came to fall in love with books," Nguyen says, "and how I wanted to become a writer from that moment."
Nguyen's deep passion for words has followed him through his adult life, and the professor of English, American studies and ethnicity and comparative literature is a Pulitzer Prize-winning author and a 2017 MacArthur Foundation Fellow. With his fellowship—the prestigious $625,000 MacArthur "Genius Grant" comes with no strings attached—he hopes to continue pushing the power of words.
He plans to use part of the fellowship money to support a blog he started seven years ago called diaCRITICS, which focuses on arts, culture and politics from Vietnam and the Vietnamese diaspora.
I hope that what people take from my work is the necessity of thinking and feeling from the position of people who are not like them.

Viet Thanh Nguyen
"There are such limited opportunities to spotlight these kinds of issues and the writers who work on them," Nguyen says. "I think much of the MacArthur award for me has gone toward recognizing my work in that area, but I always recognize that there's been a need to have that space for diversity of Vietnamese voices and that is what I will use some of the money for."
Nguyen—who was so shocked when he learned he received the MacArthur Fellowship he had to sit down for the duration of his phone call with the MacArthur Foundation—is also keenly aware of the award's responsibility beyond just the grant money.
"I have been following the results of the MacArthur Fellowships for years and have seen many writers I admire get them—writers whose work I think is vitally important to the arts and to American culture. I also think it's humbling because I think about all the other writers today who are also deserving of this award and may not have gotten it and all the writers in the past whose work has made my own possible that haven't gotten this either. That puts this award into context for me." The Sympathizer, Nguyen's Pulitzer Prize-winning ?rst novel and a New York Times bestseller, explores the Vietnam War through the lens of an American-educated spy for the Viet Cong. His follow-up work is a non?ction cultural companion, Nothing Ever Dies: Vietnam and the Memory of War, and his latest publication is the short-story collection The Refugees.
"I hope that what people take from my work is the necessity of thinking and feeling from the position of people who are not like them," Nguyen says. His writing, he adds, is not narrowly focused on revising Vietnam War history so that Americans learn about Vietnamese people, but instead, ultimately on bringing to light how we all view the world. "The larger project is really about an expanded capacity for empathy."