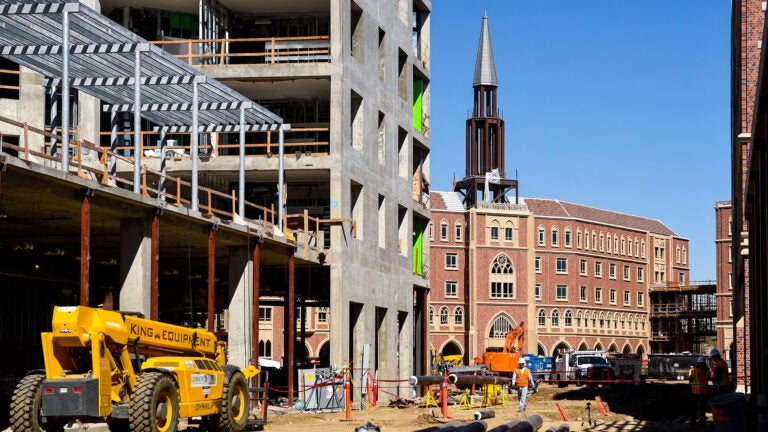 USC Village worker uses offbeat mode of transportation for commute
Construction wireman gets on-the-job training and hopes to be an electrician in the future
Most people drive to work. Others take a bus or the rail. Joseph De Leon favors a different form of transportation. He rolls to work each day at the USC Village construction site … on a skateboard.
De Leon is among the 30 percent of USC Village workers who live within the city of Los Angeles.
"Since I live in the area, I know what the old Village looked like. This is a big improvement," he said. "I think more people will enjoy coming to the area when [the new USC Village] is done. It'll attract more people. It's exciting for me because I'm part of that."
De Leon is one of the low-income and displaced workers from South Los Angeles who've gotten on-the-job training thanks to a joint effort that includes USC Village, the International Brotherhood of Electrical Workers Union, the nonprofit South Los Angeles WorkSource Center, Hathaway Dinwiddie Construction and subcontractors like Morrow-Meadows Corp.
Learning on the job
De Leon is classified as a construction wireman. It's a position that can lead to a lucrative career as a journeyman electrician. Like his fellow construction wiremen and electrician apprentices, De Leon came with little knowledge or experience in the field. He's been learning on the job for seven months.
"I've never done what I'm doing now," he said. "Sometimes I don't know what to do, so the journeymen explain it to me. It's really exciting."
De Leon works for Morrow-Meadows, a certified Woman Business Enterprise that has done most of the electrical work at the massive USC development. Part of his initial wages are reimbursed by Workforce Innovation and Opportunity Act funds, which originate at the federal level and are administered locally.
"It's quite expensive to train employees," said Laura McNeill, director of the WorkSource Center. "It's a huge investment, but there's a payoff for the employer — they're getting their tax money back. The individuals get the experience they need, so it's grassroots. It's tax money being reinvested back into the workforce."
Darren McClure, senior project manager at Morrow-Meadows, sees the benefits.
"Over time, they put in more hours, which allows them to work their way up," he said. "Through a testing and interviewing process, they can work their way into an electrical apprentice program through IBEW Local 11. Then they go through five years of education and they come out a journeyman electrician."
"We're glad to have them here," said Willy Marsh, director of capital construction development at USC Village. "Thanks to a team effort from Hathaway Dinwiddie and the subcontractors, we've been able to build the foundation of a trade career for some of our neighbors. From here, they can go on to jobs that can sustain them over a lifetime."
Looking ahead
De Leon plans to become a journeyman electrician. As he skateboards to and from work, he thinks about his future.
"I see myself planning a family and having a house," he said. "Back in the day, I was just getting by."
McClure thinks De Leon will get there.
"Through this job and through the IBEW, people like Joseph are able to start a career," McClure said. "The IBEW has a path laid out for these people. Through time and education, they can turn this opportunity into a stable career that allows them to provide for their families and have a better life."