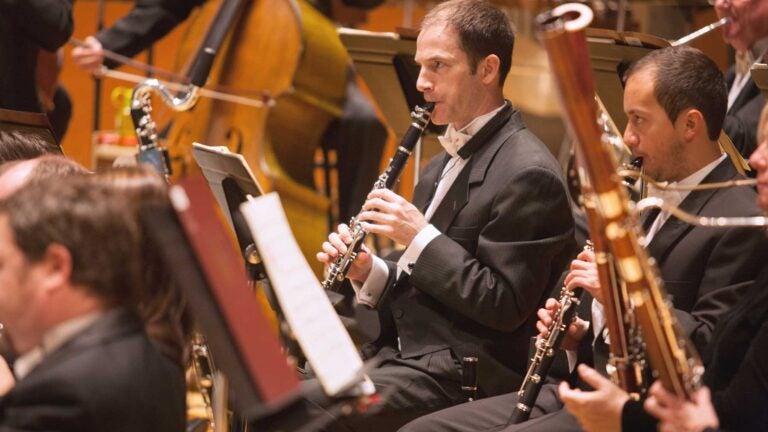 USC Thornton grads win the game of musical chairs with worldwide orchestras
Beating the odds, Trojans grab full-time posts with celebrated symphonies
The odds of winning a position in a full-time orchestra are daunting. Nabbing a spot in the annual musical chairs playing out across the nation is rare, but graduates of the USC Thornton School of Music have been winning these highly competitive seats at an enviable rate.
"Four of the six horn majors who graduated from Thornton in May left with jobs that they won this year," said Kristy Morrell MM '94, DMA '97, professor of horn and chair of the Winds & Percussion program. Emily Browne MM '16 won principal horn in the Spokane Symphony and was granted tenure. Katie Upton MM '16 won third horn in Orquesta Filarmonica. DMA candidate Katelyn Benedict MM '13 won third horn in the New Mexico Philharmonic and Dallin Taylor '16 earned a spot in the Marine Band, she noted.
USC Thornton clarinet professor Yehuda Gilad has been turning in numbers like that for years. It's not uncommon for orchestras to hire more than one of his students at a time. The Seattle Symphony currently has two of his students and the Kansas City Symphony clarinet section includes three alumni: Raymond Santos '06, John Klinghammer MM '98, DMA '06 and Jung Wan Lee '08, MM '13. The fourth member of the section, associate principal clarinet Gabriel Campos Zamora, studied with Gilad at the Colburn Conservatory of Music.
"It's the same family of students and I'm very proud of them," said Gilad, an accomplished clarinetist, music director and conductor who has become one of the most celebrated professors of clarinet in the world. "Our grads are all over the world right now — in the New York Philharmonic, the Concertgebouw, Swedish Radio, Madrid."
Why teachers teach
But even the most recent wins for USC Thornton don't end there. Since May 2015, more than 20 Wind & Percussion grads have secured coveted orchestra jobs.
In addition to the work of Morrell and Gilad, the students of flute professor James Walker, bassoonist Judith Farmer and faculty across the department are winning jobs. The percussion students of Joseph Pereira, principal timpanist of the L.A. Phil, and James Babor, Pereira's colleague at the Phil, are seeing similar success.
"This is the whole reason why we teach," Babor said. "We can push our students to be the best that they can be and help them to realize their dreams of a career in music."
The success extends to USC Thornton's venerated Strings program as well. Bassist Owen Levine MM '09 recently won a position with the Colorado Symphony and Peter Myers MM '10, GCRT '13 was named the new associate principal cello of the San Francisco Opera.
Job wins are coming in all the time and across all the disciplines at Thornton. I'm very excited about what we're doing.

Kristy Morrell
"We are really beating the odds at Thornton," Morrell said. "It's not just our department. Job wins are coming in all the time and across all the disciplines at Thornton. I'm very excited about what we're doing."
Career strategies
A faculty composed of working musicians, a commitment to mentoring and an education that balances technical proficiency and professional know-how with a broad foundation across disciplines are all factors in why students are succeeding.
"What's different about Thornton is that we have a working faculty, and it's because we're located in Los Angeles that we can offer that to students," Morrell said. "Our faculty are members of the LA Phil, L.A. Chamber Orchestra [LACO] and LA Opera and recording musicians on TV, film and video games. We're sitting on audition committees in orchestras and understand what it needs to sound like.
"It gives a different perspective on instruction and what it is that students need to know," added Morrell, who won a seat with LACO 20 years ago — six months before finishing her doctorate at USC Thornton.
Gilad said that teaching and mentorship are the keys to USC Thornton's impressive results.
"A professor needs to have conviction and pass that along to the students so they create their own personality with all the tools given to them. It's a long process of ups and downs of the musical world and becoming a better person after that."
Santos, who won his principal position in Kansas City in a two-day, four-round audition in competition with 100 other clarinetists, called Gilad "a brilliant musician that has so much to offer and he does so with great generosity of spirit.
"For anyone aspiring to a career in music performance, it is paramount that you develop the highest level of technical control of your instrument, while still finding a way to be captivating for your audiences," Santos said. "Your private teacher is by far the most important element in your pursuit of professional success, and Professor Gilad was an indispensable force in my ability to be employed as a performing clarinetist."
Gilad added: "Our teaching is never over. It's a lifetime association and mentoring with the students."
He regularly takes calls for advice and mentorship from USC Thornton grads around the world. They talk about career moves and what auditions to take, and they come back to campus for "tune-ups," playing for Gilad's feedback.
That's one illustration of the Trojan Family commitment.
"It's very special," Morrell said. "It's not just the school of music; it's the whole university. To learn in a place like that means you feel cared about and that we really can mentor every student."