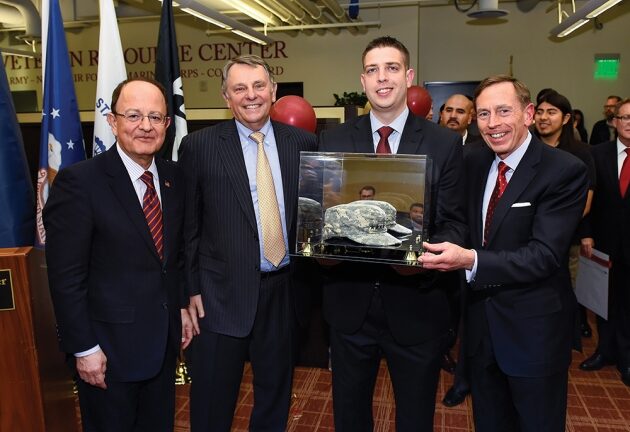 USC Student, Leader, Marine, Veteran
After two tours of duty in Iraq, Michael Johnson focuses on a new mission: earning his USC degree.
Cpl. Michael Johnson remembers little about that night in Al-Ramadi, Iraq, though he wears memorial bracelets on both wrists to remind him of two Marine buddies he lost there.
Johnson had been deployed to the Sunni stronghold in 2005, the height of the insurgency. By day, his unit carried out "coordinated knocks"—randomly visiting Iraqi homes to politely inquire about any suspicious activity. After dark, they conducted raids, going after known fighters.
That particular night, a bomb hit the rear vehicle in his group. When the convoy backed up to recover the injured, a second improvised device exploded. Then came the ambush—rocket-propelled grenades and rifle assault fire from everywhere. Insurgents stood atop the tallest buildings, out of the Marines' range. "You're out there with just your rifle, and all you see is muzzle flashes," Johnson says. The firefight lasted for what seemed like hours, but Johnson remembers little of his own part in it, only the welcome sound of Apache helicopters firing from above, and then looking down to see he had exhausted his ammunition.
Most of us [veterans] are coming here with a very professional attitude. Our main focus is to get our education.

Michael Johnson
Johnson survived numerous direct hits from explosives during that first tour and witnessed the devastating realities of warfare. He was part of the response unit after a school bus exploded at a checkpoint (the insurgents knew the Marines would just wave it through, he explains) and a suicide vest worn by a developmentally disabled child detonated (insurgents counted on the fact that Marines would let the boy approach and offer him candy).
Few college undergraduates have such harrowing memories. But Johnson belongs to a growing community of student-veterans at USC. Now retired from service and a junior majoring in aerospace engineering at the USC Viterbi School of Engineering, he is president of the USC Veterans Association, a student organization that represents roughly 900 Trojans with military ties. He also serves as a commuter senator in the 2014–15 Undergraduate Student Government.
At 28, Johnson has long outgrown youthful excess. "I have no desire to go out and do keg stands ever again," he says with a smile. "Most of us [veterans] are coming here with a very professional attitude. Our main focus is to get our education."
That isn't always easy. Johnson suffers from daily headaches, some so acute he typically misses about a quarter of his classes. His bomb-induced traumatic brain injury went undiagnosed for years. He spent a year in rehab at Naval Medical Center San Diego, receiving PTSD counseling, vestibular rehab to help with his poor balance, and speech rehabilitation for the stutter and difficulties communicating caused by the brain injury. He also had surfing lessons, which he calls "one of the best things that ever happened to me, [and] a big reason why the bad PTSD stuff doesn't affect me as much."
Growing up in Carrollton, Texas, Johnson excelled in science. He devoured books on meteorology and dreamed of chasing tornadoes. Now, with his military service over, he's determined to make a place for himself in the aerospace industry. His course load is demanding—he's taking dynamics, mechoptronics (a melding of optical, biological, chemical and electrical systems), thermodynamics and dynamic systems this semester.
Johnson, who commutes to USC from Playa Del Rey, is married as well. He met his wife in 2008, while training in the Mojave Desert. A newly minted USC dentist, Gina Randazzo Johnson DDS '14 recently joined a dental practice in her hometown of San Jose, California, so she and Johnson currently only see each other on weekends.
What little spare time he has, Johnson devotes to his fellow student-veterans.
"I feel very passionate about seeing vets succeed," he says, glancing down at his memorial bracelets. "I know that being around veterans makes things better. We feed off each other, motivate each other, keep each other on track."