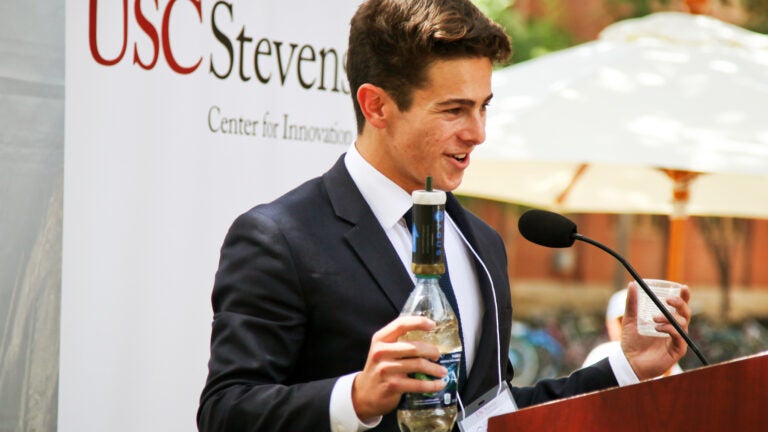 USC Stevens showcase salutes startups
Annual event honors students behind inventive projects on tooth decay and clean water
The USC Stevens Student Innovator Showcase is an annual competition that gives the university's young entrepreneurs a chance to present their startup ideas to the business community.
The event has distributed $117,600 in prizes since 2007, with winning teams using the funding to drive their businesses forward. Projects are judged on uniqueness, business concept, progress in funding and the ability to transform the world.
The winner of this year's $10,000 award for innovation went to Auxomel, a startup from the Herman Ostrow School of Dentistry of USC that is developing a peptide-gel prototype to regrow superficial human tooth enamel and slow tooth decay. The project was represented by Kaushik Mukherjee, a USC doctoral dentistry student. Auxomel also won the $2,500 Venture Validation award sponsored by the Lloyd Greif Center for Entrepreneurial Studies at the USC Marshall School for Business.
"The Student Innovator Showcase was an excellent training exercise for aspiring innovators such as our team to assess the commercial readiness of our technology in the real world," Mukherjee said.
The awards will help fund the clinical translation and commercialization of Auxomel's prototype, she noted.
Crowd.Game, which has created a large-scale interactive platform for live events, earned $10,000 for best business concept, a prize sponsored by the Diem Shotwell Metcalfe Family Fund at USC Marshall.
The project was led by Benjamin Skaggs and Bryan Edelman, alumni of the Interactive Media & Games department at the USC School of Cinematic Arts, along with Jimmy Tanner, a computer science doctoral student at the USC Viterbi School of Engineering.
Aqus, which aims to provide affordable access to clean water, won the Daniel Floersheimer Global Impact prize for the project with the greatest potential to benefit society.
Feel Image, which intends to help the visually challenged with new technology, won the $2,500 Most Potentially Disruptive award sponsored by the USC Marshall Center for Global Innovation.
Toolbot won $1,200 for the Trojan Family Choice Award, which is selected by a popular vote of people at the event. The company has developed versatile modular gadgets for photography and videography, easing the need to carry bulky camera equipment.
"We congratulate the winners and all the student teams that applied and competed in this year's USC Stevens Student Innovator Showcase. USC Stevens is proud to be an integral part of the USC entrepreneurial ecosystem," said Vasiliki Anest, senior director at the USC Stevens Center for Innovation.