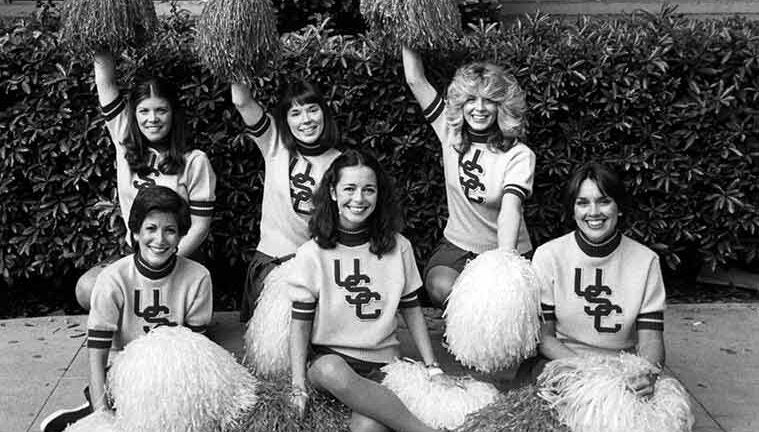 USC Song Girls Celebrate 50 Years as Ambassadors of Trojan Spirit
For a half century, the Song Girls have thrilled crowds with school spirit and goodwill.
A USC football game without the Song Girls? It may be hard to imagine, but the dance team was assembled in 1967 solely to boost basketball attendance. When the idea was first proposed to perform at football games, USC's dean of students assembled a committee to discuss whether the Song Girls would be "good enough and do a first-class, high-quality job." Those first Song Girls put to rest any doubt during the 1968 season as a team that was "tradition-shattering," according to the Daily Trojan.
Since then, Song Girls have inspired stadium crowds, not to mention generations of little girls. They've become part of USC history and lore.
"USC was my dream school and part of that dream was being on the iconic Song Girl team," says Taylor Felix '13, captain of the 2012 squad. Each year, close to 100 dancers vie for six to 11 positions on the squad. Even returning members must go through the intensive audition process.
A fact about Song Girls to clarify from the start: They're not cheerleaders. The emphasis is on dance choreography, personality and presence. This stance began with the squad's first coach, Lindley Bothwell '23, a founding USC Yell Leader. Professionalism and character were the watchwords for Bothwell, who was the volunteer coach of the Song Girls and Yell Leaders for 60 years and also co-founded the Trojan Knights.
Listen to Song Girls share favorite memories, and a sense of magic resonates. "There's a chant we shout while marching: 'To the Rose Bowl!'" says senior Jaclyn Sigman, captain of the 2018 team. "During the 2016 football season, the idea that we would make it to the Rose Bowl seemed so far-fetched, we stopped saying the chant. Then. … the season turned around." Indeed, the Trojans not only made it to the Rose Bowl, but eked out a last-second win against Penn State. "I don't think any game could ever top that one," Sigman says.
Yes, there's magic in being a Song Girl. "Your teammates become sisters for life," Felix says, "a community of really strong women who can lean on each other." And then there's the magic of performing for a crowd. Sigman says, "There are moments, like at the annual Union Square rally in San Francisco. [It's] that feeling of. …'Well, I never want to leave.'"
SONG GIRLS TIDBITS
The Traditional Uniform
According to Song Girl Marsha Gean Kendall '75, the 1972 squad was asked to appear in a Texaco commercial. The wardrobe was a white turtleneck sweater emblazoned with a megaphone and matching skirt trimmed in cardinal and gold. Coach Lindley Bothwell adopted the look, which debuted in 1973. Typically, Song Girls have as many as three custom-made uniforms.
Sisterhood
There were seven Song Girls in the original 1967 squad. To date, there are 250 alumni members.
She's Got Talent
In a closed-to-the-public audition process, preliminaries include personal interviews and talent auditions. Following a showcase for leaps, fouettes, leg holds and high kicks, hopefuls perform the Fight Song and a jazz routine. Contenders making it to the final cut then present a one-minute choreographed solo.
The Song Girls' Pledge
Pride without arrogance; confidence without conceit.
Global Ambassadors
The squad travels around the world and makes about 27 appearances outside of athletic events each year, including philanthropy and charity events, magazine shoots, dance clinics and weddings.
Coming Up Roses
To date, the Song Girls have appeared in 20 Rose Bowl Games and Rose Bowl Parades.
Football Saturdays
On game days, squad members are ready by 8 a.m. to perform in two campus rallies. Then, it's off to the game, which lasts about four hours, followed by a post-game show.
Beyond Football
Other sports get Song Girl love, too. The squad performs at all men's and women's basketball games. Schedules permitting, the team is also on deck at baseball, volleyball, lacrosse, water polo and soccer competitions.
Fancy Footwork
Song Girls have three-hour practices five days a week and perform more than 42 dance routines each year.
White House Welcomes
Over the years, the Song Girls have performed for many First Family members, including:
Betty Ford (1979)
Barbara Bush (2002)
Bill Clinton (2016)
We Are Family
For away games that call for the entire band, the Trojan Marching Band, Silks, Spirit Leaders and Song Girls travel together in seven buses.
USC's "Greatest Hits"
Sure, there's the Fight Song. Other tunes that have become Song Girls' standards include the Trojan Marching Band's renditions of Tusk, Heartbreaker, Frankenstein, The Kids Aren't Alright, Dance to the Music and All Right Now.