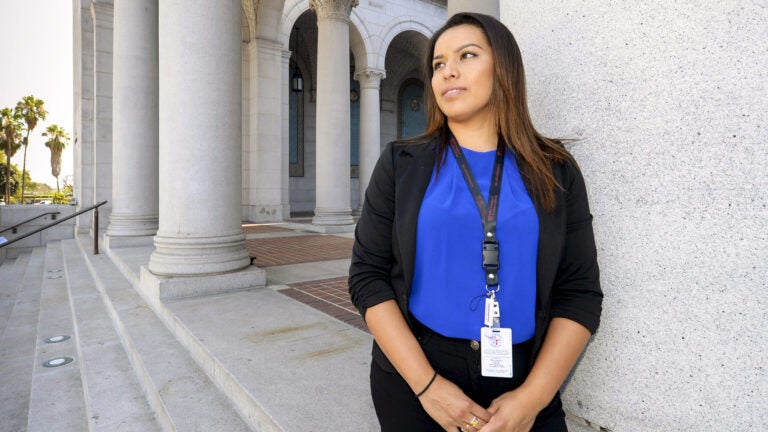 USC senior nears the end of a difficult road from Mexico to LA and City Hall
After earning her degree later this year, Karla Martinez hopes to motivate others to fulfill their potential
[new_royalslider id="80″]
USC senior Karla Martinez spent her summer in Los Angeles City Hall, working alongside political powerhouses like Ana Guerrero, Mayor Eric Garcetti's chief of staff. In May, she and USC classmates met with executives at ABC, The New York Times and The Huffington Post in New York. And this fall, Martinez will be jetting off to study abroad in London.
Such a resume might suggest a charmed life paved with opportunity and big breaks, but Martinez, a communication major at the USC Annenberg School for Communication and Journalism, has had to knock down numerous barriers, defy odds and surpass expectations in order to be where she is today.
Housecleaning and babysitting
Born in Guanajuato, Mexico, and raised by a single mother in Ontario, Calif., Martinez cleaned houses and babysat up to 30 hours a week during high school to help support her mother and two younger siblings. Even then, she was fiercely focused on the future.
"I didn't have guidance with homework because my mom didn't speak English, so I learned to become very independent," Martinez said. "I couldn't join any sports or extracurricular clubs because I babysat my siblings at night, so I did community service on the weekends to help build up my resume."
She graduated high school with a 4.2 GPA — in the top 5 percent of her class — and was accepted to five University of California colleges. But she had no way to pay for higher education.
"Since I was born in Mexico and didn't have a social security card at the time, I couldn't get financial aid," she said. "My high school teachers actually raised money to pay for my first semester at UC Riverside, but I didn't have a plan for how to pay tuition the semester after that, so I didn't go."
Instead, the academic star began working two jobs. She continued to support her family and squirreled enough away to start at Chaffey College. When she had earned enough credits to transfer, Martinez sent only one application out to her dream school — USC — and didn't tell a soul.
She was accepted as a spring admit and offered a "generous" university grant along with a Cal Grant to support her studies.
"I was crying when I told my mom I got accepted to USC, and she was like, 'What is that?' My family didn't know anything about college. I'm the only one in my extended family to even graduate high school, so she was not excited that I got into this great school; she was worried about me leaving home," Martinez recalled.
Overwhelmed at first
She spent the summer trying to persuade her mother that she had to move to Los Angeles, and soon others joined the chorus. "Even our landlord was saying, 'you have to let her go. It's USC!' Finally, she accepted it," Martinez said.
Her first semester was "overwhelming," but she found her way after volunteering for El Centro Chicano, where she learned about university resources and found ways to get more involved, such as advising fellow undocumented and Deferred Action for Childhood Arrivals students.
Martinez also found guidance through the First Generation Mentorship Program in the Career Center, which matched her with alumnus Garett Monroe '01. Monroe, also first in his family to attend college, helped her find her focus within the communications field. A mentorship program at USC Annenberg introduced her to Vanessa Skillman '03, who has brought Martinez along to numerous company events and service activities.
I wasn't happy with my identity, but seeing the diversity at USC has helped me to accept myself.

Karla Martinez
By her second semester, Martinez had caught her stride: "I feel like I found myself here at USC. For many years, I wasn't happy with my identity, but seeing the diversity at USC has helped me to accept myself and love myself more. I'm surrounded by amazing people here, and we all feel that we can change the world."
Martinez heard Guerrero speak while covering the USC Latino Student Empowerment Conference for University Communications. Inspired by her message of giving back to the community, Martinez contacted Guerrero to see if she needed any volunteers.
The exchange led to a coveted internship in the Mayor's Office in February, for which she was awarded a $1,200 USC Dream Dollars stipend for unpaid internships in the nonprofit and government sectors. In addition to interning and taking a full load of classes, Martinez works as a waitress at McKay's about 30 hours a week to cover living expenses.
Young ones look up to her
Her achievements have had a profound impact on her family, particularly the younger generation.
"Now, both of my siblings want to go to college, and they want to go to USC, too. My younger cousins look up to me," she said. "They understand that it takes hard work and you can't wait for things to happen to you.
"All of these experiences I've had, like going to New York and to London, they are for more than just me — I'm showing them that this is what happens when you go to college. It is breaking a barrier in my family."
Her mother, too, has come around, and now enjoys "humble bragging" about her daughter's accomplishments, Martinez said.
After she earns her USC degree in December, Martinez said she is considering law school and hopes to "motivate people to see their own potential."
She'll do this, in part, by sharing her own story.
"There are so many young people who have the potential to go to USC but don't have the positive thinking or encouragement around them," she said.
"When all of the odds are against you, it's hard to think you can do it. I like to tell younger kids, 'If I can do it, then you can do it, too.' "