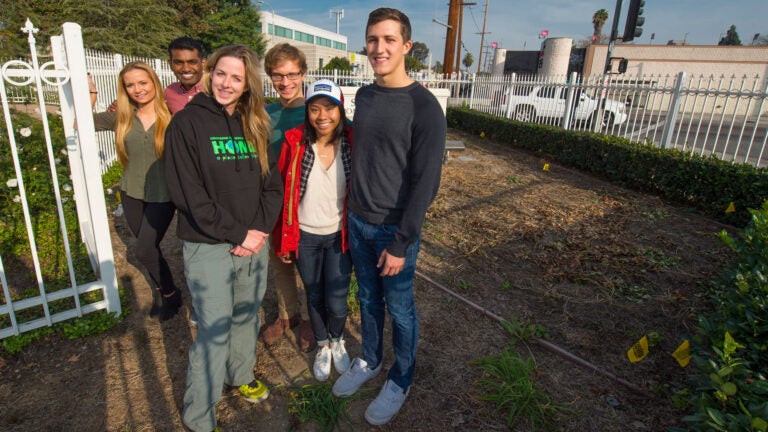 Giving away real money raises the stakes for USC Price students
Classmates select a local nonprofit worthy of a $10,000 grant
Neel Bhoopalam and four classmates step carefully around the small yellow flags dotting an L-shaped plot of dirt at Central Avenue and Jefferson Boulevard in South Los Angeles. The brightest spots of color in the small lot, the flags mark the path of an underground sprinkler system for what will be an oasis of greenery — and hope.
The plot of land between St. Patrick's Church and the busy thoroughfare doesn't look like much yet. But before the spring semester is over, staff and volunteers at nearby nonprofit A Place Called Home will transform it into an urban "Garden of Eden" featuring citrus, persimmon and pomegranate trees as well as greens, tomatoes and roses. When the plants mature, neighbors will take the bounty of organic flowers, fruit and vegetables home.
The transformation will take place thanks to a $10,000 grant that Bhoopalam and members of his class project team earned through a long-standing nonprofit management class at the USC Price School of Public Policy. The class teaches students how to write and evaluate nonprofit grant applications, exposing them to real-world challenges while helping invest in local solutions to "wicked problems" like homelessness and poverty.
Surprising homework
Bhoopalam and most of his classmates learned on the first day of class that they'd be giving away real dollars, which raised the stakes on their work beyond their final grades.
I'd never heard of something like this being done in a class.

Neel Bhoopalam
"I'd never heard of something like this being done in a class," said Bhoopalam, a senior majoring in computer science with an interest in social entrepreneurship.
Cara Esposito MPA '09, DPPD '15, an adjunct professor who teaches the unusual philanthropy course, explained to students that a donor who chose to remain anonymous had offered the money as a teaching tool, as well as an investment in the community.
Classwork that involves the reading of financial documents and budgets is more engaging when you're determining where to invest real grant money, she said. The funds also help convey philanthropy's most important lesson: There are many terrific nonprofits doing worthy projects and not enough money to fund them all.
Narrowing a long list
As the fall semester got underway, the students researched Los Angeles nonprofits that sought funding. Using criteria such as organizational values and financial health, five teams of students each narrowed their original list of nonprofits from as many as 21 organizations to one favorite.
Deciding which nonprofit to back was the hardest part for his team of six, said student Calvin Legassick. Thirty hours of research and discussion later, the students decided to pitch A Place Called Home to their classmates.
"So many organizations are doing heroic work," said Legassick, a senior majoring in computer science.
Then the students faced their next hurdle — persuading classmates to back their choice of nonprofit.
Along with the four other teams, Legassick and his mates prepared and presented their best argument for why their favorite nonprofit should get the money. Students voted in two rounds, first selecting two finalists, then selecting one winner — A Place Called Home.
The neighborhood's happy place
Hannah Maluyao, a public relations major and senior, remembers her first time touring the after-school facility. On any given day, some 300 kids from ages 8 to 21 show up for educational, arts and athletic programs as well as counseling and mentoring services. Staff members also dish out more than 5,000 meals a month.
"There were students dancing, making music and doing their homework," Maluyao said. "They all seemed so happy to be there."
Final funding for the urban garden had fallen through, staff told the students. Without money, master gardener Maya Yaniv and her team would have to rely on volunteer labor for tasks like site preparation, irrigation system installation and planting, with delays likely.
The nonprofit's gardens provide training in organic gardening as well as fresh food used in its nutrition program.
"These gardens not only improve access to fresh, locally grown produce, but also create employment opportunities for youth," Yaniv said.
At the garden site, Yaniv showed the students a few areas where planting had begun.
"We were thrilled to have been selected," she said. The students' grant will help complete planting for the garden's grand opening in April.
The students looked around the dirt lot, where Yaniv said the future fruit trees and vegetable plants would go. Their thrill at earning the grant funds for A Place Called Home is tinged with regret at not being able to give more to other organizations. The need, they've learned firsthand, is great.
"Philanthropy is challenging," Bhoopalam said. "I knew it was difficult work going into the class, but after this semester I realized it was even harder than I imagined."