USC President C. L. Max Nikias named chair of Pac-12 CEO Group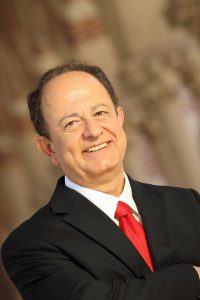 Nikias officially begins term as chair July 1.
Contact: Eddie North-Hager at (213) 740-9335 or edwardnh@usc.edu
USC President C. L. Max Nikias has been named as chair of the Pac-12 CEO Group, the conference's governing body consisting of all 12 university presidents and chancellors. Nikias will officially begin his term as chair on July 1, 2017.
In January 2016, Nikias was named chair of the College Football Playoff (CFP) Board of Managers, which governs the CFP's business, property and affairs — a position he continues to hold.
"The Pac-12 CEO Group provides important guidance as we advance conference initiatives on behalf of our universities and 7,000 student-athletes," said Pac-12 Commissioner Larry Scott. "I look forward to working closely with President Nikias, who will provide thoughtful, effective and visionary leadership at an important time for intercollege athletics and for the Pac-12."
Nikias is the 11th president of the University of Southern California. He holds the Robert C. Packard President's Chair and the Malcolm R. Currie Chair in Technology and the Humanities, and chairs the USC Health System Board.
During his presidency, USC has introduced two new Division I NCAA sports — women's lacrosse and women's beach volleyball — the latter won its third consecutive national championship this year.
Since its founding in 1915, the Pac-12 Conference has united the west through academic and athletic excellence. Nicknamed the "Conference of Champions," the Pac-12 has claimed more NCAA national team championships than any other conference in history. In May 2017, the Pac-12 became the first collegiate conference with 500 NCAA championships.