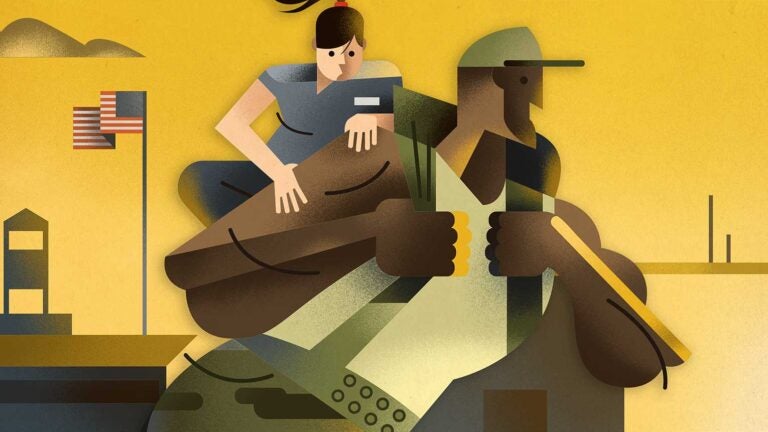 USC physical therapists treat soldiers at military bases across the country
Three Trojans find more autonomy in the military, where they are the first line of defense when injuries occur
Nick Detrick DPT '17 has long had a strong desire to serve.
"My grandpa, uncle and cousin were in the military, and I've always been interested in it," Detrick said. "With physical therapy, I can serve those who serve."
Detrick was so committed to working with the military, he started a clerkship at the David Grant USAF Medical Center, the Air Force's largest medical facility on the West Coast.
"I have a passion for driving prevention and increasing quality of care," said Detrick, who was at the base in Fairfield, Calif., for nearly three months. "If we can do that for active-duty officers, we can prevent so many of the issues we see in our veterans."
Detrick, along with two other Trojans, just completed his extended 16-week clerkship to provide treatment to soldiers at military bases across the country.
A new skill set
"I didn't have any background in military or know much about it before going," says Claudia Haeussler DPT '17, whose clerkship took her to Womack Army Medical Center at Fort Bragg in North Carolina. "I'd heard from other clinicians — and I found this to be true — that in the military, you have a lot more autonomy."
In the civilian world, physical therapists can't prescribe medications or request imaging for injuries without a doctor's consent. "I was able to order X-rays or MRIs," Haeussler said. "You're the first line of defense if anyone has a sprain or muscular/skeletal issue."
Within the military model, physical therapists have a broader scope of practice than in the civilian world. "We're more like primary care providers in the sense that I did most patient evaluations and re-evaluations," Detrick said. "We could also prescribe some drugs, like muscle relaxants and higher-strength Tylenol and Ibuprofen."
Chelsea Weedman DPT '17 sought to expand her skill set by working with amputees. "I was seeking something that would help me grow," Weedman said. "I knew this would be a challenge, and I felt this kind of opportunity as a student was really going to be beneficial."
The hybrid internship program at the Naval Medical Center San Diego, where Weedman spent her clerkship, was designed so students have access to the extensive physical therapy and prosthetics services.
The program is a "unique opportunity for physical therapy students to gain experience with various aspects of rehabilitation for our military service members and veterans with extremity trauma and amputation," said Shawn Farrokhi DPT '03, PhD '09, Weedman's supervisor and senior scientist at the Extremity Trauma and Amputation Center of Excellence. In addition, students participate in focused and clinically relevant research projects that will pave the way for innovation and improvements in future rehabilitation, he added.
Quality of care
The students agree having access to unlimited resources and the military's state-of-the-art technology vastly improves the kind of care they provided.
"We had a movement retraining clinic where we could attach motion-capture markers and have patients run on the treadmill to determine if they have a movement impairment," Weedman said. "They can see on a screen if they're doing well with a particular [physical therapy] strategy. We were treating them using real-time visual feedback and tailoring treatments as much as we could."
Without insurance limitations, physical therapists can provide as many sessions as they see fit.
I could give really top care and throw everything I can at an injury to get patients back to work quickly. That doesn't always happen on the outside.

Claudia Haeussler
"I could give really top care and throw everything I can at an injury to get patients back to work quickly," Haeussler said. "That doesn't always happen on the outside."
Additionally, having different types of providers — occupational therapists, surgeons and mental health professionals — all under one roof creates more integrated care.
"Being able to collaborate with other providers offers a huge advantage," Weedman said. "All of the services that patients need are so close together; you're able to talk to their doctors, which is a new skill."
Haeussler was encouraged to experience different forms of treatment outside of physical therapy. "With the hospital being right here, I was able to take excursions to see different procedures," Haeussler said. "I saw an ACL [anterior cruciate ligament] reconstruction, and I was able to follow up with that patient. I saw that whole continuum of care."
A unique patient population
The majority of the patients students see are fit, active-duty men in their mid-20s, a unique population compared to the civilian world.
"Essentially, I treated high-level athletes — no one was overweight," said Haeussler, who often saw shoulder injuries, along with ankle fractures or sprains that come with jumping out of planes. "Guys will come in and say they have pain on mile 10. They're working out four-plus hours a day to prepare for deployment and they're all very motivated."
When Haeussler recommended alternative forms of exercise, she's assured patients follow her protocol.
"[Officers] are required to do training every morning, and I can put restrictions on their profiles," she said. "I can say no pushups or no more than 40 pounds on their backs, and their commanders see that. I can dictate activities based on patients' injuries versus just hoping they follow a program."
Many of Weedman's patients had experienced traumatizing injuries from motorcycle accidents or intense falls while on Navy ships.
"These patients had been through a lot more mentally and medically — concussions, traumatic brain injuries or possibly other trauma to their organs," she said. "Learning to relate to people who've really gone through hardship, and discussing their care and what's best for them has been a valuable lesson."
Still, providing continuity of care can be a challenge in the military.
"One of the hardest things about a rotation like this is all of the moving pieces," Detrick said. "All of a sudden, you or your PT could get deployed. With the number of providers and technicians patients have seen, you can imagine having to detail your story each time, or providers being consistent with the way they cue exercises and deliver treatments. That makes it difficult, but that's the nature of the military."