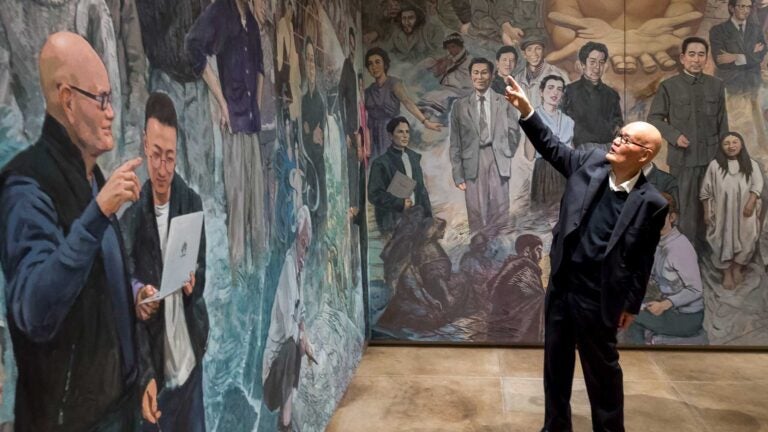 USC Pacific Asia Museum reopens with surprising Mexico-China exhibit
The museum highlights unexpected ties across the Pacific as it reopens after a yearlong renovation project
Shengtian Zheng remembers when he first saw the works of Mexican artist Diego Rivera.
It was in Beijing in 1956, a time when China had closed its borders to the Western world and when art in the typical sense was forbidden. Only 16 years old, Zheng saw images and people in the Mexican paintings that reminded him of his home country.
"After that show, my style changed," Zheng said.
That rare cultural exchange — and others over generations — opened up young Chinese creatives to Mexican artists such as Arturo García Bustos, Adolfo Mexiac and Celia Calderón. And it left a lasting impact, with Chinese artists seeing Mexican influence on illustrators, printmakers and muralists.
It's now the subject of a new exhibit at the USC Pacific Asia Museum in Pasadena, curated by Zheng, called Winds from Fusang: Mexico and China in the Twentieth Century. The exhibit is part of the Getty's Pacific Standard Time: LA/LA, Latin American & Latin art in L.A.
The special collection kicks off the reopening of the museum, which has been closed for about a year for seismic retrofitting. The museum is one of only three in the nation dedicated to Asian art and heritage. When it opened in 1971, it showed art that many Angelenos had never seen before.
Zheng spent a decade doing research for the exhibit, which he says is likely the most comprehensive on the subject. He traveled to Mexico and China to interview artists, many in their 80s and 90s. Some of those are available to watch via video within the exhibit.
"This is an ignored part of history," Zheng said. "The mainstream narrative is very narrow."
Open doors
China opened its doors to Mexican artists during a time when it needed allies, Zheng said. The country's communist ideology also was attractive to many Mexican artists, who idealized the philosophy.
But the dialogue starts before the People's Republic of China was formed, he noted.
There's the example of Miguel Covarrubias, an illustrator and caricaturist featured in The New Yorker and Vanity Fair in the 1930s. During his travels to Shanghai, he socialized with writers and artists, greatly influencing young Chinese illustrators such as Ye Qianyu, Zhang Guangyu and Zhang Zhengyu, which can be seen in the exhibit, their illustrations side by side.
Before he knew Covarrubias, Qianyu didn't sketch, " Qianyu had said, according to the curator. He always took his camera with him instead. But Covarrubias encouraged him to always have a sketchbook to sketch in the moment and rely less on photos.
"From then on, he took a sketchbook [with him] everyday," Zheng said. "He becomes the best known sketch artist in China."
A small room shows prints by artists such as Leopoldo Mendez and Bustos, whose jarring depictions of war — created in the 1930s and 1960s respectively — left an imprint on the style of future Chinese printmakers, Zheng said.
Revolutionary mural
But one of the most telling mediums was a signature of Rivera: the mural.
The first public mural in China was at Beijing Capital International Airport in 1979, toward the end of the Cultural Revolution, a time where artists would have been punished for creating art beyond propaganda. By artist Yunsheng Yuan, it depicted women bathing in nature — a controversial scene that was protested by many as bourgeois and offensive. The museum has his sketches on display.
"At that time it was revolutionary because they were only able to paint Mao and the revolution … for more than 20 years," Zheng said. "It symbolized this influence."
Even though Zheng was just a kid when he saw that exhibit in Beijing, he still remembers the painting that stood out the most. It was a large mural by Rivera, called "The Victory of War."
"We all remember that painting," he said.
After Los Angeles, the Winds from Fusang exhibit will travel to the Diego Rivera Mural Museum in Mexico City.
And maybe there, a young artist will look up at a piece — transported thousands of miles — and see a bit of him or herself.