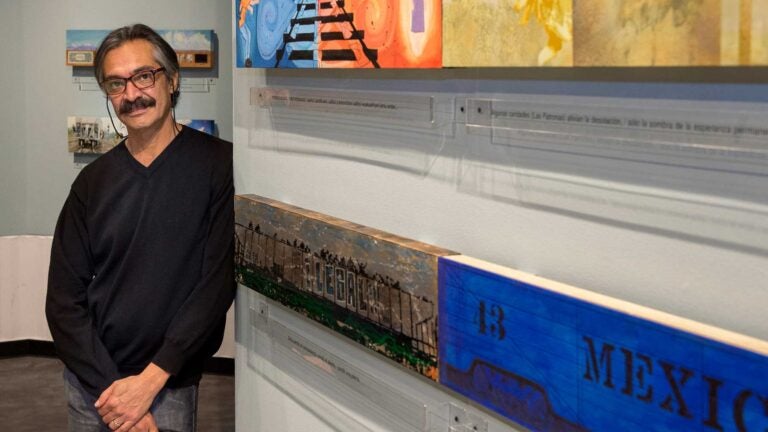 USC Fisher Museum exhibit asks visitors to board 'the beast'
Artists explore the price of migration and the toll it takes on lives in the Americas
Every day, migrants from all over South and Central America board the train.
But they're not ticket-buying passengers, gazing out the window. They're skirting the law, hopping aboard the tops of a network of hulking cargo trains in Mexico. The trains are known as La Bestia — "the beast" in Spanish. Some use an even starker name: El tren de la muerte. The Death Train.
Exposed to the elements, sitting back to back and trying not to tumble off the jangling cars, the migrants risk violence, malnutrition or worse on a journey that can take weeks or months. It's all to travel someplace they hope will offer a better life.
Mexican artists have translated this journey and humanitarian crisis into art — 52 pieces to be exact. MONTARlaBestia — which translates to "board the beast" — will be on display at the USC Fisher Museum of Art from March 19 to April 8.
USC will be the exhibit's first stop on U.S. soil. The first two shows were in Mexico.
"When I come across art and artists who are saying we can take art and apply it to a better understanding of what's happening in society … I think that's a role we have to pay a lot of attention to," said museum Director Selma Holo.
Multimedia exhibit
Mexico City-based exhibit designer Marco Barrera Bassols curated the multimedia exhibit, which includes a short documentary, an interactive working model train exhibit and audio of accompanying poetry in Spanish and indigenous languages.
"It's a scream, all of them," he said of the different works. "It's a way they think we could visualize the problem of La Bestia."
The 52 artists involved created each piece specifically for the exhibit. Each piece is the same dimensions and line up side to side, like cars connecting to form a train.
Some are visceral, showing the death and destruction that can occur on the journey.
Others show hope and histories left behind. Paula Laverde Austin paints a blue sky with mountains, but its terrain is littered with found objects — keys, razor blades, a handwritten note, a faded photo, American money.
There are nods to commercialism and capitalism, such as a piece by Delia Vega showing the train, made of a dollar bill, fading into the distance.
Or there's more ethereal works, like one by Ernesto Hume Santacoloma — monarch butterflies tracing train tracks on a blue background.
Although the trains barrel though Mexico, the number of riders, which averages about half a million a year, are diverse – coming from places like Honduras, Guatemala and El Salvador, according to a 2014 NPR report.
"It's interesting because if you look at the history of [the United States] and Mexico, for example, the train transformed our countries," Bassols said.
Global significance
Fast forward to now — technology like cellphones and the internet have democratized much of society, giving the marginalized access to information they didn't have before. But physical barriers still exist, such as La Bestia, that keep parts of society from opportunity, Bassols said.
Holo thinks the exhibit is a way to shed light on something of global significance from which some museumgoers might feel distanced.
"This is a way, through art and through poetry, that we can humanize the migrants who are coming or trying to come here," Holo said. "We can understand the dreams, the aspirations, the pain, the disappointment, the suffering in a way we can't sometimes because we don't allow ourselves to get close."
MONTARlaBestia has a reception open to the general public at 1 p.m. on Sunday, March 19. There will be a discussion with Professor Manuel Pastor, from the USC Center for the Study of Immigrant Integration and representatives from the American Civil Liberties Union of Southern California. USC Provost Michael Quick and Carlos Garcia de Alba, the Consul General of Mexico in Los Angeles, also will give remarks.
"These are the types of dynamic collaborations that we are excited to offer at the USC Fisher Museum," USC Provost Michael Quick said. "Moreover, the fact that we are the first stop of this exhibition — outside of Mexico — shows the importance of our place in the art world and the importance of our global influence. This is exactly the kind of work that a university-owned museum should be doing."