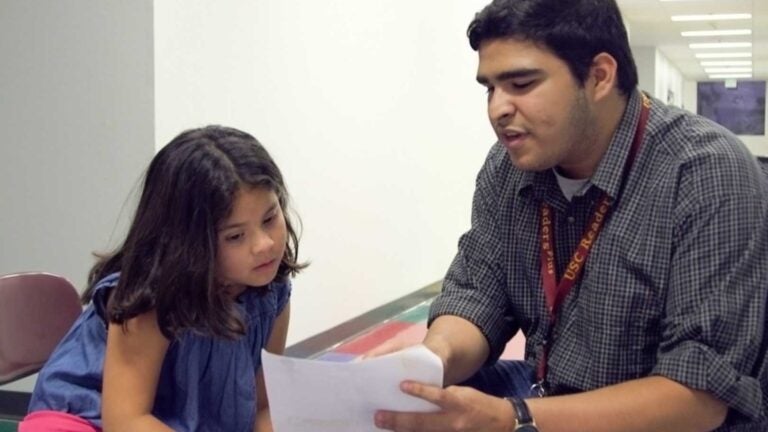 USC Dornsife, nonprofit help youngsters boost their literacy skills
Fifth-grade students accept the challenge to read from a Harry Potter book in front of a large crowd at the Galen Center
https://www.youtube.com/watch?v=dprKmT_DO8A&feature=youtu.be
Ten-year-old Joseph Vega had always struggled with reading. But now the shy fifth-grader was about to embark on a daring mission that required him to summon as much courage to perform as it would any of the intrepid feats undertaken by his hero, James Bond.
Gripping his text tightly in both hands and taking a deep breath, Joseph walked to the microphone at the front of the stage at USC's Galen Center. There, before a panel of judges and an audience of more than a hundred teachers, mentors, students and family members, he began to read aloud a lengthy passage from J.K. Rowling's beloved novel Harry Potter and the Sorcerer's Stone.
Joseph was one of a dozen fifth-grade students from John Mack Elementary near USC's University Park Campus who were participating in a "Magical Reading Competition" held on Nov. 12. The event was organized by the Joint Educational Project's USC ReadersPlus program in partnership with United Voices of Literacy (UVOL), a nonprofit that uses a research-based literacy program to teach basic literacy skills using phonics and music.
The joint effort with the USC Dornsife College of Letters, Arts and Sciences offered students instruction and practice in dramatic oral reading during a four-week after-school course. UVOL volunteers joined USC ReadersPlus staff to coach fifth-grade students as they read aloud from Rowling's bestseller.
A great fit
Christina Koneazny, associate director of administration and educational outreach at JEP, said she welcomed the partnership with UVOL as a great fit with the work of USC ReadersPlus. She also praised the idea of dramatic oral reading, saying it brings students tremendous benefits.
"When you're reading aloud, you connect with the written word a little differently," Koneazny said. "You read it differently with the intention to communicate it clearly and meaningfully to others, and I think that really increases comprehension. Having that opportunity to perform a text helps kids connect with it and brings new meaning to what they're reading."
Leah Sayles, founder and president of UVOL, agreed, describing the partnership with JEP as "a godsend."
"We pulled our weight on both sides and working together has been great," she said.
Exponential growth
Prizes for the three contest winners included tickets to The Wizarding World of Harry Potter at Universal Studios Hollywood and tickets to J. K. Rowling's new wizarding movie, Fantastic Beasts and Where to Find Them.
While Joseph didn't place in the top three, he did get a loud round of applause. More importantly, he was clearly delighted to have achieved what he had set out to do — something his reading coaches said would have been extremely challenging for him just a few short months ago.
"I've watched Joseph's reading skills grow over the last four years, but this past month has been exponential," said Melanie Alvarez, a senior majoring in cognitive science and psychology at USC Dornsife, and the JEP ReadersPlus coordinator at John Mack Elementary.
"He was really shy about reading when I met him as a second-grader. He would barely want to read with me just one-on-one, so to see him read in front of an entire audience today was wonderful," she said. "I think it's great for him and all the other fifth-graders to start developing that fearlessness and those reading skills now … before they transition to middle school."
A rewarding experience
JEP ReadersPlus volunteer Nicolas Lopez, a freshman majoring in applied computational mathematics at USC Dornsife, also said he was proud of how far the elementary students have come and how much they have accomplished.
"I was so happy when I saw the students I helped do so well," he said. "It was a really good feeling, and I would encourage every student to get involved in JEP if they can. For me, it's been the most rewarding part of being here at USC so far because I've been able to help people improve their lives."
Koneazny said that reading aloud helps literature come alive for young students — a benefit she believes won't end with the competition.
"These students will now look at reading in a different light and will have a different kind of attachment to stories," she said. "They're going to read silently to themselves in a different way. The voices in their head are going to be more expressive and they're going to understand more. That will carry over and go with them throughout their lives."