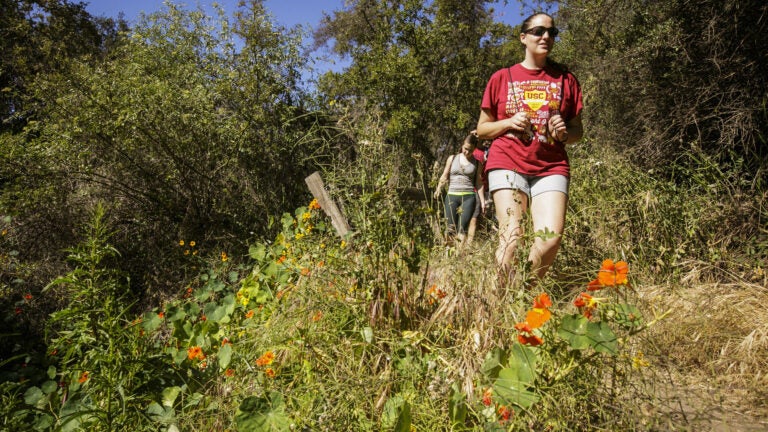 How USC clubs are using the Involvement Fair to build online communities
Representatives from four very different student organizations describe how they're adapting to the world of remote recruitment and engagement.
The fall 2020 Involvement Fair did not see booths lining Trousdale Parkway. Nor did it feature representatives from the 1,000-plus student organizations eagerly waiting to promote their individual communities or herds of students wandering through looking for the right club to join.
As with classes and almost every other facet of life, the Involvement Fair was held completely online, which allowed students from across the world to log on and find their own community at USC.
Each organization had the chance to participate and provide a meeting room link via platforms like Zoom and Discord. Engagement was then up to them for the two-week duration of the fair, which wrapped up Thursday.
Despite the challenges in terms of recruiting and staying connected, representatives from four very different organizations shared how they're adapting to this new world.
USC Reach: a passion for creating an online presence
As the first and only official social media club on campus, USC Reach understands the importance of staying connected and having an online presence. The club's head of social media, Katherine Vlamis, said the group is still holding meetings on Zoom and plans on having guest speakers from Google and Flighthouse.
Vlamis, who found out about USC Reach through last year's Involvement Fair, said the biggest perk of the club is the connections and the distinguished alumni who often return to speak.
I'm starting to like the social media industry more and more, and that's thanks to this club.

Katherine Vlamis
"It's kind of cool, you have a celebrity or influencer coming to talk to you every week," she said.
Anyone interested should move quickly, as applications for USC Reach close soon. Vlamis said that the number of followers you have doesn't matter; passion for social media and creating content does.
"I'm starting to like the social media industry more and more, and that's thanks to this club," she said. "It's making this hobby into more of a career."
Brothers Breaking BREAD: finding and maintaining a community at USC
Justin Negash knows seeing others that look like you is crucial. That's why as treasurer of Brothers Breaking BREAD (Barriers, Regrets, Egos, Animosity and Doubt) — a professional development and community service-oriented for Black men at USC — Negash encourages anyone interested to reach out when it becomes easy to feel alone.
"When you don't see these kinds of people in your classes, in your house or on your campus at all, it gets pretty draining," he said. "Having a community of people that look like you is super important."
Like other organizations, Brothers Breaking BREAD plans on meeting via Zoom and requires those interested to attend two meetings this semester to become an official member.
Follow Brothers Breaking BREAD on Instagram and Twitter.
USC Helenes: emphasizing school spirit and service
Even as one of the university's oldest service organizations, this semester presents some unprecedented challenges for USC Helenes. The "official hostesses of USC" will be hosting online events open to the public so that anyone interested can learn more before the spring semester, said Megan Tsern, the group's director of communications.
I've found so much unmatched love and enthusiasm that I've never felt in any other community.

Megan Tsern
For the group of roughly 100 members, school spirit and community service come first. New members can look forward to events like Hecuba Watch during the week leading up to the UCLA football game, weekly tutoring sessions with third graders and helping with USC Libraries' Scripter Awards.
"I was looking for a community where I could not only make a bunch of new friends but really find a group that just shared the love and passion for community service and school spirit that I did," Tsern said. "I've found so much unmatched love and enthusiasm that I've never felt in any other community."
Follow USC Helenes on Instagram and Twitter.
Chaotic 3: focused on connecting, dancing remotely
Despite being a competitive dance organization, Chaotic 3's Elaine Nguyen described the group's mindset as "dancing second, family first." That's no different this semester, as its members focus on staying connected. Unfortunately, they will not be holding auditions for new members.
"We really wanted to give our new members a fulfilling first semester on the team, and we don't think that we could provide that at the moment," Nguyen said. "We really wanted to focus on connecting and keeping our current team close and supporting them."
Even without auditions, Chaotic 3 will be hosting online workshops in October for non-members.
Follow Chaotic 3 on Instagram.
---
For extended interviews with representatives from these organizations and others, visit USC's IGTV channel.