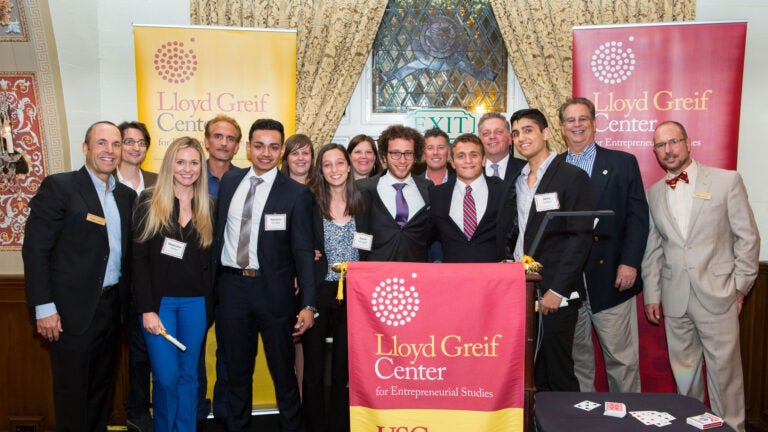 USC alums receive seed funding for bright ideas
The Marcia Israel Awards support the startups of enterprising entrepreneurs
The entrepreneurial mindset is thriving at USC, as demonstrated in an awards ceremony for inventive startups.
The Lloyd Greif Center for Entrepreneurial Studies at the USC Marshall School of Business gave out its top honors at the Marcia Israel Awards Banquet, including $50,000 in seed money to six student or recent alumni startups.
The startups ranged from an app that revolutionizes the way people socialize around streaming content to redeveloping Latino communities by empowering their business owners.
An app to watch
Taking the $15,000 top prize in the annual New Venture Seed Competition — announced at the banquet — was Showgo, a mobile app that syncs with whatever TV show a user is watching whenever he or she chooses to watch it, allowing that user to read and post comments in real time. Its founder is Bubba Fish '13, an alumna of the USC School of Cinematic Arts.
"It looked like pretty unique technology, a creative idea and viable from a revenue and earnings standpoint," said Greif, founding donor of the Greif Center and a judge for the competition. "I think it's got legs."
Sarah Weingust '16 and Meir Razzo '16 took second place and $10,000 for HostelPass, which allows travelers to pay a fixed $50/night in advance to stay in a vetted and curated hostel in select European cities.
Weingust and Razzon thanked the judges for the vote of confidence.
"It means that people other than Meir and myself recognize the potential for this business," said Weingust, who was also named as the year's Marcia Israel Outstanding Undergraduate.
That's the spirit
In the spirit of Israel, the founder of Judy's Boutiques who endowed the annual banquet to celebrate student entrepreneurship after her passing in 2004, many of the awards at the banquet went to students with a focus on social entrepreneurship.
Barney Santos MS '16 was named the Marcia Israel Outstanding Graduate Student for his work involved in the founding of Gentefy, a social-impact retail incubator for distressed Hispanic communities. Gentefy partners with local businesses that might otherwise be operating out of a cart, providing business training and space in retail hubs made from recycled shipping containers.
"Marcia Israel wasn't just about being a successful entrepreneur — she was also very much engaged in giving back," Greif said. "Santos is giving back to his community with a unique model that combines for-profit and nonprofit enterprises working together to provide employment and entrepreneurial opportunities in underprivileged Hispanic communities."
Pitch makes perfect
Two companies were awarded $7,500 each: SuppNow, a nutritional supplement vending machine placed in a gym's lobby, led by Armand Farrokh '15 and Nick Cegelski '16, and HexCare, an app that aggregates and simplifies health care data, from Alex Wormuth '15 and Chad Martin '16.
Winning $5,000: Lumen Libraries, led by Ruby Au '16 and Sara Yang '16, which provides pop-up study areas in Kenya using solar lamps to provide light after dark; and Freeform Labs, a virtual reality content developer from Max Pittsley '15, Camille Kanengiser '15 and Ian Donahue '15.
This year's New Venture Seed Competition had 213 team applications, 61 of which were chosen to make presentations. Fourteen semifinalists met every Saturday morning for six weeks to exchange ideas.
Weingust, who said HostelPass would put its seed money toward marketing the service, noted that the journey of the competition itself was as valuable as the prize money.
"We got to practice pitching, talk to potential customers and discover what they wanted and how we can address those desires," she said.