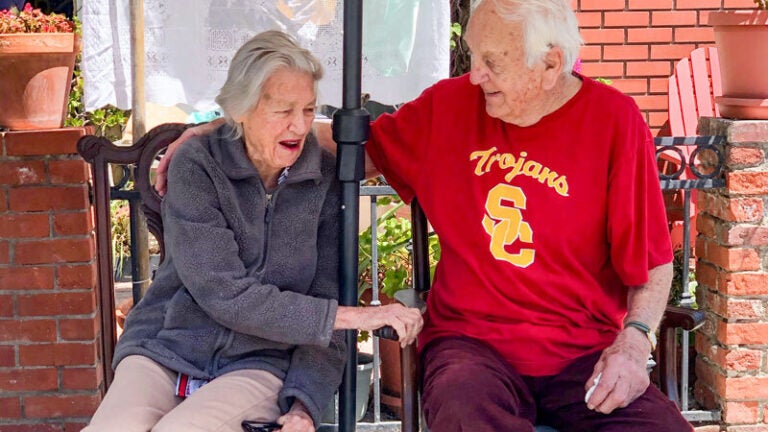 A Lifetime of Love: USC Sweethearts Celebrate 70 Years in Style Despite Pandemic
A chance encounter during a sorority party launched Barbara and Bill Birnie on a lifelong adventure.
For 39 joyful minutes, a parade of family members, neighbors, friends and well-wishers streamed by as Barbara and Bill Birnie watched from their Balboa Island cottage.
In cars and golf carts, on bikes or by foot, the revelers sang and danced, threw confetti and blew kisses to the beaming couple. At final count, nearly 100 people — and a dozen dogs — helped the Birnies celebrate an impressive milestone in late June: their 70th year of marriage.
"The number of friends they still have and who rallied for this offbeat occasion is indicative of the fabulous way that my parents have lived their lives," says daughter Diane Birnie Bock '79. "They both grew up in Southern California and have thrived throughout their long lives by being friendly, helpful and generous. And USC was a fantastic place for both of them."
At its heart, the Birnies story is a Trojan love story — a USC alumni love story. The two met at USC, graduated in 1949 and tied the knot a year later, on June 21, 1950. In the seven decades that followed, they thrived in Southern California and built a loving family, including a few members who attended USC as well.
As they reflect on their many years of marriage and adventures, the Birnies struggle to pick one moment that shines above the rest. Instead, their favorite part of being together for so long is just that: being together.
"It's so nice when you're never, ever alone," Barbara says. "I have my dear husband to snuggle with, and we go places together. We don't ever have to be alone."
Magic Moment for a USC Alumni Love Story
Although the precise details of when they first locked eyes have faded over the years, the Birnies agree it happened at a get-together hosted by Pi Beta Phi. Barbara was president of the sorority when Bill visited with his fraternity, Beta Theta Pi.
"On Monday nights, the sororities would put on an open house," Bill says. "I met my wife there, and she apparently was impressed with me. And she was a very bright student."
Barbara remembers meeting a nice, friendly and chatty boy. Soon, they were spending a lot of time together.
"He liked to put his arm around me," she says, breaking into song: "Put your arm around me, honey, hold me tight. Snuggle up and snuggle up with all your might. Oh, I never knew any boy like you."
They had a lot in common. Both grew up in Los Angeles. Barbara's family lived in Eagle Rock, and Bill attended Fairfax High School, where he competed in football, baseball and track. They enjoyed outdoor activities like hiking, kayaking and swimming, pursuits they continued throughout their lives.
Although Bill was four years older than Barbara, they wound up in the same graduating class because he served in World War II. During the Battle of Wingen-sur-Moder in early 1945, Germans surrounded Bill's Army platoon and held them captive in a church for four days before other American soldiers came to the rescue. Bill received a Bronze Star, a Presidential Unit Citation and a Purple Heart — the latter for a shrapnel wound to the arm.
When the war ended and he returned to the United States, Bill applied his G.I. Bill toward an education at USC, where he enrolled in a joint business and law program. He played football for a few years under Trojans coach Jeff Cravath before he decided to focus on his studies.
Barbara had transferred to USC to study education. Along with serving as her sorority's president, she was elected student body vice president and Helen of Troy, representing the school at social functions.
"I liked the fact that I was important," she says. "I got to represent the school at a lot of meetings. And I got to meet a lot of interesting people, which I thoroughly enjoyed."
Building a Family Life
By the time they graduated in 1949, the Birnies knew they wanted to build a life together. Bill completed his law degree at USC in 1951 while Barbara taught full time for a few years then stayed home after they had their first child, Brian. Two more children — Doug and Diane — soon followed.
As the children got older, the Birnies spent every summer at Barbara's family cottage on Balboa Island. The tiny harborside community in Newport Beach became a home away from home for the fivesome and other family members.
Bill practiced law, became president of the Wilshire Chamber of Commerce and served on the board of Los Angeles Girl Scouts. Barbara worked as a substitute teacher while raising the kids. She also led a Girl Scouts troop and volunteered with the PTA and other groups, earning her the title of Downey Woman of the Year in 1972.
That same year, a substitute teaching gig turned into a full-time pursuit when she helped launch a preschool program in Watts. Its success led Barbara to set up similar programs around the Southland, drawing on knowledge from a master's degree in education she earned from California State University, Long Beach.
Although the Birnies put no pressure on their children to attend USC, Doug Birnie MBA '78 and Diane Birnie Bock '79 both became Trojans. The Birnies' daughters-in-law, Debi Anderson Birnie '78 and Beth Barrett Birnie MS '78, added to the growing number of USC graduates in their family.
In retirement, Balboa Island became their full-time home. The bonds they made with friends and family there became evident last year during an ice cream party for Barbara's 90th birthday. Dozens of people gathered to celebrate, including seven Girl Scouts from the troop she led more than half a century prior.
Bill also had plenty of moments in the spotlight. His military service has been recognized during many special ceremonies in recent years, including his selection as Hero of the Game during USC's 2017 football season opener at the Los Angeles Memorial Coliseum. He donned his original Army jacket for the occasion, complete with the stitched-up shrapnel hole in its left sleeve.
USC Alumni Couple's Lifelong Love
As the Birnies' 70th anniversary neared, family members began pondering how to honor the momentous occasion. A big gathering was out of the question due to the coronavirus pandemic. Then one of Diane's friends suggested a drive-by parade. Diane sent word far and wide, but she never expected the response that came.
In addition to the dozens of paradegoers, the Birnies received 103 cards and 42 emails with heartwarming messages. Although the outpouring of love surprised the rest of the family, the happy couple took it in stride.
"We have a lot of friends around here," Bill says. "I don't think Diane had to do much to get them to agree to this."