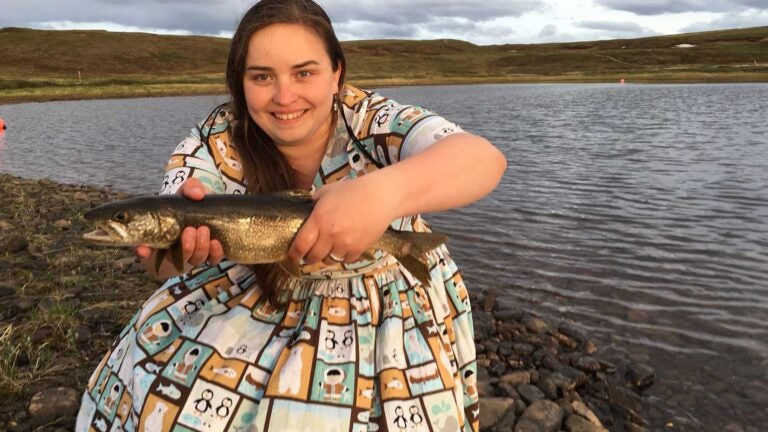 Arctic research brings science alive for youngsters
USC alumna draws on undersea studies to inspire students from the USC Family of Schools
DJ Kast '11, MAT '14 is still haunted by two unforgettable sounds.
The first is the gentle, if eerie, glassy tinkle made by perpendicular shards of candle ice in a thawing Arctic lake.
"When the pieces of candle ice clink against each other, it sounds like wind chimes," said Kast, Joint Educational Project STEM program manager at the USC Dornsife College of Letters, Arts and Sciences. "It's a strange and beautiful music."
The second is not quite so pleasant: the incessant whining of swarms of giant mosquitos that plague the Arctic in summer.
"They're called the Alaskan state bird for a reason," Kast said with a grimace. The insects breed in pools of stagnant water created by melting permafrost, resulting in the largest concentration of mosquitos on the planet. "Whenever we stepped outside, we had to ensure we were covered from head to toe, even wearing netting over our faces," she said.
Kast recently traveled to the Arctic with PolarTREC, an organization funded by the National Science Foundation that aims to invigorate polar science education and understanding by bringing together K-12 educators and polar researchers. She spent three and a half weeks at an Arctic research station in Alaska.
Prior to that, she undertook a separate research trip, spending three weeks using underwater robots to collect specimens from the deep sea off Canada's western coast.
First by sea
On board renowned oceanographer Bob Ballard's deep-sea exploration vessel Nautilus, which is operated by the Ocean Exploration Trust, Kast participated in research and exploration using Nautilus' two underwater robots, Argos and Hercules. Equipped with seven cameras, Hercules is attached to the vessel with fiber-optic cables, allowing Ballard and his crew to live stream dives. Kast then video conferenced the dives directly into classrooms across the United States, including many at the USC Family of Schools. Those schools also held deep-sea science assemblies to allow as many students as possible to benefit from her experience.
It's vital for students to know what's going on in the world of science so they can better themselves as future scientists.

DJ Kast
"The reason I applied to both these programs is because I think it's very important for teachers, educators and students to be relevant and up to date," Kast said. "It's vital for students to know what's going on in the world of science so they can better themselves as future scientists."
Kast worked with Ocean Networks Canada, which is installing instrument platforms to gather data while wiring the abyss with fiber optic and power cables to allow scientists to live stream what is happening in the ocean's depths.
During the streamed dives, Kast's role as a science communication fellow was to host the conversation between the expedition leader, the underwater robot pilots, the boat navigators and the data scientists, while also weaving into the conversation questions and comments from students and the public.
"The kids asked me lots of questions, like 'What were your favorite animals that you saw?' and 'What's your experience like on the boat?'" Kast said.
An underwater tug-of-war between a robot and an octopus over a length of rope was a huge hit.
"The kids loved that," Kast said. "It was really cool that we were able not only to live stream these dives, but also to video conference them directly into the classroom."
Next by land
At Toolik Field Station in Alaska, Kast worked with Byron Crump, a microbial biogeography researcher who is exploring how soil bacteria — a key contributor to climate change — travels from soil to streams and lakes.
"Soil bacteria contribute to climate change by adding CO2 to the atmosphere," Kast said. "This will worsen as our planet warms and the permafrost melts, creating more for the bacteria to eat. If all the permafrost thaws, the amount of CO2 in our atmosphere would double, thereby increasing global warming in a self-perpetuating vicious cycle."
Kast helped collect bacteria and microbes from soil water, streams and lakes to measure and compare the amount of CO2 present in each.
"The research goal is to determine whether soil bacteria are still adding more CO2 to the atmosphere even if they're in water. By solving this puzzle, we can make more accurate climate change models."
Kast also video conferenced with students at a summer science camp for low-income youth on Catalina Island. The camp was run by the USC Wrigley Institute for Environmental Studies and two USC Dornsife programs: USC Sea Grant and the Center for Dark Energy Biosphere Investigations (C-DEBI).
Bringing it home
Back in Los Angeles, Kast is continuing to use her recent research experiences to create inspiring science lessons for her Young Scientist Program (YSP) and WonderKids students. In November, she will be holding a deep-sea event for fourth- and fifth-grade YSP students at Vermont Elementary near the University Park Campus. There, students will make underwater robots and then test them in a pool. Kast has also recruited Crump to attend several polar-themed assemblies at the USC Family of Schools to talk about Arctic science.
Kast, who graduated from USC Dornsife with a bachelor's degree in biological sciences and a master's in marine environmental biology and then earned a Master of Arts in Teaching from the USC Rossier School of Education, hopes that her experiences will inspire the teachers she works with at the USC Family of Schools to apply for similar programs.
"Sharing these experiences with their students enables teachers to tie science to the real world," Kast said. "And that makes it more relevant to the challenges we face today."