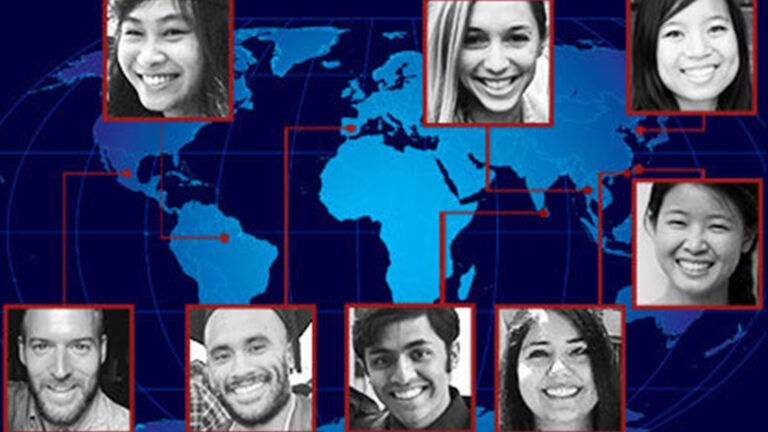 USC again among top producers of Fulbright fellows
For the third year, the university ranks among the schools with the most students in the prestigious program
For the third year in a row, USC was one of the top producers of Fulbright Student Grant recipients among U.S. research institutions for 2014-15, according to the Fulbright Program, the government's international educational exchange program.
The top Fulbright-producing institutions were highlighted in the Feb. 12 edition of The Chronicle of Higher Education. In addition to USC, the list included Harvard University, University of Michigan and UCLA.
Eleven current and recently graduated Trojans received 2014-15 Fulbright awards to study, conduct research or teach English for one academic year in one of more 150 participating countries. Their fellowships have brought them to Brazil, Spain, Taiwan, Mexico, South Korea, Thailand, Hong Kong and Mongolia — a first for any Fulbright fellow from USC.
Diverse majors
Of the 11 students, two received research awards and nine received English teaching assistant awards, supporting them as they teach English in primary and secondary schools or universities overseas. Eight recipients were from the USC Dornsife College of Letters, Arts and Sciences and three were students in the USC Rossier School of Education. Fellows came from diverse departments including comparative literature, history, international relations, economics and mathematics.
To date, USC has had 170 students who have participated in the Fulbright program. The first Trojan went to West Germany on a Fulbright fellowship in 1973.
The number of Trojans who apply for the award continues to grow every year. Over the past year, USC's applicant pool has grown 21 percent from 2013-14 to 2014-15.
The Fulbright Program at USC is administered by the Office of Academic & International Fellowships.
The students
Here are the 2014-15 Fulbright Student Grant recipients, plus details about their academic work:
Fan Fan is graduating with a degree in comparative literature and minor in history. She will spend her Fulbright year in Brazil as an English teaching assistant where she will lead language learning classes and promote U.S. culture through social programs at a teacher's college. Fan has previous experience tutoring in English and Chinese, and helping international students navigate U.S. culture.
Samantha Freitag graduated in 2013 with a double major in business administration and international relations. Samantha will spend her Fulbright year as an English teaching assistant in Taiwan. As an East Asia specialist, Samantha seeks to achieve an understanding of all aspects of U.S.-Taiwan relations through classroom immersion and interaction.
John Hernandez will pursue an English teaching assistantship in Spain teaching social studies, science, the arts and more in English. He will also assist with preparing secondary school students for the Model U.N. Global Classrooms project. In Madrid, John plans to engage with organizations that address educational, economic and societal issues. He is graduating with a major in economics/mathematics.
Graduating with majors in economics/mathematics and international relations and a minor in mathematics, Samir Kumar will spend an academic year as an English teaching assistant in Sri Lanka where he will teach conversational English and composition to middle school, high school and college students. The teaching assignment will complement Samir's academic study of national identity and conflict in postcolonial South Asia.
For his art history dissertation project, Brendan McMahon will examine the intersections of art and science in early colonial Mexico. Working closely with collections and scholars in Mexico City and Zacatecas, he will use 16th century objects incorporating natural materials as well as Nahuatl language pictorial documents to trace how diverse communities in the colonial period organized, classified, and represented the natural world.
Graduating with a major in history and a minor in natural science, Bijou (Diem-Tran) Nguyen will spend her Fulbright year as an English Teaching Assistant in South Korea. Having previously taught abroad in Uganda and the Azores Islands, Bijou plans to apply her acquired ideas and techniques to her assignment in Korea. She will also live in a home stay. Following her Fulbright, Bijou plans on attending the USC Keck School of Medicine.
As an English teaching assistant in Spain, Miriam Otero will focus on developing students' new media literacy skills in English through the use of blogs, social networking, and other forms of media. She will also teach about American history and culture. Miriam graduated from USC in 2013 with a Masters of Arts in Teaching TESOL.
Rebecca Ryan's experience teaching in a New Orleans turn-around charter school exposed her to various educational barriers for youth. As an English teaching assistant in Thailand, she seeks to extend her perspective on education beyond the United States and learn about the culture and educational approach in Thailand. Rebecca graduated from USC in 2009 with a major in Neuroscience.
Sarah Tomlinson developed a strong interest in Mongolian culture during a teaching experience as a Master of Arts in Teaching TESOL student. As an English teaching assistant in Mongolia, Sarah will be placed at an institution of higher education where in addition to teaching English, she will organize language-related cross-cultural student activities and engage in embassy-organized public outreach activities.
Master of Arts in Teaching alumnus Matthew Wong has a passion for teaching and public service. He will serve his Fulbright year as an English teaching assistant working with elementary and junior high students in Taiwan. He seeks to deepen his understanding of Taiwanese culture and facilitate civic engagement through discussions of sustainability practices and participation in green activities such as biking and hiking.
Mellon Mays Undergraduate Fellow Vivian Yan will spend an academic year in Hong Kong examining the extent to which ethnic and social diversity shapes the ideologies created by political activism, and to explore how these tensions create or destabilize ideas of Hong Kong identity. Vivian is graduating with a double major in comparative literature and history.