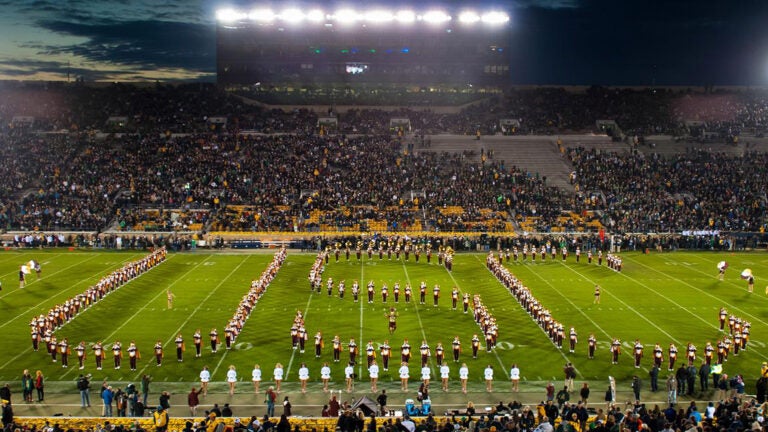 Trojan Marching Band celebrates 350 straight games supporting USC football
The band has been at every game since early in the 1987 season; that's 320,000 miles, 35 stadiums and 24 states
When the USC Trojans take the field Sept. 5 for the season opener at the Los Angeles Memorial Coliseum, they'll hear the familiar strains of the Trojan Marching Band urging them on to victory. For generations of Trojan gridiron warriors, this brassy soundtrack has followed them wherever they've played, whether in the cardinal and gold confines of home or in hostile road environments.
The matchup vs. Arkansas State will mark the 350th consecutive time the Trojan Marching Band has been in the stands for a USC football contest. A portion of the group has followed the team to every game since 1987 when then-head coach Larry Smith vowed to never again travel without the band after an early-season loss at Michigan State. Twenty-eight years later, they have yet to miss a game.
During the streak, the Trojan Marching Band has traveled 320,000 miles, visiting 35 stadiums in 24 states in front of 22.8 millions fans. It's a commitment to football that is unique among college marching bands and that has taken the band to stadiums as far-flung as Honolulu and Boston. The football team's appreciation for the support can be seen when players celebrate wins with the band in opponent stadiums, often with a star player wielding the drum major's sword in time to the Trojans' victory song, Conquest.
Directing the Trojan Marching Band throughout the 350-game streak has been Arthur Bartner, who is beginning his 46th season helming the organization. Forty-five years ago, he brought a band of 80 to the Coliseum for the Trojans' home opener. This year, his entire group of 300 will travel to Notre Dame and Berkeley with smaller offshoots supporting the Trojans at Arizona State, Colorado and Oregon.
With Bartner aiming to reach 50 years of leading the organization, USC fans should expect to hear the fight songs at every Trojan football game for years to come.