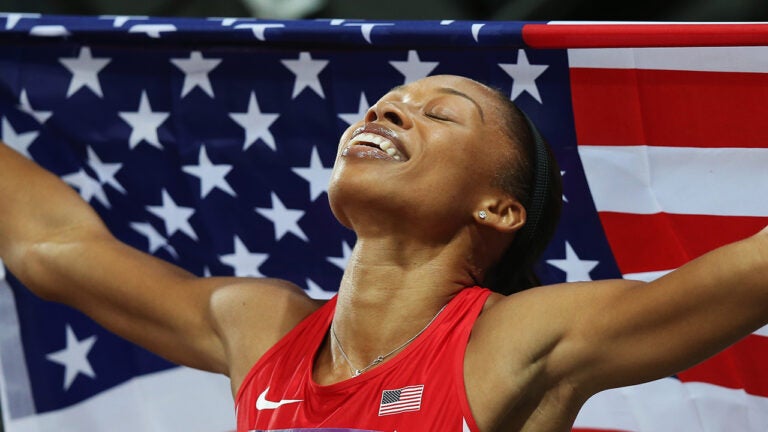 Trojans ready to continue USC's remarkable Olympic tradition
No U.S. university has produced more Olympians, overall medalists or gold medalists, and a Trojan has won a medal at every Summer Olympics since 1904
[new_royalslider id="129″]
When the Olympic Games get underway in Rio on Aug. 5, USC will have a healthy representation — 44 current and former Trojans at last count. It's fitting, because no university has a stronger Olympic tradition.
The university's participation in the Olympics dates back to 1904, when Emil Breitkreutz '06 traveled to St. Louis, becoming the first USC student to compete in the games. Breitkreutz took home a bronze medal in the 800-meter run — marking the beginning of a Trojan Olympic legacy that today is unrivaled.
Since then, a Trojan athlete has won a medal at every Summer Olympics. And USC has produced more Olympians, overall medalists and gold medalists than any other university in the United States.
USC's star-studded Olympic roster includes 423 Trojans who attended the university before, during or after their Summer or Winter Olympic appearances. Those athletes have represented 59 countries and participated in 28 different sports, ranging from those generally associated with USC, such as track and swimming, to more unusual sports, such as team handball, canoeing and bobsled. While Trojans traditionally have found their place in the sun during the Summer Olympics, USC athletes also have competed in the Winter Olympics 10 times.
All told, USC's Olympians have won 635 places on Olympic teams, and have taken home 135 gold medals, 88 silver and 65 bronze. But those extraordinary achievements amount to more than medals and an abiding place in sports history.
"Olympic achievements also speak to the fruits of a magnificently led life, one that champions the ideals USC hopes to instill in every Trojan: to be faithful, courageous, skillful, ambitious and scholarly," said USC President C. L. Max Nikias. "These traits remain permanently etched at the base of Tommy Trojan, a touchstone at the heart of our campus, and a bold proclamation of our community's commitment to power."
Perhaps the most widely recognized USC Olympian whose life demonstrated these ideals is the late Louis Zamperini '40. Zamperini represented the United States in the 1936 Olympics in Berlin, running a phenomenal final lap at 56 seconds.
His career took a dramatic turn when the U.S. entered World War II, and Zamperini joined the U.S. Army Air Corps as a bombardier. During a routine mission over the Pacific in 1943, Zamperini and his crewmates on a B-24 crashed into the Pacific Ocean. Surviving for 47 days on open waters, he was later captured and held under brutal conditions in a Japanese POW camp for two and a half years.
Struggling to overcome the traumatic events during his captivity, Zamperini rebuilt his life upon his return to the U.S., and later became a renowned public speaker, frequently discussing the topics of motivation and reconciliation. His remarkable story is recounted in the bestselling book and subsequent film, Unbroken.
---