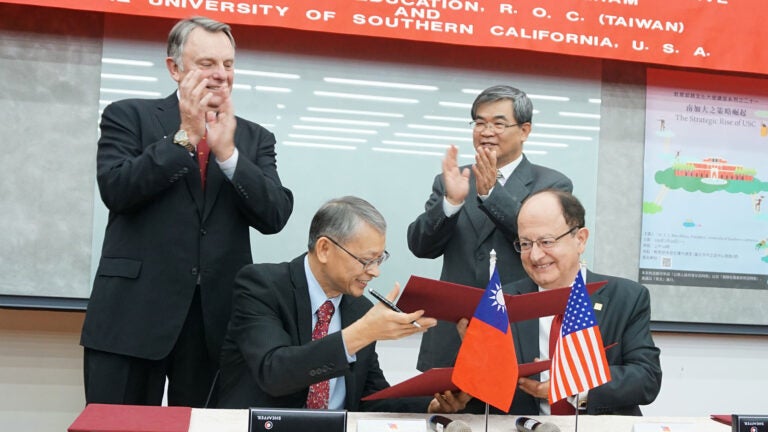 Top scientists from Taiwan will train at USC through new program
Agreement with Taiwan Ministry of Education establishes the first co-funded program for Taiwanese postdoctoral fellows to study at USC
USC and the Taiwan Ministry of Education today signed a memorandum of understanding for the university to host and train top Taiwanese academics as postdoctoral fellows on its Los Angeles campuses.
At the signing ceremony in Taipei, representatives from the Taiwan Ministry of Education and USC formalized the creation of a new joint program that will accept recent PhD grantees from Taiwan for postdoctoral fellowships that may last as long as two years. The academic fellows will specialize in sustainable energy, defense and other technology, as well as engineering, biomedicine and the biological sciences.
Nearly 100 representatives and guests from the ministry, local universities and members of the media attended the signing ceremony.
"USC has a long history of academic partnerships across Asia and we are honored that the Taiwan Ministry of Education has invited us to participate in this joint fellowship," USC President C. L. Max Nikias said. "With this agreement, we are demonstrating our commitment to support top research and top research talent in Taiwan, which has long been an important source of students and research partnerships for USC."
USC and the Taiwan Ministry of Education will jointly contribute nearly $70,000 per postdoctoral fellow annually to cover salary, benefits and administrative support. The memorandum of understanding stays in effect for five years.
"We are excited to partner with the University of Southern California, one of the world's top universities, to support Taiwan's young fellows as they conduct research across a number of vital technical fields," said Tsai Ching-hwa, political deputy minister of the Taiwan Ministry of Education. "This is an invaluable opportunity for our scholars not only to pursue their research in a world-class city, but to also do so at a world-class university."
USC has enjoyed a longstanding relationship with the Taiwan Ministry of Education. In addition to this new agreement, USC recently renewed a five-year scholarship program with the organization to host and fund exceptional Taiwanese students pursuing doctoral degrees in health, technical, scientific and other fields at the university. That renewal extends the PhD program for another five years.
During the USC delegation's visit to Taiwan, Nikias also signed a memorandum for continued strategic cooperation with National Taiwan University and met with Taiwan's vice president, Chen Chien-jen. In addition to Nikias and his wife, Niki C. Nikias, the USC delegation for the successful week-long visit included several members of the USC Board of Trustees and deans from various USC schools.
Through the work of its eight permanent international offices, including six across Asia (a Taipei office among them, founded by the university in 1998), USC has developed a strong network of partnerships with universities, governments and public institutions around the world. USC is among the top higher education destinations for students from Taiwan studying abroad, with 443 students from the country.