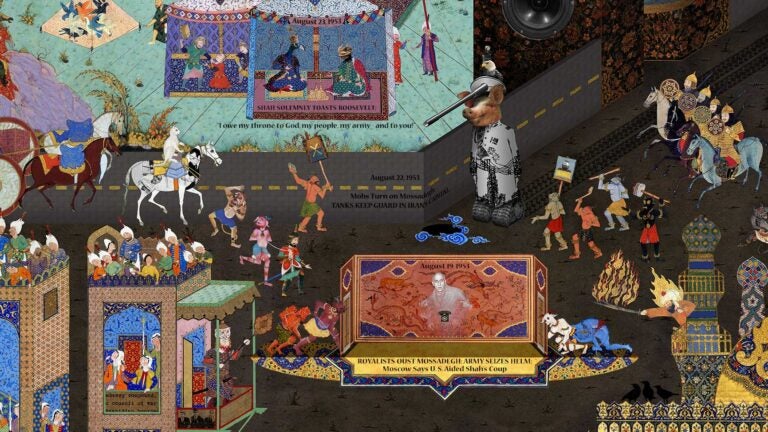 The game changers of E3 2017 push boundaries
World's pre-eminent trade show for computer and video gaming comes to USC and downtown L.A. to spotlight top talent
USC's representation at E3 2017 this year — officially known as the Electronic Gaming Expo — embodied the show's core values of innovation and pushing the boundaries of what defines a "game."
Trojan developers were highlighted for their work on "documentary games," with one focusing on the cat owned by the former Iranian prime minister, to role-playing games, such as one based on news ripped from intelligence-leaking headlines. And some games are already making waves in the marketplace — Raw Data, the first virtual reality game to make $1 million in a month and created by a USC School of Cinematic Arts professor, alumni and students — was showcased at E3. A USC Thornton School of Music alumnus even composed the game's music.
It seems only natural that the world's pre-eminent trade show for computer and video gaming took place in the backyard of USC Games, which has led the Princeton Review's game design program rankings for North America five out of the last six years.
"USC students are given an invaluable opportunity to interact with the most innovative game creators in the world — and they do not even have to go very far from campus," said Sam Roberts, USC Interactive Media & Games Division program manager and director of USC Games Publishing. "They see how to go from the inception of an idea to making it a 3-D reality."
While E3 is traditionally held at the Los Angeles Convention Center, satellite events also often occur at venues close to the USC campus, with Microsoft's press conference occurring at the Galen Center and Sony's press conference held at the Shrine Auditorium. Many developers were hosted through IndieCade, an international showcase of independent games, with its annual festival calling the USC School of Cinematic Arts campus home since last year.
More than 50 USC students, alumni or faculty were part of E3 this year, and many are associated with USC Games, a collaboration of the USC School of Cinematic Arts' Interactive Media & Games division and the USC Viterbi School of Engineering's Department of Computer Science.
Just some of the highlights of USC-led game projects exhibiting at E3 include:
The Cat and the Coup: history gamified (through the eyes of a cat)
The Cat and the Coup was certainly one of the strangest games at E3.
Billing itself as a "documentary video game," the player takes on the role of the cat of Mohammed Mossadegh, the first democratically elected prime minister of Iran. As a player, you assist Mossadegh in a journey back through significant events of his life and world history by knocking objects off shelves, scattering papers, jumping on his lap and scratching him.
The game was co-designed by USC School of Cinematic Arts assistant professor of the practice of cinematic arts Peter Brinson and Kurosh ValaNejad, a former USC Game Innovation Lab director now studying in the USC School of Cinematic Arts' John C. Hench Division of Animation and Digital Arts.
The Cat and the Coup, like USC Games Director Tracy Fullerton's Walden, the game based on the life and writings of Henry David Thoreau that will be released later this summer, is a game that eschews traditional gameplay mechanics for a deeper dive into experiential history.
With new visuals re-thought for the 4K gaming experience, the game is sure to be even more of a visual mind-bender without sacrificing its down-the-rabbit-hole (or cat-hole) view of historical relations between the U.S. and Iran.
"Ever since we released the PC version in 2011, my collaborator Kurosh wanted to make a version that made people want to study the world with a magnifying glass," Brinson said. "4K satisfies this want. Every moment is like a deep study of the images and therefore the world, and by extension, the history."
Virtual Virtual Reality: a meta VR experience
If you'd like more virtual reality in your virtual reality, then this "Portal" meets Inception and the films of Charlie Kaufman meets the tropes of virtual reality experience is for you.
A winner of the 2017 Google Play Award for Best VR Experience, Virtual Virtual Reality bills itself as "a game about VR, A.I. and our shared sci-fi fever dreams."
The story takes place in two acts, and throughout 50-plus layers of "virtual virtual reality" before the end of your hero's journey and a final act of grand purpose: upload yourself into one last level of VR or hit reset.
Lead designer Samantha Gorman, pursuing her PhD in media arts and practice at the USC School of Cinematic Arts, used her work in a VR art and writing research lab to inform the game's universe and VR startup in-jokes. Students Neilson KS, Brendan LoBuglio, Will Anderson, Colin Horgan and Zach Suite also worked on the game.
Tracking Ida: piecing together a civil rights and muckraking puzzle
In the "history as experiential game" vein of Walden and the The Cat and the Coup, Tracking Ida is an educational alternate reality game inspired by the pioneering investigative journalism of Ida B. Wells in the 1890s. Players uncover Wells' crusade against lynching and use her strategies to investigate police and vigilante killings today. Along the way, they solve puzzles, decode messages through a phonograph, role-play as investigative journalists, interview members of their community and harness social media to spread awareness.
Recent USC Games alumna Lishan AZ, a Forbes "30 Under 30" winner, is the game's lead designer.
Hackers of Resistance: a mirror held up to reality
Hackers of Resistance is an interactive performance where the player is called upon to uncover government operations and communications as a member of a transnational feminist organization that is equal parts WikiLeaks and nod to feminist art collective Sisters of Survival. Aiming to break the stereotype of the usually male "400-pound hacker," players are free to roam a makeshift hacker den, where environmental storytelling provides a cyberfeminist take on cybersecurity resources, hacking experiments and other Easter eggs. The game was developed by USC Games students.