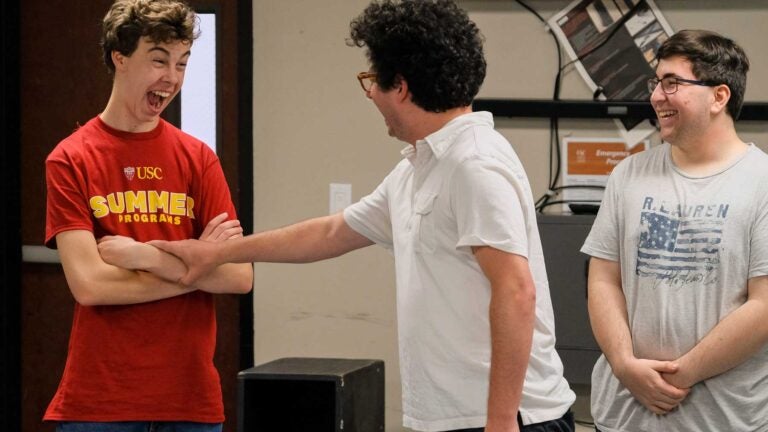 Summer Programs give high schoolers a taste of college life — and credits for comedy
From comedy performance to criminal justice, USC Summer Programs give teens the experience to help them decide on a major or even a career
[new_royalslider id="182″]
A young guy, his curly blond hair pulled back in a bun, walks to the front of the room and grabs the mic. He's in a long olive T-shirt and black sneakers.
"So I'm from Seattle. I don't know if you can tell that by most of what I look like," he starts off. "I look like a guy who knows an indie rock drummer really well. I'm not in the band, but like I know him."
He gets a lots of laughs, even hollers.
When he launches into a bit about a talent show, he acts out the the characters — juggling balls, dancing, doing their voices.
It's hard to tell, but Felix Halvorson is an amateur in the world of stand-up comedy. He's 17.
Halverson is at USC with about a dozen other high school students from across the U.S. learning the world of comedy from faculty and staff during four whirlwind weeks, June 19 to July 14.
"I'm really having a good time," said, Halvorson, who will start his junior year in high school this fall. "I was looking around at different comedy programs because I want to go into this field. A lot of comedians I admire come out of USC."
The USC Summer Programs have been around for two decades, designed to give teenagers a taste of university life and also help them decide on a possible career or major. Students in the four-week program walk away with elective credit that's transferable to most any university, officials say; there are also a few two-week courses.
From design to justice
There's coursework in everything from 3-D design to entrepreneurship and criminal justice.
The visiting students also get to talk to people in the field, going to The Midnight Mission for a psychology course or Children's Hospital Los Angeles for a course called "Future Physicians."
This year's crop of 532 students comes from over 20 different countries, according to Sonny Hayes, the program's director.
This is the first time the program has offered a course in comedy — titled "Comedy Performance" — and it gives students a chance to try a lot out: stand-up, improv sketches, physical comedy and acting for TV. The different genres get some guest teaching from folks with different backgrounds, such as a clowning session with USC's Zach Steel or some acting advice from a casting director.
"I'm excited they get such a broad spectrum of comedy," said Kirsten Eggers, who teaches the course. "In my comedy experience as a performer, you end up sticking to one comedy art form. The fact they're exposed to so many different types and see what they're drawn to … I think is exciting."
Some hollers Halvorson got were from his stand-up coach that day, Judith Shelton, a comic, professor and actor who has been on shows like Seinfeld and The Middle.
"Felix, how delightful," she said. "I love what you did. This is what comedians do sometimes, especially when you have a distinctive look, is talk about your look right up top."
Living like college students
Only two days into the program, students already resembled Trojans — sleeping in the dorms in New North, eating in the cafeteria, lounging in the hallways of the McClintock Building.
There's a good sense of camaraderie here that's really nice.

Jonathan Pelster
"I don't really bond with people too well too quickly but when I come here, I find it really easy," said Jonathan Pelster, 18, of Seattle. "You can just look at this. … There's a good sense of camaraderie here that's really nice."
Besides the class work, the students also get to see a bit of what Los Angeles comedy is all about, with a field trip to Sony Studios and shows at the Groundlings Theatre and Upright Citizens Brigade.
Joshua Galvan, 16, said the classes were making him a lot more confident in comedy.
"It's been really fun. I think I'm learning a lot here," said Galvan said, who lives in Miami. "Stand-up comedy — that was my first time doing it. I was pretty nervous."
But the support he got makes a second time seem not as scary.