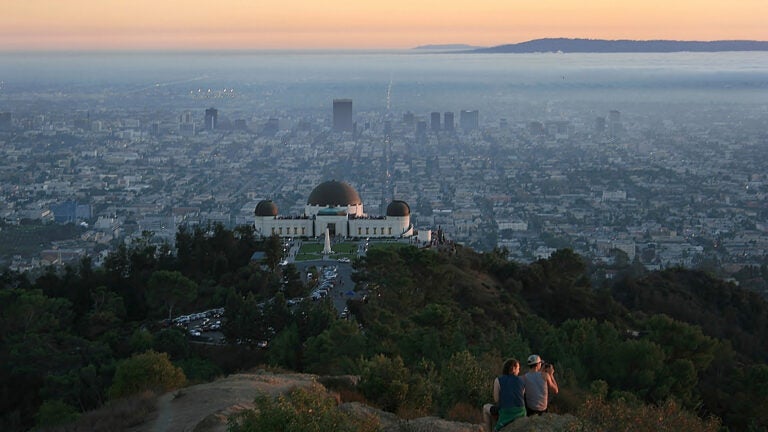 Students search for solutions to green policy challenges
Trojans survey millennials in a bid to bolster support for measures affecting California parks
How do millennials engage with parks and green spaces? And how can we incentivize them to support park policy measures?
Liz Schaeffer, a senior studying political science and sociology, raised those questions in a room of her peers and members of the issues advocacy firm RALLY and Parks Now, a coalition of civic leaders who seek to improve access to California's parks for urban communities.
Schaeffer and a team of four other students conducted research for Parks Now as part of the California Policy Research Internship, a semester-long course offered through the Jesse M. Unruh Institute of Politics at the USC Dornsife College of Letters, Arts and Sciences. A second group of interns conducted research on behalf of Green Dot Public Schools and the public strategy firm California Strategies to help them determine ways to recruit and retain quality teachers.
Real-world recommendations from students
Shaeffer and her team's presentation in early December marked the culmination of their work, which included crafting and conducting a survey of more than 200 millennials — whom they define as anyone between ages 18 and 35 as of 2015 — interviewing policy experts and thought leaders, and analyzing academic and policy reports.
The group took the audience through the findings from their research and presented their policy recommendations. Among their suggestions were that Parks Now should consider expanding their coalition, cater park development to community preferences and focus on low-income neighborhoods to balance equity. The team also suggested that the coalition tailor its messaging in a way that millennials would respond to it.
Messaging millennials is different than any other generation.

Liz Schaeffer
"Messaging millennials is different than any other generation," Schaeffer explained. "They value different things. They like to get their information online, but we don't want to stop and have that information end online. We want them to continue to go out and support policy measures."
She suggested leveraging the power of social media. As an example, the group presented a Buzzfeed-style list with "10 Things You Didn't Know About Parks" that included eye-opening facts about the economic, social and health benefits created by parks. Typical of the genre, the list was punctuated with humorous animated images.
"That will help get the message to resonate with my generation," she said.
Developing a force for leading positive change
Dan Schnur, who directs the Unruh Institute, noted in his closing remarks that the research internship was created roughly five years ago as a way for students to partner with change agents in California to confront and find solutions to real-world challenges.
"The people who run USC believe strongly in all of you," he told the students. "It's not just enough to read about these problems or listen to old people talk at you about them. You can solve these problems, or at least make significant progress toward solving them, whether that challenge is education, parks and resources or another in California's multitude of public policy challenges."
Schnur noted that the internship was also an opportunity to showcase students' capabilities to the partners such as RALLY and Parks Now.
"Some of you have heard me say this before, but for better or worse, anyone can put together an amazing resume. The real challenge is figuring out who the amazing person is behind the amazing resume. You go through a project like this one, and they don't have to guess any more."
Art Auerbach, assistant professor (teaching) of political science, taught the course. He said that he was impressed with the students' work and their evolution throughout the semester.
"What's great is that they really become experts in the particular policy area that they're looking at," Auerbach said. "Whether it's for Green Dot and education retention issues or in this case proliferation of parks in underserved communities, their work really demonstrates their ability."