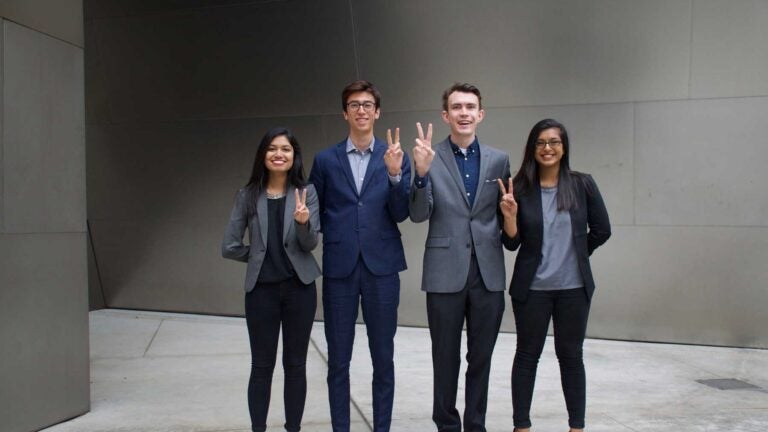 Students create app to improve post-stroke care
The app, created by four USC Viterbi undergrads, will vie for funding at the Grand Challenge business model competition
The painful memories still haunt Manjima Sarkar.
Three years ago, her beloved uncle, Ardhendu Raha, began to feel quite ill. Like so many seniors, he opted not to call 911, attributing his symptoms to old age.
As his condition worsened, he finally went to the hospital, where doctors diagnosed him with a serious stroke. Because he had waited so long to seek treatment, he suffered permanent memory loss and impaired speech.
"Watching him become a shell of the person he used to be has been a really bad experience," said Sarkar, a sophomore biomedical engineering student at the USC Viterbi School of Engineering. "Since then, I've had a desire to do something with stroke."
And so she has. Sarkar teamed with USC Viterbi undergraduates Rhea Choudhury, David Sealand and Adam Walker to create INTRAM, a mobile app to help patients having a stroke receive the best possible medical care in the shortest period of time.
Elite company
As a measure of INTRAM's potential, the National Academy of Engineering recently selected the USC team as one of the United States' representatives to this year's International Student Day Business Model Competition, which will take place July 18 in Washington, D.C. Competing for more than $50,000 in funding will be 15 university teams — five each from the U.S., the United Kingdom and China.
"Representing the U.S. as one of five U.S. finalists is an honor for our team," said USC Viterbi Dean Yannis C. Yortsos, who serves on the steering committee of the Global Grand Challenges Summit. "It also demonstrates the strength and reach of our technology innovation program for our engineering undergraduates, a key component of our Grand Challenges Scholars Program.
"Addressing the Grand Challenges is like working in the garden," he added, "where many colorful and unique ideas will grow. Some will become beautiful plants — and will change the world."
Start it up
At the international competition, teams of undergraduate engineering students will present startup business plans based on one of the association's 14 Grand Challenges. These include engineering better medicines, securing cyberspace, advancing personalized learning tools to deliver better education to more people, and making solar energy cheaper and more competitive with traditional energy sources such as coal.
The competition "is dedicated to promoting engineering with social entrepreneurship and innovations for our world," the NAE's Maggie Bartolomeo said.
To reach the international finals, INTRAM had to get through the American semifinals contest held in Washington, D.C. There, the USC team competed against 11 teams from across the country. Five advanced to the next round.
When INTRAM team members learned they had made the finals, "Rhea hugged me, I hugged Adam and David was just in shock," Sarkar said.
They have a right to feel joyful.
INTRAM team members appear to have come up with an app with potentially widespread application. An estimated 795,000 Americans have strokes annually, with 130,000 dying, making it the third-leading cause of death in the U.S., according to the American Stroke Association. Strokes are also the leading cause of long-term disability.
Save lives, prevent disabilities
The INTRAM app, its creators say, might save thousands of lives and prevent scores of disabilities annually.
Doctors would help at-risk patients — the elderly, diabetics, people with heart disease, among others — download the app, which contains lots of rich information about strokes and their symptoms. At the same time, patients would scan their insurance card into the app, which would then create a database of available hospitals and treatment centers under their current insurance plans.
In the event an at-risk patient experiences stroke symptoms — such as severe headaches or sudden weakness, numbness or trouble walking — they could immediately call into an INTRAM-run telestroke network. Depending on the severity, a physician would encourage the patient to call an ambulance or head to an in-network treatment facility. INTRAM'S search algorithm would direct the patient to the nearest medical office with the shortest wait times.
Time is of the essence with strokes.
"Patients using this app would get to the hospital within a shorter time window, allowing them to receive medication that is both cheaper and more effective," said INTRAM team member Choudhury, a sophomore biomedical engineering student. "This would improve their survival rates and significantly cut down on recovery time because their strokes wouldn't be allowed to progress to the point of debilitating neurological impairment."
The company hopes to market its services to health insurers, who stand to benefit financially from cheaper costs associated with post-stroke care.
INTRAM began working on the app in October. They received mentoring from Eun Ji Chung, a Gabilan Assistant Professor in the Department of Biomedical Engineering. Team members, through a $2,500 grant from the National Science Foundation, canvassed potential customers to learn their problems and how they might address them. The NSF awarded the money to USC through an Innovation Corps "I-Corps" Site grant.
Looking forward, team members believe INTRAM has a bright future.
"All of us feel passionate about the goal and cause," Choudhury said. "We'll see where this takes us."