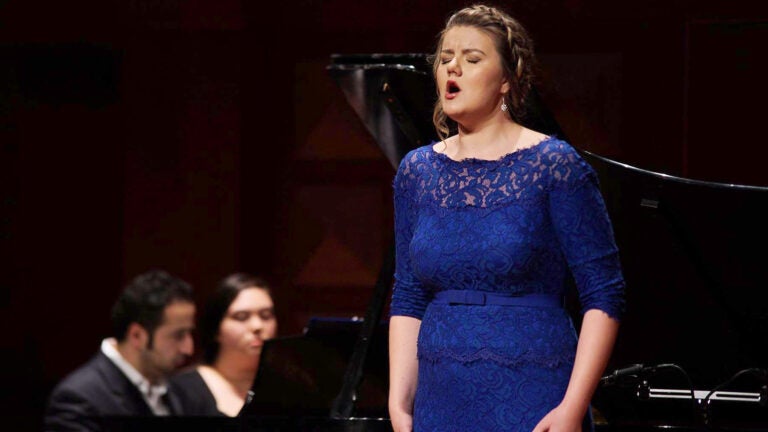 Standout soprano ready for her moment on opera's big stage
USC Thornton student Yelena Dyachek will compete Sunday in the Grand Finals of the Metropolitan Opera National Council Auditions
The career path of an opera singer is often grueling and meandering, even for those who show great promise. However, for soprano Yelena Dyachek, the path to professional recognition may be more straightforward than she expected.
Dyachek, a graduate certificate candidate in the USC Thornton School of Music's Vocal Arts and Opera program, has already garnered attention as a young singer to watch. At 24, she has been hailed as "magnificent" by the Los Angeles Times – and though her resume is impressive, her biggest break may be right around the corner: On Sunday, she will compete in the Grand Finals for the Metropolitan Opera National Council Auditions.
The Grand Finals, held at New York City's Metropolitan Opera House, are considered to be the pre-eminent vocal competition in the United States, launching the careers of some of the greatest opera singers performing today.
A native of Vinnytsya, Ukraine, she recalled the influence music had on her life at an early age.
'Always singing'
"My mom was always singing," she said. "At family parties and at church, everyone was always singing."
At 4 years old, Dyachek enrolled in a specialized music school in Ukraine, where she took violin, piano and theory classes. "I started with the violin, and that was my primary instrument," she recalled. "When I moved [to the United States], I had no doubt I was going to perform on the violin for the rest of my life. I had no idea that singing would become something more than just a hobby."
The family arrived in the United States in 2000 and settled in Sacramento, and Dyachek continued her musical training on the violin and piano. However, it wasn't until she met a Ukrainian voice teacher that she considered taking formal voice lessons.
"When I was 10 years old, I met my soon-to-be voice teacher, who was also Ukrainian," Dyachek said. "A little bit later, I began taking lessons … but it was for fun. I learned church music and Ukrainian folk songs, not [classical music]."
Dyachek's first major exposure to opera came a few years later, with a visit to see Verdi's "Aida" at the Sacramento Opera.
Listening to opera on television or the radio is never the same, because you have no idea what is really going on.

Yelena Dyachek
"I had never seen anything like it," Dyachek recalled. "Listening to opera on television or the radio is never the same, because you have no idea what is really going on. When I saw ["Aida"], it was the drama … the voices coming together … the personality of each singer on stage, bringing something unique to each character, and I realized it was something totally bigger than what I had imagined it to be."
Focus no classical signing
It wasn't long before Dyachek began focusing on classical singing. She earned her bachelor's degree in classical voice at the University of the Pacific's Conservatory of Music in Stockton, where her voice teacher suggested she apply to USC Thornton for her master's degree and put her in touch with Elizabeth Hynes of the Vocal Arts and Opera faculty.
After her first voice lesson with Hynes, Dyachek knew that USC Thornton was the place for her. "I had initially scheduled a 20-minute trial lesson with [Hynes]," Dyachek said. "But that 20 minutes ended up being over an hour. I knew that she was the right fit for me."
Since arriving at USC, Dyachek has found great success with the USC Thornton Opera. She recently garnered strong reviews for her portrayal of Vitellia in Mozart's "La clemenza di tito" and will perform Der Komponist in Strauss's "Ariadne auf Naxos" this April.
Major companies
In addition to the Metropolitan Opera, Dyacheck has caught the attention of major opera companies across the country. The Houston Grand Opera announced that Dyacheck will join its Studio Artists training program in the fall. And closer to home, Dyachek will perform with San Francisco Opera's renowned Merola Opera Program in its August production of Mozart's "Così fan tutte," singing the leading role of Fiordiligi.
"I'm excited to be close to my family," Dyachek said about being able to perform in Northern California. "I'm happy that they'll actually be able to see me perform without too much expense."