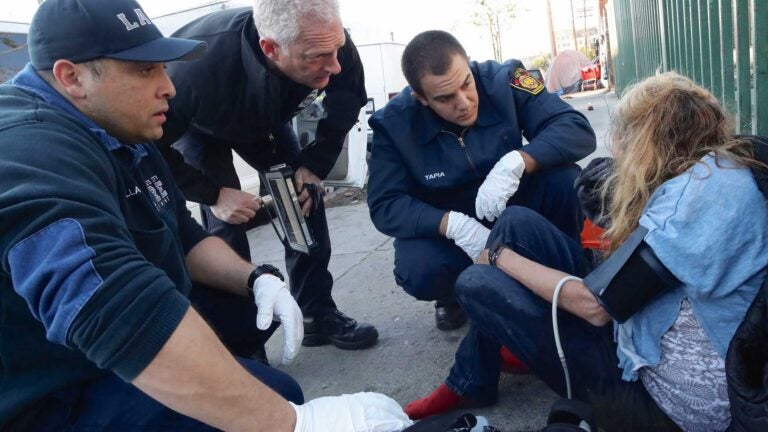 Researchers, LAFD take aim at reducing misuse of emergency medical services
USC joins with department to reduce the percentage of misdirected calls from older adults
The majority of calls the Los Angeles Fire Department Emergency Medical Services receives are misdirected. Many calls come from people seeking treatment for non-urgent conditions, resulting in the wide misuse of EMS, reducing the quality of care received by those in serious need.
Researchers at the USC Suzanne Dworak-Peck School of Social Work will collaborate with the LAFD on a grant funded by the Southern California Clinical and Translational Science Institute to improve the city's EMS by more effectively directing individuals to the appropriate services.
According to recent research, 15 percent of all EMS calls come from adults over the age of 50. "For older adults, we'd like to have services available so they don't have to call 911," said Ellen Olshansky, USC professor, chair of the department of nursing and co-principal investigator on the project. "We hope to bring the percentage of misdirected calls from older adults down to about 5 percent."
Lack of proper care
A majority of EMS calls involve circumstances that could be more easily solved if individuals had access to the proper care. Many callers have dementia. Calls can vary from issues with falling down to problems with simple day-to-day tasks. Some individuals call because they are simply unable to afford transportation to a medical facility. Many calls are queries about information on medication.
"The problem is that many of these people don't have the experience of having a personal physician," said William Vega, Provost Professor and executive director of the USC Roybal Institute on Aging and principal investigator on the project. "There are about 25 million people who are uninsured and won't be seen by doctors unless they are regular patients."
EMS usually deems these incoming calls non-urgent, non-serious and unnecessary — but they still require paperwork and the recording of calls because of possible liability concerns.
High-need community
The project will target Battalion 13, a unit whose LAFD service region has one of the highest EMS request rates and lowest availability of health care providers, to gauge the community response and identify connections to service providers.
Battalion 13 serves a large, high-need area within South Los Angeles where, Vega said, many residents have a limited choice of health care providers. For every 100,000 people in Los Angeles, there are less than 50 physicians, according to a USC Roybal Institute report.
More South Los Angeles residents have gained access to Medicaid in recent years. Potential policy changes that decrease the availability of insurance may further inhibit access to care and cause further delays in obtaining medication and treatment. When that happens, people feel pushed to use 911 and expensive emergency care.
We want patients who are not so sick to get to their urgent care or primary care provider in the most effective manner.

Stephen Sanko
"We want patients who are not so sick to get to their urgent care or primary care provider in the most effective manner and not incur all the direct and indirect costs associated with an expensive trip in an ambulance and to an emergency department where they may undergo expensive and excessive testing," said Stephen Sanko, assistant medical director of the LAFD, clinical assistant professor of emergency medicine at the Keck School of Medicine of USC and co-investigator on the project.
Mobilizing social workers and nurses
Sanko said social workers will play an important role in documenting and following up with patients in the future, especially for people who are socially isolated and have different forms of dementia. Accessing and documenting patients' needs and their health care goals and expressing them in a concise way that is accessible to other emergency care providers is one of the goals of the project.
"At the LAFD, we deal primarily with acute medical issues," Sanko said. "But we've ended up being the largest provider of acute unscheduled care in the city of Los Angeles."
The LAFD recently implemented a new call dispatch system that helps with identifying high- and low-need callers and classifying them appropriately. Dispatchers will begin screening all calls and transfer low-need callers to advanced-practice providers and nurse practitioners. In addition, social workers will provide follow-up care through a partnership LAFD established with the Partners in Care Foundation.
Ideally, this will lead to a large reduction of misdirected EMS calls.
"What's exciting to me is that this an area where nurses and social workers can make a difference," Olshansky said. "They can actually diagnose and direct callers, allowing for appropriate treatment."