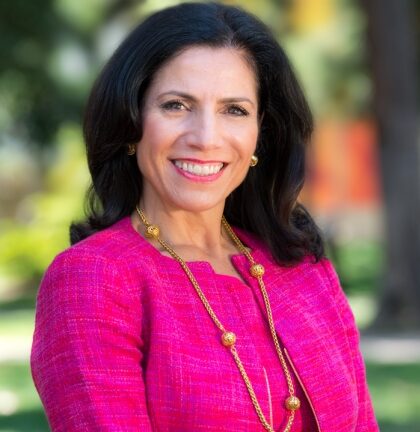 Ramona Cappello Means Business for USC
A conversation with the alumna volunteer who's leading the USCAA Board of Governors
When Ramona Cappello '81 first stepped onto the USC campus as a young girl, she knew she was home. Three decades after graduating from the USC Marshall School of Business, Cappello still considers USC her home—a place that invigorates her and brings her immense satisfaction as a volunteer. Her latest "labor of love" is serving as president of the USC Alumni Association Board of Governors for the 2013–14 term. She recently spoke with USC Trojan Family Magazine about her past and future.
What is your fondest memory of USC?
I have so many special memories, starting with attending USC football games as a young girl. We would usually drive down early from our hometown of Bakersfield so we could also visit campus or one of the museums near the Coliseum. While a student, I traveled with the International and Comparative Management Program—we visited companies in the U.S. and Europe, gaining firsthand insights into the business world. It actually led to my first job after graduation two years later. Also, participating in Songfest all four years and winning it one year, on my 21st birthday, were among my favorite Trojan experiences.
How did your USC education prepare you for what you've accomplished in your professional life?
My major was business administration with an international marketing management emphasis—exactly my path to entrepreneurship. I started my career with Carnation/Nestle as a marketing manager. After a career of developing and running several businesses, I founded Corazonas Foods, making heart-healthy foods in honor of my father, who had died of heart disease. The leadership and management skills I learned at USC provided a great foundation, and from there I relied on my many Trojan friendships to grow the company until its recent sale.
Why do so many of your family members have ties to USC?
USC represents an ideal and a set of values consistent with our upbringing. My father and uncle (my mom's brother) were best friends at USC, so that started our Trojan legacy. It was a privilege to share my years at USC with all three of my brothers. We were raised to value family, loyalty and friendship; to live honestly; and to believe we could achieve anything with hard work. The Trojan Family embodies all of these ideals.
What drew you to the USCAA Board of Governors and what are your priorities as president?
I am honored to lead this group of inspiring Trojan leaders, many of whom I've had the pleasure to work with for many years. The ways we engage with each other have changed. Now is the ideal time to enhance our USC alumni experience by incorporating the ways we connect and communicate today, both technologically and philosophically. Let's help Trojans do business with other Trojans! We want to offer networking opportunities organized by the way alumni live and work, not just by grad year or school. This can easily be done with technology and information that evolves into events and other programming.
What drives your passion for volunteering, and how do you inspire others to give back?
I have never been prouder of my alma mater than I am today. USC is making academic history in so many ways, and getting to experience that momentum firsthand is invigorating. I become energized by the accomplishments of USC students and alumni, and invite all alumni to connect with the university and one another at alumni.usc.edu. The excitement is infectious, and once we reconnect, we each find the best way to personally get involved. The value of our degree has never been higher. It is our responsibility to ensure that it continues to appreciate by contributing our time, talent and resources to this great university.