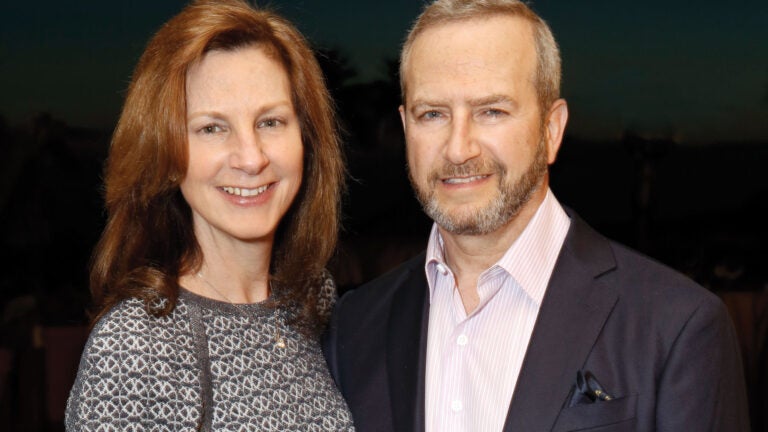 Shelly and Ofer Nemirovsky's $15 million gift supports residential college at USC Village
Nemirovsky Residential College will be a vital hub for academic, cultural and recreational activities on campus
USC Trustee Shelly Nemirovsky '85 and her husband, Ofer, have made a gift of $15 million to endow and name a residential college at USC Village. As many as 320 students will live at the new Shelly and Ofer Nemirovsky Residential College when USC Village opens in August.
One of eight residential colleges planned for USC Village, Nemirovsky College will be a place for undergraduate students and faculty to continue and expand conversations and friendships that begin in the classroom and cross over to everyday life. The college will offer a variety of academic, cultural and recreational activities, forming a vital hub for student life on campus.
"Shelly and Ofer Nemirovsky's generosity will strengthen the educational experience for undergraduates at USC. Their gift will help establish a thriving residential college system that creates new opportunities for students and faculty to engage, teach and lead," said USC President C. L. Max Nikias. "We are extremely grateful for the Nemirovskys' philanthropy, as well as their passion for education and the research underway at USC."
USC Village is the largest development project in the history of the university and South Los Angeles. Located on the north side of University Park Campus, the 1.25-million-square-foot project will enhance campus life for students while offering an array of new retail and service options for the local community. USC Village will add as many as 2,700 student beds to the University Park Campus and increase the number of students living in USC-owned housing by nearly 40 percent.
Much of what made my USC experience so rewarding was having the good fortune to live on campus and develop vital relationships outside the classroom, some of which endure to this day.

Shelly Nemirovsky
"Much of what made my USC experience so rewarding was having the good fortune to live on campus and develop vital relationships outside the classroom, some of which endure to this day," Shelly Nemirovsky said. "Knowing that all USC students will now have the opportunity to continue conversations beyond the classroom, in the spirit of collaboration, is thrilling for me, and I believe that I am privileged to witness this seminal moment."
From L.A. to Boston
A steadfast supporter of the university since earning a bachelor's degree in English from USC, Shelly Nemirovsky moved to the East Coast after graduation. She worked in financial services for several years before pausing to start a family. In recent years, she has devoted much of her time to her children's Boston-area school, Buckingham Browne & Nichols, serving as its board's vice chair. She led the school's 2008 fundraising campaign, helping the institution reach its $69 million goal.
In the greater Boston community, Shelly Nemirovsky has served on numerous nonprofit boards for organizations, including the Institute of Contemporary Art and the Esplanade Association, which works to restore and enhance Boston's Charles River Esplanade. Serving in a fundraising capacity, she devoted four years to Hill House, a community center offering early childhood and senior programs.
Strategy and software
Ofer Nemirovsky joined HarbourVest, a private equity firm, in 1986 and served as a managing director through 2014. In 2015, he became a senior adviser to the company. He continues to provide input on firm strategy, investments and other matters. During his 29-year tenure, he concentrated on direct co-investments and pioneered the direct team's early focus on software companies. He was also instrumental in business development and accessing new sources of capital around the world.
He earned bachelor's degrees in electrical engineering and finance from the University of Pennsylvania in 1980 and an MBA from Harvard Business School in 1986. He has served on the boards of the National Venture Capital Association, the African Wildlife Foundation and the Institute of Contemporary Art.
The Nemirovskys' generous gift supports the Campaign for USC, an unprecedented fundraising effort to advance USC's academic priorities and expand its positive impact on the community and world. When launched in 2011, the campaign had the largest fundraising goal ever announced in higher education — $6 billion. After exceeding its goal nearly 18 months ahead of schedule, the campaign continues to draw unparalleled support for the university's mission and has been extended through 2021.