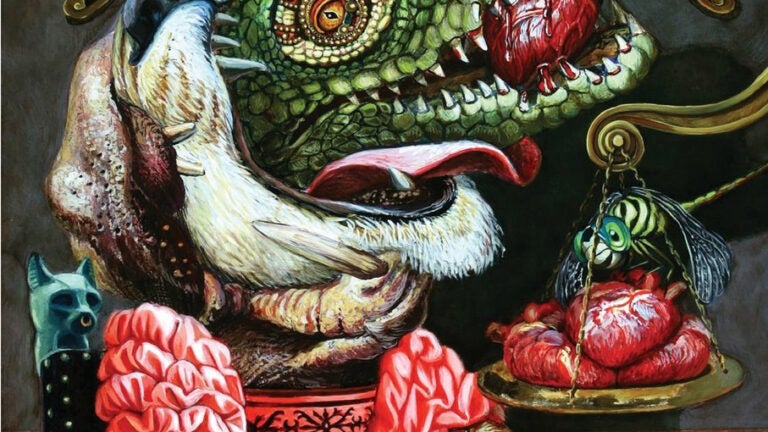 For Horror Poet Saba Syed Razvi, Scary and Monstrous Tales Have an Irresistible Pull
A Trojan alumna reflects on her lifelong fascination with creepy mysteries and the darkness of language.
It's hard to imagine poet Saba Syed Razvi PhD '12 having a conversation about something as mundane as her grocery shopping list. Her words, and the way she uses language, are dazzlingly complex and lyrical. Sometimes they're even uncanny or unsettling.
When asked to describe her fantastical and outlandish poems, Razvi says: "I like to see my work as colors through black lace, neon in outer space, as a dervish channeling a rainbow through the scarce light of the new moon. I am interested in the notion of iridescence and shimmer, the message of the color along the surface of something opaque and dark, like rainbow on an oil slick, or a nebula."
Perhaps it's no surprise that her writing has been honored by horror and science fiction poetry groups. Her work, she admits, isn't polite. "I am interested in the darkness of language," she says.
The poet — who earned her doctorate in creative writing and literature from the USC Dornsife College of Letters, Arts and Sciences' English department — is one of the new voices diversifying the world of literary horror.
Female horror poets on the rise
Women have always told scary stories, but the stories of women's experiences and ideas are now finding more of a foothold in publishing, Razvi says, and they're part of a trend. She believes that more of the world is interested in the horror and violence visited upon women and other marginalized voices by "the hand of the patriarchy."
While talk of the greatest horror writers has traditionally centered on men like the poet Edgar Allan Poe and best-selling novelist Stephen King, horror authors say names like Mary Shelley and Shirley Jackson should be up for consideration. And more voices from different communities are emerging.
Now, Razvi says, there is a Women in Horror Month, as well as blogs and communities for women and non-binary persons in horror, and communities for writers of color. And within horror, there are many subgenres including revenge and werewolf stories, vampire mysteries, ghost stories, weird, nightmare and surreal fiction, bizarro and gore, fabulism and even magical realism.
Razvi is finding her own unique path within this creative explosion. She traces her inclinations for the creepy back to childhood. Growing up in the suburbs of Houston in the 1980s and 90s, Razvi was drawn to dark and spooky folktales. She was fascinated by the monstrous and listened to "dark" bands like The Cure, Siouxsie and the Banshees, and Björk.
"I was always the kind of kid that didn't want to let fear of anything stand in my way, so I tried to expose myself to the things I was afraid of by reading about them and thinking about them," she says.
That it was easy for her to do, she surmises, was because she grew up happy and safe.
Still a goth at heart
Razvi's parents came to the U.S. from India to attend graduate school. She was reading and writing at age 3 and writing poems at 5. At energetic poetry readings called mushaira, which she attended as a child, poets read their works in Urdu for hours and hours into the night.
Yet Razvi also grew up as a typical American girl, going to rock concerts and movies. And even though she is a now an assistant professor of English and creative writing at the University of Houston-Victoria, in her heart, she remains a goth. She's still attached to her dark eyeliner and lipstick. "As much as one can be," she says, laughing. "My inner goth is still there."
I am interested in the notion of iridescence and shimmer, the message of the color along the surface of something opaque and dark, like rainbow on an oil-slick, or a nebula.

Saba Syed Razvi
Lest you think that Razvi is solely inspired by all things dark, think again. What makes her smile is her family, children, a good slice of pizza, a nice dream and her cats. She has two felines: a black one named "Door," after Neil Gaiman's character in Neverwhere, and Scottish Fold named Max or "Maxfuratu." It's a play on the name Nosferatu, since the cat has huge eerie eyes like the vampire.
"I could tell witchy cat stories all day," she says, "but I'll spare you for now."
Halloween, of course, is among her favorite holidays, along with Día de Los Muertos and some Muslim holidays. What gives her goosebumps, she says, is whatever takes her words away. She gravitates towards art and literature that can evoke an experience of the sublime, the scary or the uncanny.
"Haunted houses and haunted spaces, abandoned places whose histories and lives are not apparent anymore. These things captivate my curiosity. I love a good mystery in the world. I am drawn to uncertainty and ambiguity, to defiance and the allure of the unreal."
Honored for reimagining Alice in Wonderland
Most recently, she was included in the Horror Writers Association Poetry Showcase for a poem called "Alice Escapes the Machinery of the Cosmos by Swallowing the Tongue of Her Unspoken Dream."
Lewis Carroll's Alice in Wonderland is already a dark tale, but in this version, it's a nightmare. Razvi imagines Alice slipping through a wormhole in space and floating there between life and death and hallucinating the things of her world. She says it's the inverse of the original story in which Alice explores something that can reconcile her to herself: in this poem, instead, Alice faces what will annihilate her.
An excerpt of this poem follows. (Note that the formatting is different in the original poem because the digital medium alters line breaks.)
What, beside a fountain of life or elixir of breath or Lazarus pit branches full of beating hearts? A tree with roses painted partly in red. Begin by beginning. A flamingo — no, an ibis long beak, a widened stance, a deck of cards, a five and a seven, Thoth and a Tower of Death. Off with a beheading, with a binding of the head. Off with electroshock and darkness. Off with a cell filled with pain named other than pain: the thieving of your ruby cakes, ices of red and white and licorice stripe, waking the dead with your waking. Will you give the time?
Razvi plans to keep writing as she pursues her academic work (she researches the interface between science and contemporary poetry, as well as Sufi poetry in translation). She relishes being one of the up-and-coming women of contemporary horror and science fiction.
"I think that for a long time, women have as a whole kept silent about the horrors they know and experience," she says, "but that as society becomes more willing to address those horrors, it also becomes more willing to hear their stories and the way those stories are shaped."
Saba Syed Razvi is the author of the Elgin Award-nominated collection In the Crocodile Gardens (Agape Editions) and heliophobia (Finishing Line Press), a new collection which appeared on the preliminary ballot for the Bram Stoker Award, as well as the chapbooks Limerence & Lux (Chax Press), Of the Divining and the Dead (Finishing Line Press), and Beside the Muezzin's Call & Beyond the Harem's Veil (Finishing Line Press).