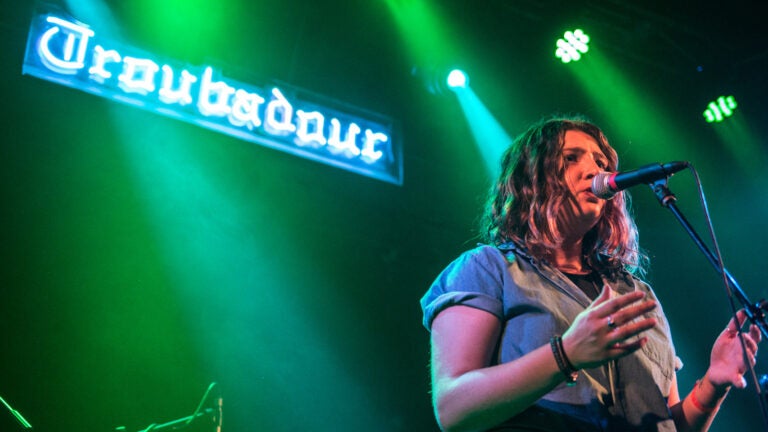 Popular Music students, alumni to perform at Universal CityWalk
Folk rock, R&B, jazz and pop artists will play at the free showcase
The USC Thornton School of Music's Popular Music Program will showcase multitalented USC Thornton students and alumni Aug. 17 from 6 to 9 p.m. at the 5 Towers stage on Universal CityWalk.
The free event, part of the Hollywood venue's Music Spotlight Series, features performers representing a diverse selection of styles and musical genres, including folk rock, R&B, jazz and pop.
This provides a wonderful platform for these talented artists to perform and earn new fans.

Chris Sampson
Performers will include:
Huxlee, a folk pop outfit fronted by Caitlin Notey '14
The Aaron Childs Band, a funk band fronted by Aaron Childs '14
Jazz performer Justin Klunk
Current students Malia Civetz and Tyler Mann, singers with a contemporary take on classic soul
Singer-songwriter Lara Johnston '13
The SoCal VoCals, USC's award-winning a cappella group
The group will be joined by two USC alumnae: DJ Shy, one of the most successful female DJs on the club circuit, who will spin throughout the event; and Suzanne Marques '99, CBS Los Angeles entertainment reporter, who will serve as emcee for the evening.
A 'wonderful' platform for Trojans
"We are so grateful to Universal CityWalk for this opportunity," said Chris Sampson MM '96, vice dean of contemporary music at USC Thornton. "This provides a wonderful platform for these talented artists to perform and earn new fans."
Founded in 2009 and hailed by Rolling Stone as "the cutting-edge department that's become the site of Los Angeles' most productive new music scenes," the Popular Music Program is a unique music degree for the rock, pop, R&B, folk, Latin and country artist.
Each highly selective class is limited to 25 talented songwriters, vocalists and instrumentalists who enroll from all regions of the United States. The size of the program allows for collaboration among students, many of whom have not performed with other musicians before arriving at USC Thornton.
"The Popular Music Program is amazing," Childs said. "I've seen people go from being just a guitarist or just a bassist to being a producer, a singer-songwriter, an arranger. That's how I've been able to develop and sustain a sound for myself."
Current students and alumni of the program have secured recording and publishing contracts, won competitions, released well-regarded EPs and albums, placed songs in films and on television, launched successful national tours and received a Latin Grammy nomination.
Students attribute the success of the Popular Music Program's alumni to the skills taught in the program's courses.
"I feel the program has prepared me for more than just performing as Huxlee," Notey said. "I now feel comfortable going into a session and writing for another artist. You're given the tools you need to go into any sort of situation in the music industry."
The USC Thornton showcase is free and open to the public. The 5 Towers is a standing-room only outdoor stage.
For more information, visit Universal CityWalk or the event's Facebook page.