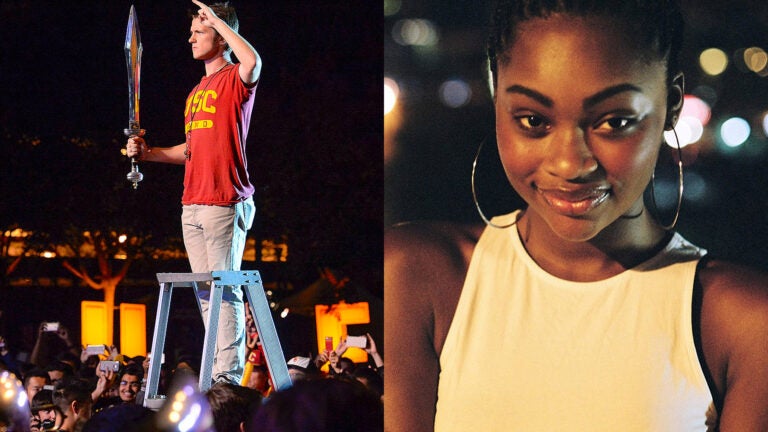 Order of the Torch honors top students for contributions
The 12 selected seniors chose Mr. USC and Miss USC from among their ranks
Twelve seniors were selected to the 2014-15 Order of the Torch, an honor that recognizes students for outstanding leadership, academic achievement, service and mentorship, and contributions to the USC community.
The highly competitive selection process involves an intensive review of achievements, 15-minute interviews and speeches before a panel of staff and faculty judges.
The 12 members named to the prestigious Order of the Torch then elect the two most impressive among them to be crowned Mr. USC and Miss USC. Their selections are this year's Trojan royalty: Mr. USC Chris Reimann and Miss USC Ama Konadu Amoafo-Yeboah.
Meet Mr. USC: Chris Reimann
If you have gone to any Trojan football games this past season, you've seen him stabbing the field as the drum major for the Trojan Marching Band.
Now the most visible face of Trojan Spirit, Chris Reimann '15 played trumpet for his first three years with the band before its members elected him to the coveted leadership position this academic year.
Reimann, a biochemistry major and neuroscience minor, has no light load academically either. The Middletown, N.J., native serves as a research assistant, a supplemental instruction leader in the tough pre-med courses Organic Chemistry I and II, and an undergraduate fellow for the Center for Excellence in Teaching at USC.
He has set his sights on earning a doctorate next, and hopes to either work as a professor or enter the pharmaceutical industry, developing therapeutics to combat diseases like cancer.
LESSON LEARNED AT USC:
"The biggest thing I learned was to be a competitor. At this school, there are so many talented individuals that you won't succeed by maintaining the status quo. You have to be creative to stand out. By 'investing in yourself,' as I like to call it, you can accomplish great things."
BEING PART OF THE BAND:
"The band has been my family on the West Coast, and I have made some of my best friends at USC through this organization. To be at the heart of the Trojan Family for some of our greatest moments has been so memorable, and even though I will be graduating in spring, they have taught me what it means to be 'a Trojan for life.'"
No other drum major in the country draws such emotion from fans, whether you're being cheered by 90,000 in the Coliseum or booed by half as many in the Rose Bowl.

Chris Reimann
WHAT IT FEELS LIKE TO BE DRUM MAJOR:
"Surreal. No other drum major in the country draws such emotion from fans, whether you're being cheered by 90,000 in the Coliseum or booed by half as many in the Rose Bowl."
FAVORITE USC MEMORY:
"Travelling with the Trojan Marching Band has brought me to all corners of the country–from the Pac-12 Women's Basketball Tournament in Seattle, which we won, to Catalina Island for the annual Fourth of July parade. However, nothing can beat the trips to Chicago for the Notre Dame football game. It's such an excellent tradition in our band that has given me memories that will last a lifetime."
POST-GRADUATION PLANS:
"I will be getting my Ph.D. in Organic Chemistry next year, studying the total synthesis of new natural products. My ultimate goal is to build and utilize small molecules to solve problems in human health, either by developing them into new therapeutics or using them as probes to identify new molecular targets."
BEST PART OF BEING A TROJAN:
"The greatest moments are those where you realize the Trojan Family is a living, breathing entity. Whether it's getting a personalized thank you from the head football coach or having a 30-minute conversation with an alumna in New York who noticed your USC sweatshirt, it still amazes me how this Trojan experience connects so many people."
Meet Miss USC: Ama Konadu Amoafo-Yeboah
She is one of the most vigorous advocates for student involvement, inclusion and diversity on campus, but her impact extends well into the community with her work educating and inspiring low-income, foster and at-risk youths throughout LA.
Ama Amoafo-Yeboah '15 led the Black Student Assembly before taking up executive directorship of Program Board. In that post, she oversees eight assemblies, six committees, and the programming of more than 100 free student events this academic year.
Her greatest passion lies in helping underserved young people achieve education and success, and after years of volunteer work towards this cause, she co-founded Product of My Dreams, a mentorship program to create a pipeline for low-income high school students to USC.
When Amoafo-Yeboah graduates in May with a degree in psychology and a minor in Children and Families in Urban America, she plans to focus on expanding her organization and enrolling in the Master of Social Work program.
INSPIRATION FOR PRODUCT OF MY DREAMS:
"I have volunteered with Peace4Kids organization since I was in eighth grade and I have had the opportunity to watch some of the youth in the program journey through high school while I journeyed through college. Seeing some of the things that the youth I served struggle with when it came to education, self-esteem, and self-efficacy really hurt me. So, when I got to USC and met my co-founder, Jason Sneed, we both came to the conclusion that it would be helpful for those youth to have people that looked like them and made it to and through post-secondary school be there to lean on. Essentially, we started Product of My Dreams to provide local youth with mirror images of themselves and to encourage them to seek out post-secondary school options."
Everything I have done at USC was in an effort to make this 'Trojan experience' one that all students from all backgrounds could relate to.

Ama Amoafo-Yeboah
CHANGING USC FOR THE BETTER:
"I believe that I have changed the narrative of the black experience at USC. Everything I have done at USC was in an effort to make this 'Trojan experience' one that all students from all backgrounds could relate to. I hope that the things I have done on campus have shown minorities even more that we can be a part of the Trojan family and have that Trojan experience outside of just on Game Day."
BEING CROWNED MISS USC:
"Wow! Umm I am still in disbelief. Anyone that saw my face at Conquest when it was announced would say that I was truly shocked. I am very honored and it just warms my heart to know that if I have done nothing else, I made an impact on at least one person. So, it feels great! I told myself that I would leave my mark at USC before I graduate and I think that being Miss USC really helped me bring that goal full circle."