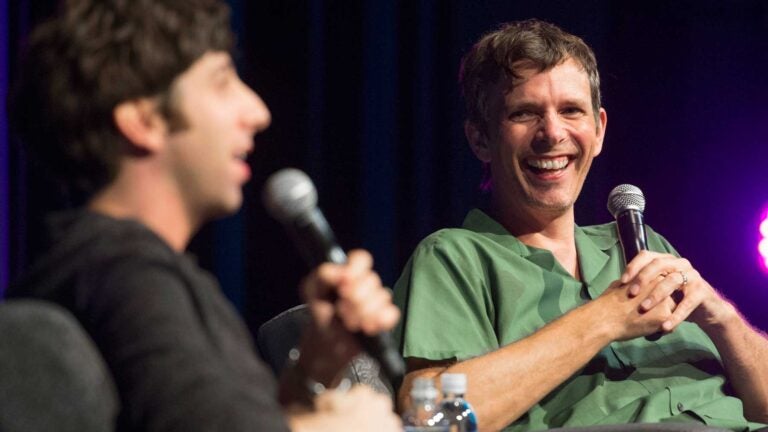 New dramatic arts podcasts hosted by dean, but students power the production
'Podcast@SDA' focuses on stories behind the plays and authors featured in the school's current season
"Podcast@SDA," a new series from the USC School of Dramatic Arts, launches this week.
Hosted by Dean David Bridel, the series will take listeners behind the scenes of the school's 2016-17 season of plays. With two musicals, a three-play acting repertory and works from Shakespeare, Robert Schenkkan and Anne Washburn, the 20-plus show season is diverse and challenging and one of the most ambitious of any dramatic arts training institution in the nation.
"The new 'Podcast@SDA' offers me the opportunity to speak creatively to the wider community about different aspects of our work," Bridel said. "This year, the focus will be on the plays and authors involved in our current season. I'm excited by the opportunity to work in this medium and, in future years, offer classes in podcast creation for our students."
In the first episode of the series, Bridel speaks to playwright Julie Jensen, whose play, Mockingbird, will be performed at the McClintock Theatre from Sept. 29 to Oct. 2.
Jensen, the author of 30 plays, has received numerous awards for her work, including the Kennedy Center Award for New American Plays and the LA Weekly Award for Best New Play. She has received the McKnight National Playwriting Fellowship, the TCG/NEA Playwriting Residency and a major grant from the Pew Charitable Trusts. Mockingbird will also be produced this year at the Kennedy Center Theatre for Young Audiences in Washington, D.C.
Though Bridel hosts the podcast, dramatic arts students are the driving force behind the production. "Podcast@SDA" is recorded, edited and mixed by the students and faculty of the school's BFA Sound Design program.
"Working on the podcast gives our designers a chance to implement the production skills they are learning in the classroom," said Philip Allen, director of BFA Sound Design. "They weave into each episode music choices and other audio production elements derived from the design aesthetic being employed on the corresponding productions. They will gain valuable recording studio experience working with authors, performers and scholars as they tell the story behind the stories we tell on stage."
"Podcast@SDA" is available for free streaming on the school's website, SoundCloud and iTunes.
Delphine Vasko contributed to this story.