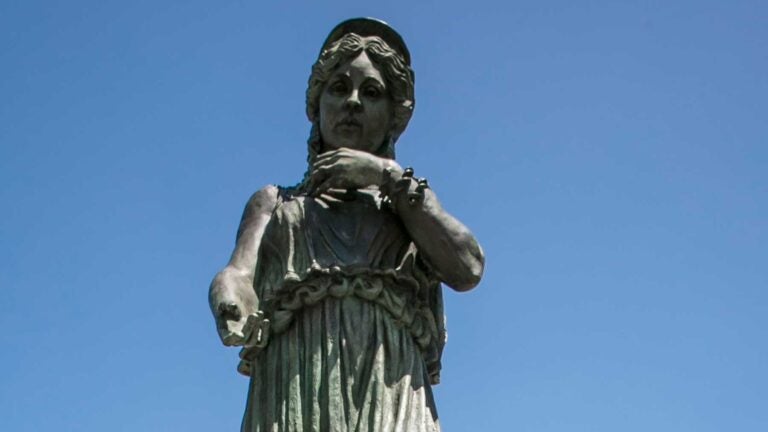 Meet Hecuba, queen of Troy and centerpiece of USC Village's Central Piazza
USC President C. L. Max Nikias unveils iconic statue that serves as a counterpart to Tommy Trojan
The culmination of Thursday's opening ceremonies at USC Village was the unveiling of an instant landmark.
As the ceremony neared its end, USC President C. L. Max Nikias, his wife Niki C. Nikias and sculptor Christopher Slatoff helped lift the red wrap from Hecuba, queen of Troy, punctuated by fireworks and the trumpets of the Trojan Marching Band.
Slatoff's latest work towers over the Central Piazza in the middle of USC Village. The 12-foot-tall sculpture stands atop an 8-foot base that depicts six women of African, Asian, Caucasian, Latina, Native American and Eastern Mediterranean descent.
"Queen Hecuba will serve as the new symbol of Troy … celebrating our women of Troy," the president told the crowd. The wife of the Trojan King Priam, Hecuba stood to preserve and protect her family and her city, he explained. Her story is told in classical works from Homer's Iliad and Odyssey and Virgil's Aeneid to Euripides' timeless tragedies, Hecuba and The Trojan Women.
The statue's right arm is outstretched in welcome to the Trojan Family and the community as well. It serves as a counterpart to the Trojan Shrine — Tommy Trojan, the iconic figure that stands guard over Hahn Plaza.
"This is our commitment to all of the women of Trojan Family … who share the same spirit as the majestic queen of Troy," Nikias said.
Slatoff, a Trojan parent, worked on Hecuba for more than two years. He is the same sculptor who created USC's statue of founder Judge Robert Maclay Widney.