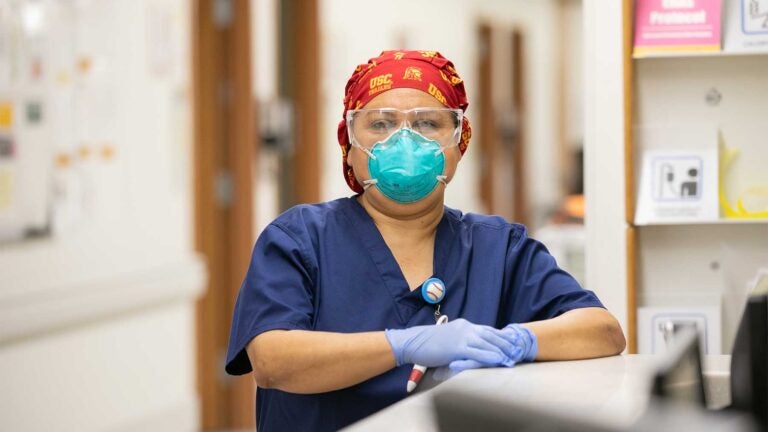 This unsung hero cleans and disinfects the COVID-19 wing of USC hospital
Maria Saravia loves how her job at Keck Hospital of USC helps protect patients and health workers alike.
Patients on the COVID-19 floor of Keck Hospital of USC recognize her friendly face. She's not a doctor, nurse or therapist, but Maria Saravia is just as important to their care.
Saravia visits their room to disinfect surfaces, remove trash and freshen bed linens. She's been an environmental services worker in Keck Medicine of USC hospitals for nearly two decades, and she takes pride in her role — especially during the pandemic.
"I find my job rewarding because I empathize with the patients," she said. "My job is to make sure their rooms are clean. By doing that and making sure everything is taken care of, I feel like I've done my part to help out.
"Even though I might not know them, I'm doing my part to help out with the virus."
I'm doing my part to help out with the virus.

Maria Saravia
The 56-year-old single mother of three cleans and sanitizes the COVID-19 ward six days a week, from 7 a.m. to 3:30 p.m. She starts each day the same way: Her N95 respirator and safety glasses go on first. Then she slips on her gloves, shoe covers and cardinal-and-gold scrub hat.
She dons all that protection to keep herself safe, of course. But it's also for her parents, who are in their late 80s. They live with Saravia and her three adult daughters in Boyle Heights, not far from USC's Health Sciences Campus.
"In the beginning, we were worried, just because it is her floor where the [coronavirus] cases started and where they are bringing all the patients," said her youngest daughter, Michelle Montiel, 20. "But as of right now, we see how hardworking she is and how happy she is to be doing this for the patients. We're really proud of her, and we're supporting her."
USC hospital worker brings joy and pride to her cleaning work
Born in El Salvador, Saravia came to the United States in her early 20s. She joined USC's environmental services team 18 years ago and has been a dedicated employee ever since — first at USC Norris Cancer Hospital, then Keck Hospital of USC.
Although she sometimes struggles with English, she fights language barriers and strives to connect with every person she visits.
"Sometimes they reply, sometimes it's just a nod or a wave," she said. "I still try to communicate with them, even if it's just a simple 'Good morning.'"
Just like front-line health workers, Saravia sees pain and suffering. Recently, one interaction with a patient who had COVID-19 has weighed on her.
"We were having a whole conversation, and it seemed like the patient was getting better," Saravia said. "But when I went in to work the next day, I found out that the patient had passed away. It really resonated with me because he was really young. He seemed like he was healthy and ready to return to his family. I thought of my daughters."
A strong bond with coworkers motivates USC hospital cleaner
Other days are happier. She received a card from the family of a patient who recovered from the coronavirus. They thanked Saravia for her hard work keeping the hospital clean and sanitized. The small gesture filled her with pride.
My sisters and I, we're just really proud of her.

Michelle Montiel
She gets similar tokens of appreciation from the nurses, physicians and other health workers. Sometimes they buy her lunch or hand her a gift card to a coffee shop. Sometimes it's just a simple "Thank you."
"I've worked at the hospital for so long and with these medical professionals for so long that I'm just really thankful to be able to help them out and keep them safe, just by making sure the rooms and offices are clean," Saravia said.
Her family loves seeing the recognition she gets.
"My sisters and I, we're just really proud of her to be working on this floor right now," Montiel said. "She's really empathetic and willing to do whatever it takes."