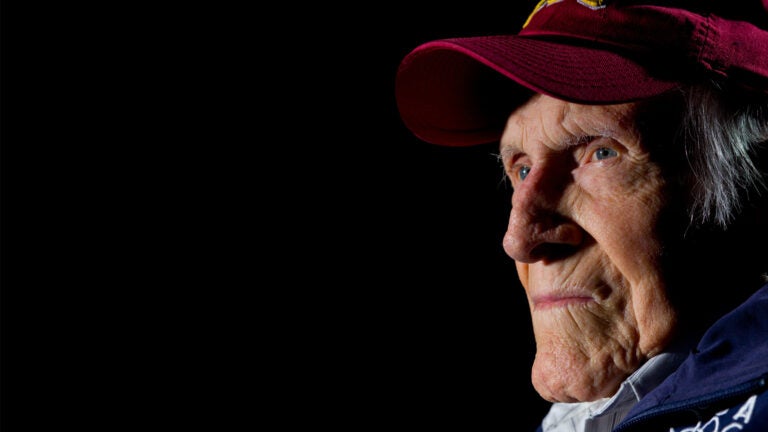 Louis Zamperini, World War II hero and longtime Trojan, 97
"He has been an American hero who has inspired millions through his courage and his character"
Louis Zamperini, the USC Trojan Olympian whose heroics as a World War II prisoner of war earned him international fame, has died in Los Angeles. He was 97.
"Lou was one of the greatest Americans and Trojans of all time," USC President C. L. Max Nikias said. "He has been an American hero who has inspired millions through his courage and his character."
Zamperini's life was chronicled in the popular book "Unbroken," which was turned into a film currently scheduled for December release. He graduated from what is now called the USC Dornsife College of Letters, Arts and Sciences in 1940 and maintained a strong relationship with USC, returning to the university over the years to inspire students, usually wearing his trademark USC baseball cap.
Zamperini's Trojan ties
"Louis Zamperini was the embodiment of the USC motto, 'Fight On,' said USC Athletic Director Pat Haden. "All of us in the Trojan Family have a deep appreciation for what he did for USC and for our country, and we mourn the passing of this American legend."
Louis Zamperini was the embodiment of the USC motto, 'Fight On.'

Pat Haden
USC has lowered the flags at Heritage Hall and the John McKay Center to half-staff in Zamperini's honor.
"Today is a sad day at USC, knowing that the wonderful life of Louis Zamperini has ended after 97 remarkable years. I can think of no more famous Trojan than Louie, with his combination of athletic exploits and war heroics," said former USC track and field Coach Ron Allice. "The fact that he still is the only Trojan to win the NCAA outdoor mile championship, which he did twice some 75 years ago, speaks volumes of his athletic ability. I know I will miss him, as will so many others. He was a great man."
The 'Torrance Tornado' on the track
Zamperini got his athletic start as a fighter rather than a runner.
His father taught him how to box so he could defend himself when others bullied him because he didn't speak English. But the son of Italian immigrants found himself in trouble so often, he needed to channel his energy. With the help of his older brother Pete, he found his purpose on the track team at Torrance (Calif.) High School.
Zamperini soon became a running wonder with a trademark kick. At the California high school track finals in 1934, he set a world interscholastic record and won the state title in the mile. His prowess helped earn him a scholarship to USC.
Two years later, at the Olympic Trials in Randall's Island, N.Y., Zamperini and world-record holder Don Lash each crossed the tape at the same moment in the 5000 meters. At 19, Zamperini was the youngest Olympic qualifier in the event.
Zamperini finished eighth in the 5000 meters in Berlin in 1936, but his final lap of 56 seconds impressed Adolf Hitler, who asked to meet the young runner. As they shook hands, Hitler remarked, "Ah, the boy with the fast finish." After the Games, Zamperini returned to USC, where he set a national collegiate mile record that stood for 15 years.
The world at war
But Zamperini is best known for his experiences in World War II. Giving up his chance at the 1940 Games, he enlisted in the U.S. Army Air Corps instead. That would dramatically change his life.
In 1943, he and his crew were on a routine mission when their B-24 crashed into the Pacific Ocean. He and another survivor drifted in a life raft for 47 days until they were captured by the Japanese military. They were held captive and tortured for two and a half years until the war ended in 1945.
Zamperini initially was reported as killed in action. After being liberated from a prisoner-of-war camp, he proved his identity by showing his USC Silver Life Pass. He eventually returned to California and was given medals for his bravery, including the Purple Heart.
Life at home
The years following were tumultuous, as Zamperini battled post-traumatic stress, depression and alcoholism. He eventually turned his life around and became a public speaker, frequently discussing the topics of motivation and reconciliation. He even returned to Japan as a Christian missionary, and went back to Japan once again to run a leg of the Olympic torch relay at the 1998 Nagano Winter Games — a route that took him past camps where he had once been imprisoned.
"During his remarkable athletic career as an Olympic runner, by his endurance on the life raft, and with his resilience at the torturous hands of 'The Bird' during World War II, Louis' life exemplified USC's 'Fight On' spirit," said four-time USC Olympic gold-medalist swimmer John Naber, a close associate of Zamperini. "Amazingly, his impact on other people continued as he grew older. His example inspired thousands to be better people, myself included."