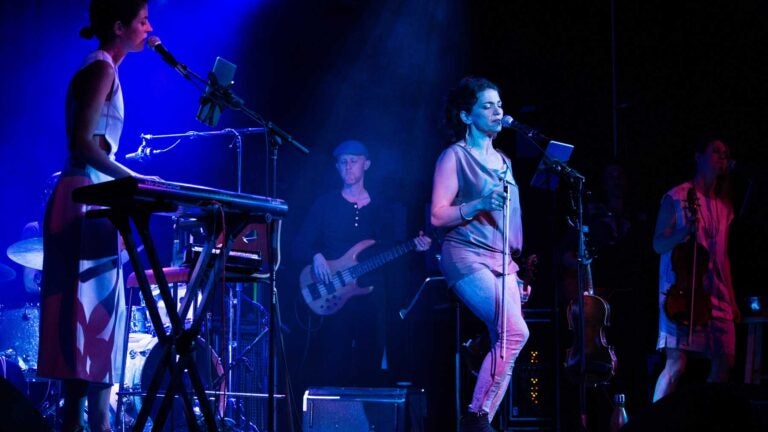 'Songs from a Changing Sea' tells stories of the environment through music
USC's Visions and Voices event mixes moving melodies with deep thoughts on the ocean
George Ban-Weiss, an engineer with a love of music, has spent years looking for a way to combine science and the arts.
"Lost City: Songs from a Changing Sea" helped the USC Viterbi School of Engineering assistant professor accomplish his goal by offering new perspectives on the deep blue sea.
The USC Visions and Voices event gave Ban-Weiss a platform to mix music and stories about the environment with songwriter-composers Carla Kihlstedt, Matthias Bossi and Jeremy Flower. The Massachusetts-based songwriting duo Kihlstedt and Bossi, joined by Flower, developed the concert's structure of an entire album centering on the story of a woman's affecting journey. Living in a small town that carries a deep interest in oceanography, they looked at the world and resources around them to delve into a part of the environment not typically seen by the common eye.
[soundcloud url="https://api.soundcloud.com/tracks/324635133″ params="auto_play=false&hide_related=false&show_comments=true&show_user=true&show_reposts=false&visual=false" width="100%" height="450″ iframe="true" /]
"My mother sent me this story about a record-breaking female free-diver, Natalia Molchanova, who had, just a few weeks earlier, disappeared," Kihlstedt said. "That never happens because free-diving is highly monitored. But in this one casual dive, she didn't have that. They never found her body. And that story just really stuck with me. So I started looking into her and found her personal collection of poetry on diving. She spoke really eloquently and beautifully about what diving meant to her on a spiritual and philosophical level."
This story soon became the premise of an exploratory journey through song. The first song of the album introduces the diver as she chooses not to return to the surface. In subsequent songs, she leads listeners deeper into the ocean, showing everything she encounters such as coral, pollution and more.
"I never think about style or genre when I'm writing," said Kihlstedt, who instead explains her process as a sensory mix of music and writing.
Each song contains research that expresses the ups and downs of the oceans that surround us.
"Even though it's not a documentary, it has the ability to take pieces and information about the ocean and convey it in a passionate and visceral way," Kihlstedt said.
With the premiere of the piece under its belt, the group hopes to continue performing under the name Black Inscription at other venues, including New York City in January, with additions in sound design and video projection to augment the immersive experience.
"I hope that people left having had an amazing concert-going experience and feeling more innately connected to the environment than they were before the show," Ban-Weiss said. "And perhaps the feeling of connection will help inspire people to take steps toward making their actions friendlier to the environment, even if just a little bit."