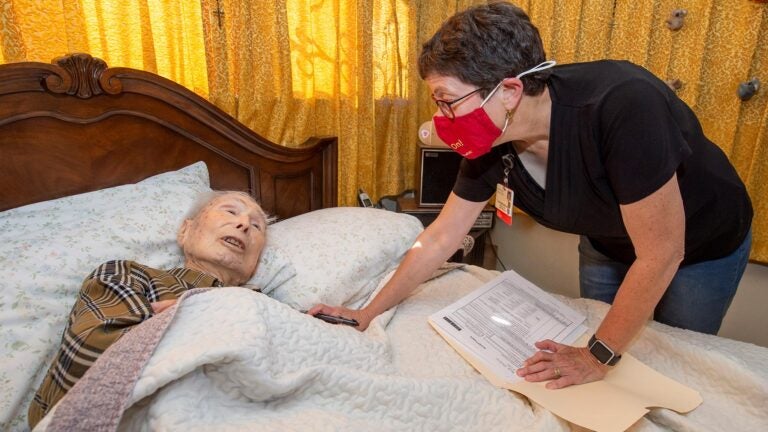 'It was just the right thing to do': USC geriatrics physician brings vaccines to the most vulnerable
Laura Mosqueda knows that many of her older patients can't make the trek to mass vaccination sites. That's why she's administering at-home COVID-19 vaccines.
Laura Mosqueda is as amazed as anyone at how far COVID-19 vaccination efforts have come in the last few months. However, as she sees mass vaccination clinics administer thousands of doses per day, she also knows that these sites still aren't accessible to everyone — especially many older people.
That's why Mosqueda, a family medicine and geriatrics physician at Keck Medicine of USC, chose to bring vaccines to them as both vaccinator and courier.
"We've been doing house calls for years … which makes us acutely aware of older adults who really can't get out," she said. "We know there are people out there who are unable to get the vaccine for a variety of reasons, and it was just the right thing to do."
As much as she admires the efforts at the mass vaccination sites like Dodger Stadium, Mosqueda — who is also a professor of family medicine at the Keck School of Medicine of USC — knows that it's not an option for some of her patients with physical disabilities, like debilitating back issues, or diseases like Alzheimer's.
"Some people might say, 'Well, gosh, if they're just homebound anyway, why do they need to be vaccinated?'" Mosqueda said. "The answer is because they have caregivers or other people helping them and, heck, they still want to see their grandkids."
Home vaccinations are now a reality thanks to Johnson & Johnson's COVID vaccine
Mosqueda said the arrival of the Johnson & Johnson COVID-19 vaccine — which only requires one dose — set the home vaccination effort in motion. Keck Medicine gave 50 doses of the Johnson & Johnson vaccine to Mosqueda's team, the first 15 of which were administered Friday through Sunday.
"This has been such a burden on people's minds," Mosqueda said. "When they got the call saying we would do this at home, both the patients and their families were so surprised and appreciative to get it done."
The recipients were spread around Los Angeles, from the area surrounding the USC Health Sciences Campus to Rowland Heights, South L.A., La Cañada Flintridge, Glendale and Pasadena, where Mosqueda and other volunteers partnered with the local senior center.
Though the schedule for the remaining 35 doses hasn't been announced yet, there appears to be increased interest in volunteering, which Mosqueda is happy to see.
"This shows what can be done when a group of people is committed to a goal that's truly a social good," she said. "This is a way for all of us to contribute to social justice and the health and well-being of our patients and our community, and because that's such a shared value or belief among those of us who work here at Keck, we were able to do it as a team."