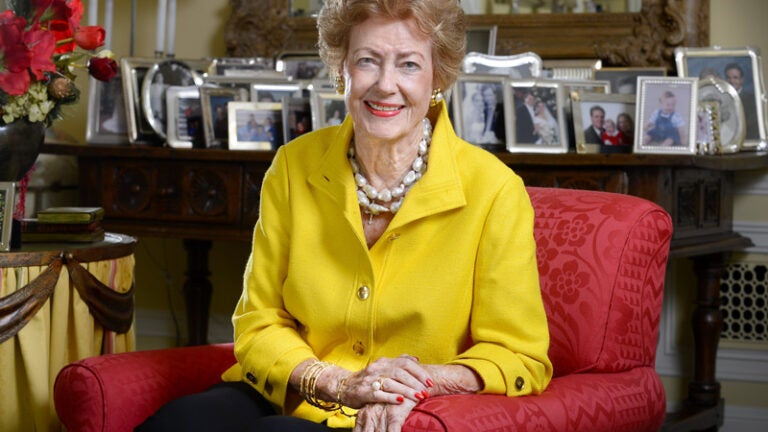 Kathleen Leavey McCarthy Honored for Dedication to USC
The USC trustee has made her mark on her alma mater.
When Kathleen Leavey McCarthy '57 arrived on campus in 1953, she moved into the freshmen-only Hubbard Hall. USC students were buzzing about two other new residence halls that had just been built, McCarthy remembers. "But as it turned out, our dorm was great fun."
The friendships and camaraderie from those days left a huge impression on McCarthy. She embraced life as a USC student and joined Kappa Alpha Theta sorority. When she was named homecoming queen as a sophomore in 1954, she rode on USC's Rose Bowl parade float. She also met the classmate who would become her husband, the late J. Thomas McCarthy '53, LLB '56.
Kathleen Leavey McCarthy and Her USC Legacy
After she graduated with a bachelor's degree in education, McCarthy continued to serve on behalf of USC in the Trojan League of Los Angeles. She became a USC trustee in 1986. Today she's one of the university's longest-serving trustees. She never forgot about the importance of residential life to the university experience, and through her family foundation, she keeps USC's vibrant campus life flourishing. The foundation provided the lead naming gifts for Leavey Library and McCarthy Quad. It also endowed the first trustee's chair at the USC Gould School of Law. The foundation's most recent gift established the Kathleen L. McCarthy Honors College at USC Village, where more than 500 freshman honors students live and learn.
In recognition of the immeasurable benefit she has given to generations of Trojans, McCarthy will receive the 2019 Asa V. Call Alumni Achievement Award, USC's highest honor for alumni, in May at the 86th Annual USC Alumni Awards. "I'm very honored and flabbergasted," she says. "It means everything. It's a great recognition and so lovely to be honored this way."
McCarthy received an honorary doctorate from USC in 1997 and was inducted into the Half Century Trojans Hall of Fame in 2013. Her husband, Frank Kostlan '56, MBA '62 is also a dedicated and loyal Trojan who has generously supported the university over the past several decades.
A Return to the Alma Mater
Recently, McCarthy visited USC Village and stopped by McCarthy Honors College. Though it's been many years since her own days as a freshman, she was delighted to see today's talented students enjoying campus life. "They just love the college," McCarthy says. "They are so appreciative."
As for her own Trojan journey, McCarthy is proud of her family's lasting legacy. "It's been an extraordinary ride," she says. "All the new buildings and the beautification of campus has been incredible to see, and it's been such an honor for us to contribute to that."