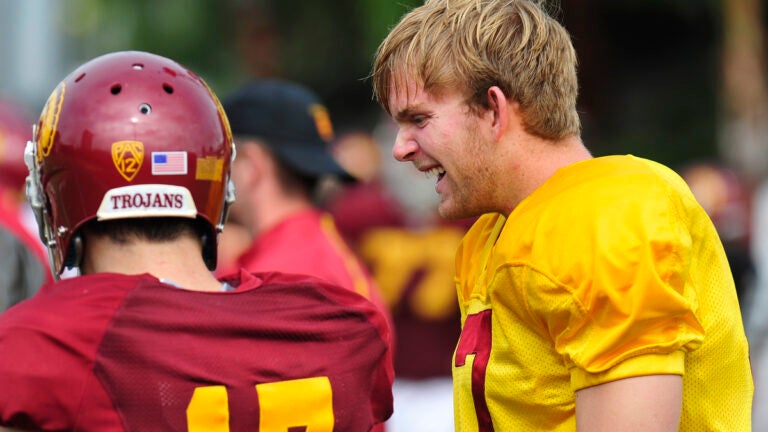 Just a fan no more: Although blind, Jake Olson joins USC football team as long snapper
A dream comes true for the 18-year-old freshman who lost his sight as a child
To Trojan fans, he's the platinum-haired, bespectacled 12-year-old boy who wanted nothing more than to watch the football team play one last time before cancer rendered him blind.
Jake Olson has grown up. Now a towering 6-foot-4, Olson is an 18-year-old freshman at USC majoring in business. In yet another dream come true, he will join the Trojan football team as a walk-on long snapper.
"Tomorrow I walk out onto Howard Jones Field not as a fan or honorary member, but as a player for the USC Trojans," Olson tweeted Monday night.
Granted a waiver by the NCAA, Olson suited up for practice hours later.
"We are happy that Jake has the opportunity to wear a USC jersey and perhaps even join his teammates on the field this fall," said Dave Schnase of the NCAA.
Although Olson will be protected from contact during practice, "someday, we hope to get Jake into a game," said head coach Steve Sarkisian.
Blind USC long-snapper @jakethesnakeo at work. #FightOn pic.twitter.com/6ifCBiMBie

— USC Trojans (@USC_Athletics) September 15, 2015
On the move
At 8 a.m. the morning of Move-in Day in August, Olson and his mom, Cindy, drove north on the 110 freeway to campus, retracing much of the same route they had traveled countless times during Olson's 12 years of treatment at Children's Hospital Los Angeles.
"For all the years we've driven this, now we get to go to USC," Cindy told her son.
Retinoblastoma, a rare cancer of the retina, took Olson's left eye when he was a baby. After years of treatments, doctors decided they would need to remove his right eye, too.
Weeks before the surgery that would blind him, Olson ran with the Trojan football team through the tunnel at the Los Angeles Memorial Coliseum before game time, walked the sideline during games and gave pep talks to the team in the locker room.
Later, as a junior at Orange Lutheran High School in Orange County, Olson had had enough of being on the sidelines. He taught himself to excel at the only position he could play without sight — long snapper. A teammate would guide Olson onto the field and square his hips, and the kicker clapped to let Olson know how far back to snap the ball. Olson earned a starting spot on the varsity squad.
Personal belongings
[new_royalslider id="93″]
On Move-in Day, Olson rolled his belongings in two large bins to his new dorm room in Fluor Tower. When teased about how much stuff he was bringing, Olson insisted that at least half was for his guide dog Quebec, a yellow Labrador retriever, including an oversized dog bed that would go beneath his lofted twin mattress. Olson also brought his prized ukulele and a Braille typewriter that sat on the top shelf of his desk. Every item — from his toothbrush to his electric shaver — was arranged with soldier-like precision so he'd know exactly where to find it.
Emma, Olson's twin sister, is also attending USC this fall. She will work with the Swim With Mike program, which awarded Olson a scholarship and has given more than $15 million to physically challenged athletes at universities nationwide since it was founded at USC in 1981.
Watch the ESPN report "Jake Olson fights on"
Once up in his room, Olson's father, Brian, described to his son what he saw out the window: The view stretched for miles, with the grass of the football practice field clearly in sight.
Olson grinned when he heard the Spirit of Troy strike up the university's fight song from the ground below. "This is so sick: I can hear the band," he said.
His second home
Hours later, the family had finished helping Olson set up his dorm room. He already had more USC paraphernalia than some students acquire over their four years — even Quebec's accessories included a carefully chosen cardinal–red dog bowl, Trojan collar and bandana.
"I always felt like USC was my second home," Olson said, sitting atop his crisply made bed. "When I was losing my sight, it became a place where I could find comfort and joy. And that never stopped."