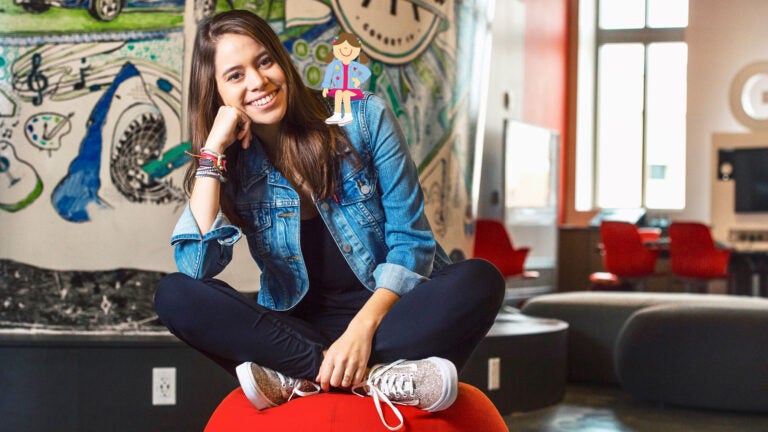 USC Iovine and Young Academy graduate Macki Alvarez-Mena reboots her childhood business
An entrepreneur at age 12, she now looks back at her time at USC and a bright future ahead with her tote bag business
It all started in sixth-grade math.
Macki Alvarez-Mena would find herself doodling images of her friends, hanging them in their lockers as a surprise. They were cartoonlike and showed their personalities.
"One day I decided to paint [a character] on a canvas tote," she said. "I brought it to school and everyone wanted it. … From there, it just exploded."
Alvarez-Mena, who grew up in South Miami, became an entrepreneur almost overnight.
A mom she knew through school had a popular boutique and started selling the bags. They were the third most-popular item behind Hello Kitty and Webkinz. Alvarez-Mena ended up at 30 stores across the U.S. and was the youngest artist at Downtown Disney's Festival of the Masters at Walt Disney World in Florida.
Macki and Company was born.
"I also knew part of my appeal was being a 12-year-old doing it," she said.
As a high schooler, she put that work on the back burner, focusing instead on enjoying school and taking advanced art courses. As her senior year rolled around and the idea of college loomed, she started to think of Macki and Co. again.
"At the end of high school, I was like, I feel passionate about this, but I don't know how to do it," she said.
With a sister already at USC, being a Trojan was at the front of her mind. Then she discovered the USC Jimmy Iovine and Andre Young Academy, dreamed up by music producer Iovine and musician Dr. Dre and inspired by the duo's quest for three-dimensional thinkers while developing their headphone company Beats. They wanted folks who knew art, design and engineering.
For Alvarez-Mena, who saw herself more as a creative entrepreneur than an artist, it seemed a perfect fit.
"I remember reading the website. … As I was scrolling down, I was losing my breath," she said. "I was like, 'Oh my god. This is it.'"
Time at Iovine and Young Academy led to great internships
Graduating in May, Alvarez-Mena not only brought Macki and Co. back to life, but she's soaked up the kids consumer products industry, interning in Los Angeles and New York with companies such as Dreamworks and Nickelodeon. She even took a character class with a former SpongeBob SquarePants character designer.
"They didn't get me the internships — I did that by myself — but no way would I have got the internships without the academy," she said.
She felt confident walking into interviews, thanks to the support of the academy. Small things made the difference — knowing how to communicate via email, how to work on a team or how to interview.
Industry is woven into the fabric of the academy. From the get-go, students are tackling practical problems.
During the students' freshman year, different companies like Apple and Toms come in and pitch problems, with academy students returning with solutions. They also work in teams, the norm in startups and tech companies.
Alvarez-Mena, one of only 30 in her cohort, doesn't like to think "what if" she didn't get into the academy. But it's safe to say juggling her own business with schooling might have been tougher in a traditional academic environment.
Industry experience for soon-to-be Iovine and Young Academy graduate
Faculty designed the USC Iovine and Young Academy curriculum so that the first couple years are focused on coursework but students' junior and senior years offer the flexibility to get industry experience — whether launching their own startups, interning at Apple's Silicon Valley headquarters or working on Capitol Hill.
For Alvarez-Mena, that meant spending senior year working diligently on her company, developing a prototype and a live demo with coding help from fellow academy senior Parker Malachowsky.
"Our viewpoint is we bring them here to precisely do this," said Erica Muhl, academy dean. "Why wouldn't we do anything to help them achieve their dreams — at any time, not just after they graduated?"
Macki and Co. is now much more than tote bags. It will be a virtual world, where girls can log on and create characters based on their own lives and insert them into storybooks that they write and illustrate. It's a way to express themselves, even picking a vibe — such as girly, sporty or emotional and outdoorsy.
"This is a way to create a safe environment where everyone can fully express who they are without feeling vulnerable of judgment," Alvarez-Mena said. "I don't want anyone to pretend to be someone they're not or describe themselves how they think others see them. I want them to build their character and profile by how they see themselves."
Think: Lizzie McGuire
But, just like her totes, she wants the characters to exist IRL as well. There will be products like denim jackets that they can decorate with their character, name or other designs.
"I'm all about creating a tangible item," she said. "It's about making it your reality. You want something with you 24/7."
And if you're getting Lizzie McGuire vibes, you're not off base.
"Lizzie McGuire was a god in our house when I was little," she said with a laugh, citing the Disney TV show as an inspiration.
After Alvarez-Mena graduates, she wants to get a job in kids consumer products, so she can continue to research and learn from those in the industry, while chipping away at Macki and Co. Still conceptual, she's working on a business model, analyzing costs and resources needed and developing a website.
"Macki and Company is the end goal," she said.
With the real world looming, Alvarez-Mena isn't ready to say goodbye to her academy "family," as she calls them.
"We feel strongly about each other," she said. "It's a special bond that no one gets in their lives, necessarily."